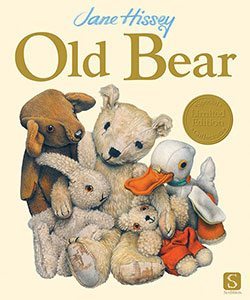 A cou­ple of weeks ago, I wrote about our family's obses­sion — I mean love — of Christo­pher Robin's Sil­ly Old Bear. Our fam­i­ly also has a deep and abid­ing love for Old Bear by Jane Hissey and I would be remiss if I didn't tell you about it. We've found that too many peo­ple do not know about these delight­ful books. I have my moth­er-in-law to thank for intro­duc­ing us to Hissey's books — she brought her first grand­child the gift of Old Bear and we were imme­di­ate­ly hooked.
At first look, it seems like the Old Bear sto­ries could be a lit­tle copy­cat­tish of Pooh and friends. It's British, it's about a group of stuffed ani­mal friends who all exist in real life, the adven­tures are gen­tle, and kind­ness suf­fus­es every page. (So, in my opin­ion, even if it was a copy­cat, we'd still want to read them.) But the char­ac­ters in the Old Bear sto­ries are quite dif­fer­ent, endear­ing in their own way, and not at all sim­ple copies of the char­ac­ters in the Hun­dred Acre Wood. The gen­tle adven­tures take place inside in a play­room. There is no Christo­pher Robin men­tioned. The per­son­al­i­ties of the char­ac­ters are dif­fer­ent — delight­ful all on their own.
Old Bear, Lit­tle Bear, Jol­ly Tall (a giraffe), Bramwell Brown (anoth­er plush sable-brown bear), and their friends have boat races, try on drag­on per­sonas, put on plays, engage in hero­ic res­cues, and hold birth­day camps. Every sto­ry is delight­ful and imag­i­na­tive, as well as safe and gen­uine in that way only sto­ries about beloved stuffed ani­mals can be.
It's the char­ac­ter of Old Bear, I think, that ful­ly dis­tin­guish­es these sto­ries from the Win­nie-the-Pooh sto­ries, how­ev­er. Old Bear is old. The back­flap tells us that Old Bear was the author's ted­dy bear. Bramwell Brown and Lit­tle Bear were giv­en to her first­born and the oth­ers "turned up" over the years in the Hissey house­hold in Sus­sex. Old Bear is loos­er in his joints, a bit tat­tered, well-loved and worn. Hissey's art — which is beau­ti­ful — shows us how old Old Bear is, par­tic­u­lar­ly in the orig­i­nal Old Bear sto­ry, in which Old Bear is res­cued by his friends from the attic where he'd been placed for safe keep­ing.
The gen­tle wis­dom that Old Bear pro­vides is pret­ty unique in the genre of per­son­i­fied toys, I believe. I notice when I read these sto­ries out loud that my voice low­ers and my words slow — Old Bear's voice is one to lis­ten to. He's lived a long time, knows many things, and although he'll nev­er force his life expe­ri­ence and wis­dom on any­one, he is will­ing to share it. He will gen­tly encour­age, cau­tion, and bol­ster his younger, more bois­ter­ous friends. And he always lis­tens. He's like a great-grand­fa­ther in the play­room. I appre­ci­ate his pres­ence.
I've been think­ing about it for days….can you think of anoth­er book/series with an old­er ani­mal — A Wise One? One that is revered, pro­tect­ed, sought out for her or his wis­dom? I can't, but I so appre­ci­ate Old Bear that I sure would like to increase my list of such char­ac­ters if they exist. Drop me a line in the com­ments if you think of some.