A year ago this week­end, I had the hon­or of offi­ci­at­ing at the wed­ding of dear friends. They'd planned a grand cel­e­bra­tion — organ and trum­pet, dra­mat­ic read­ings, fantab­u­lous atten­dants, fam­i­ly and friends, and not one but two flower girls.

In my expe­ri­ence, flower girls and ring bear­ers increase the "chance ele­ment" in a wed­ding cer­e­mo­ny. I'm all for these wee pack­ages of unpre­dictabil­i­ty — as long as no one present (and espe­cial­ly not the bride and groom) will be upset if the unex­pect­ed occurs. Because it almost always occurs. This bride and groom were not only okay with the pos­si­bil­i­ties, they were pret­ty real­is­tic that some­thing unplanned would occur.
One of the flower girls was turn­ing thir­ty-five — I mean five—a few days after the wed­ding. She was a very wise and mature almost-five with beau­ti­ful man­ners, com­port­ment, and con­ver­sa­tion­al skills. She lis­tened atten­tive­ly, want­ed to prac­tice more than twice, and with astound­ing pre­ci­sion she lined up her lit­tle mary janes at the same angle as brides­maids' shoes when they reached the altar. She took her job very seri­ous­ly and she made us all look more pro­fes­sion­al.
But the two-year-old niece…. She was at that stage in which she sim­ply would not do what she did not want to do, bless her sweet heart and crazy blonde curls. We dis­cussed var­i­ous tac­tics at the rehearsal, try­ing to imag­ine all that could occur. We sta­tioned the grand­moth­ers strate­gi­cal­ly. I advo­cat­ed some­one in the front row pack­ing a lol­lipop. (I've seen this get a shy ring bear­er down the aisle.) At the end we laughed and shrugged and assured one anoth­er that it would be what it would be…and that would be more than charm­ing.
It was the five-year-old who was a bit dis­con­tent with our lais­sez-faire meth­ods and atti­tudes. She had clear­ly lived her whole life wait­ing, prepar­ing, and expect­ing to be a flower girl. This was her chance! What if she aged out before she had a chance to do it again? She looked askance at the rum­pled, per­pet­u­al­ly falling apart, two-year-old. Adorable in her own way, of course, but…could she be count­ed on?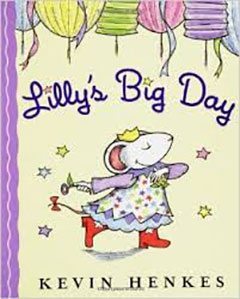 The five-year-old Flower Girl (she is so very wor­thy of the title) remind­ed me so much of Lil­ly in Lilly's Big Day by Kevin Henkes, that I con­tact­ed my hus­band on the way to the rehearsal din­ner and asked him to find the book on our shelves (no small task) and bring it with him.
I'm a huge Kevin Henkes fan — espe­cial­ly of his mouse books and most espe­cial­ly of Lil­ly, with her red boots (just like mine!) and pur­ple plas­tic purse (note to self: must get one). In Lilly's Big Day, Lilly's beloved teacher, Mr. Slinger, gets mar­ried. Lil­ly can only assume she will be the flower girl because…well, "she had always want­ed to be a flower girl."
When Mr. Slinger breaks the news that his niece Gin­ger will be his flower girl, Lil­ly is crushed. But she ral­lies (and rails) a bit when Mr. Slinger sug­gests she could be Ginger's assis­tant. Lil­ly con­tin­ues her faith­ful prac­tice of flower girling at home in her room…just in case.
She held her head high and smiled bright­ly and raised her eye­brows and turned her head from side to side and car­ried her hands proud­ly in front of her and hummed "Here Comes the Bride" and walked the length of her room very, very slow­ly. Back and forth, back and forth, back and forth.
When I read this prac­tice descrip­tion to the five-year-old Flower Girl I could tell she felt deeply under­stood (at last!). She nod­ded in a no-non­sense British sort of way — a curt "YES, that's how it's done!" nod.
And that's how she did it. She was a stun­ning Flower Girl — the most prop­er one I have ever seen. She walked like a small queen, smil­ing and nod­ding gra­cious­ly to the peas­ants on her right and left as she made her way down the aisle. Many a Flower Girl — even a mature and wise one — would have been flus­tered by the Spec­tac­u­lar Melt-Down at the back of the church when it was the two-year-old's turn to process down the aisle ahead of the bride. But not this Flower Girl. Like Lil­ly, she knew exact­ly what to do. Her moth­er would want me to make it clear that she did not pick up the two-year-old and car­ry her down the aisle, as Lil­ly did Gin­ger; rather, our flower girl hero­ine assessed the sit­u­a­tion and then pro­vid­ed the loveli­est dis­trac­tion any of us could have hoped for by com­mand­ing the cen­ter aisle with her own per­fect­ly exe­cut­ed Flower Girl walk. When she joined the brides­maids and checked to make sure her shiny mary janes were lined up just so with their high heels…she looked up at me and smiled a sat­is­fied smile. (And in case you are won­der­ing, the two-year-old recov­ered nice­ly and was absolute­ly charm­ing the rest of the evening.)
Lilly's Big Day is a love­ly book, often read for its humor and its insights into a child's per­cep­tion of the world. It's a world to which Kevin Henkes takes us with con­vic­tion. It's the only children's book I have read in the con­text of wed­ding prepa­ra­tions.