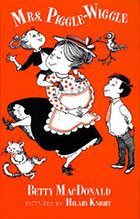 In the gar­den this week I am pulling radish­es. Weeds, too, and maybe that's why I appre­ci­ate the small, crisp, spicy lit­tle radish­es. Pulling those rosy red globes out of the black dirt makes me think of one of my favorite books from child­hood: Mrs. Pig­gle-Wig­gle.
I have espe­cial­ly vivid mem­o­ries of my third grade teacher read­ing us the Mrs. Pig­gle-Wig­gle books by Bet­ty Mac­Don­ald. Mrs. Plano was a com­plete­ly joy­less teacher who should have retired eighty years before I had her. I mar­vel — and remain grate­ful — such a grim woman read us such fan­ci­ful books.
Mrs. Pig­gle-Wig­gle lived in an upside-down house and pos­sessed amaz­ing and cre­ative ways of "cur­ing" chil­dren of absolute­ly-nor­mal-but-less-than-desir­able behav­iors. Mrs. Plano was always quick to notice less-than-desir­able-behav­iors, so maybe that's why she picked up the books. She obvi­ous­ly did not agree with Mrs. Piggle-Wiggle's meth­ods. Her read­ing was often accom­pa­nied by eye­rolls. But she read us the entire series, and I remain grateful.
Book after book, chap­ter after chap­ter, fran­tic moth­ers call Mrs. Pig­gle-Wig­gle, wring­ing their hands about their chil­dren. Mrs. Pig­gle-Wig­gle laughs (in a nice way) at their con­cerns and pre­scribes an odd but always effec­tive cure for the prob­lem at hand. She then assures the anx­ious moth­er her child is delight­ful and all will be well. Some of Mrs. Piggle-Wiggle's cures involve mag­ic, but many are just com­mon sense…with a dash of cre­ativ­i­ty. Mrs. Pig­gle-Wig­gle her­self brings out the kids' bet­ter angels, which fig­ures into some of the cures, as well; I always thought Mrs. Plano could learn some­thing there.
One of my favorite Mrs. Pig­gle-Wig­gle sto­ries is The Radish Cure; hence, the mem­o­ry while pulling radish­es this week. This is not a sto­ry about get­ting kids to eat radish­es — it's much more inter­est­ing than that. The Radish Cure is about Pat­sy Waters' unwill­ing­ness to bathe. The Oth­er Moth­ers are of no help. (A treat of read­ing these books as an adult is the car­i­ca­tures of The Oth­er Moth­ers.) Mrs. Pig­gle-Wig­gle coun­sels Patsy's dis­traught moth­er to buy a pack­age of radish seeds and just let Pat­sy go with­out a bath. Once Pat­sy was good and cov­ered with a lay­er of dirt and grime, which, as every par­ent knows, takes very lit­tle time at all, Patsy's moth­er and father sneak into her room and sprin­kle radish seeds on their filthy sleep­ing daugh­ter. And the radish­es GROW!
Pat­sy Waters "awoke one morn­ing, and there on the back of her hand, in fact on the back of both hands and her arms and on her FOREHEAD were GREEN LEAVES!" Today's child rear­ing gurus would call this nat­ur­al con­se­quences. Of a sort, any­way. Patsy's moth­er calm­ly pulls the small red radish­es out of the dirt on her daugh­ter caus­ing Pat­sy to beg for a bath. "I think it had bet­ter be a show­er," says her mother.
The Mrs. Pig­gle-Wig­gle books are def­i­nite­ly a prod­uct of their time. When I read them to my kids, stereo­types had to be explained and addressed, as did the hard and fast tra­di­tion­al gen­der-roles, which are very hard and fast. (Mak­ing it all the more inter­est­ing that Mrs. Pig­gle-Wig­gle and her hus­band, Mr. Pig­gle-Wig­gle sport a hyphen­at­ed last name — per­haps if they rhymed, this was okay?)
Despite the time-bound issues, the prob­lems Mrs. Pig­gle-Wig­gle is called upon by the moth­ers (always the moth­ers) to cure are peren­ni­al: The Answer-Backer Cure, The Won't‑Pick-Up-Toys Cure, The Tat­tle­tale Cure, The I‑Thought-You-Saiders Cure, The Show-Off Cure, The Can't‑Find-It Cure, etc. These are the lessons of child­hood then and now, are they not?
If you haven't read them to the kids in your life, pick them up this sum­mer — they are a hoot!