Hen­ry was a reg­u­lar. He was in after­noon kinder­garten and he and his nan­ny had the morn­ings free to come to the sto­ry­time I did at the indie book­stores near his home. He was old­er than most of the oth­er kids — a very wise and eru­dite six years. His eyes were black and lumi­nous, his curls dark and unruly, and his brow fur­rowed when he thought deeply, which was the only way he thought. He used words like per­haps, sup­pose, as you know, and quiver (both as a case of arrows and as syn­onym for slight trem­bling). He knew the Latin names of his favorite plants. He had impec­ca­ble man­ners. When I watched Hen­ry read­ing a book before sto­ry­time, I often thought he would look per­fect­ly nat­ur­al smok­ing a pipe.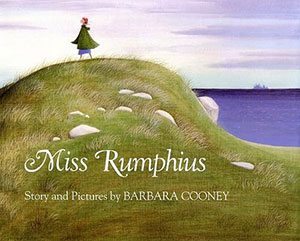 We had a spe­cial bond, Hen­ry and I. He loved to count in Ger­man. (We always count the books we read at the end of sto­ry­time — in as many lan­guages as we can col­lec­tive­ly man­age.) He par­tic­u­lar­ly enjoyed FÜNF! (5), which made him col­lapse into gig­gles every week. He always want­ed to read "just one more book," (espe­cial­ly if it meant we got to fünf), and we some­times read even one more after the younger chil­dren got wig­gly and head­ed home. The thing that real­ly bond­ed us, how­ev­er, was the deep mean­ing and glad­ness we each found in Miss Rumphius, by Bar­bara Cooney.
Miss Rumphius, The Lupine Lady, was a child like Hen­ry, I think. Soul­ful, beyond-her years, and wise in a way that takes oth­ers aback. As a lit­tle girl, she sat on her grandfather's knee and lis­tened to his sto­ries of far­away places. She declared that when she grew up, she would go to far­away places, as well. And when she grew old, she, too, would live by the sea. Her grand­fa­ther told her she must do one more thing. "You must do some­thing to make the world more beau­ti­ful," he said.
Over sev­er­al pages in this beau­ti­ful book, lit­tle Alice Rumphius grows up, trav­els the world, and final­ly comes to make a home in a house by the sea. Her love of lupines inspires her to order five bushels of lupine seed, then fill her pock­ets and wan­der "over field and head­lands, sow­ing lupines," mak­ing the world more beau­ti­ful.
Hen­ry and I called it The Miss Rumphius Chal­lenge. We talked of things we would do to make the world more beau­ti­ful. We would make pic­tures and leave them in cof­fee shops. We would write books about beau­ti­ful music and art. We would smile at every­one we met. We would plant a gar­den. Sing songs.
The day Hen­ry came to tell me he was mov­ing to Cal­i­for­nia, I cried. His Dad got a new job — "a very excel­lent one" — and they were fly­ing to San Diego that week­end, all of their things com­ing the next week in an enor­mous truck.
In a des­per­ate attempt not to weep in front of him, I remarked that San Diego had a won­der­ful zoo and must be a beau­ti­ful place to live.
"Yes," said Hen­ry, nod­ding sage­ly. "We have vis­it­ed. It is very beau­ti­ful. And clos­er to the sea, as well." His brow fur­rowed. "It will be hard to fig­ure out how to make it more beau­ti­ful. That's the trou­ble Miss Rumphius had, as you know…. It's hard to make the world more beau­ti­ful when it's already pret­ty nice. I'll have to find some­thing like lupines that will grow in Cal­i­for­nia, I sup­pose."
I sug­gest­ed maybe Black-Eyed Susans would grow there. He had brought me a bou­quet of them once — it was anoth­er love we shared.
"They're called rud­beck­ia, I believe," said Hen­ry, gen­tly cor­rect­ing my coarse nick­name for the cheer­ful yel­low flow­ers.
Hen­ry shook my hand when he left sto­ry­time that day. He thanked me for read­ing him so many books. "I expect we might not see each oth­er for awhile," he said, "but I will think of you when­ev­er I read a real­ly real­ly good book."
It's been over a year since he left. I'm sure Hen­ry has for­got­ten about me in all of his adven­tures in San Diego — though I hope he has not for­got­ten The Miss Rumphius Chal­lenge. As for me…part of my heart is in Cal­i­for­nia with a lit­tle boy who made my world more beau­ti­ful because he was in it.