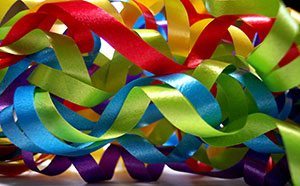 The indomitable Gertrude Mueller Nel­son gave our fam­i­ly the rit­u­al of Birth­day Priv­i­leges & Respon­si­bil­i­ties. Each birth­day our kids receive a scroll of paper fes­tooned with rib­bons. Inside, in the fan­ci­est (and hard­est to read) script our print­er can man­age, we have cer­e­mo­ni­al lan­guage award­ing the birth­day child his/her next year's Priv­i­lege & Respon­si­bil­i­ty. We start­ed this on their respec­tive third birth­days, at which time they each received the priv­i­lege of using mark­ers in addi­tion to crayons…and the respon­si­bil­i­ty of wash­ing off any mark­er that acci­dent­ly found itself on the craft-table. (I know, how mean is that to with­hold mark­ers? But it is so much eas­i­er at three than at thir­teen months old.)
Over the years, the kids have received cov­et­ed age-appro­pri­ate priv­i­leges and ever-increas­ing respon­si­bil­i­ties — load­ing and unload­ing the dish­wash­er, bik­ing around the block or neigh­bor­hood, ear pierc­ing, skate­board­ing, clean­ing the bath­room, Face­book priv­i­leges, a cell phone, a driver's license etc. Some­times the priv­i­leges and respon­si­bil­i­ties are linked in some way. Some­times they are con­fused. Gertrude Mueller Nel­son tells the sto­ry of when her lit­tle girl once yelled at her broth­er, "It is MY Priv­i­lege to clean the bath­room sink on Sat­ur­days!" In any event, the Birth­day Priv­i­lege & Respon­si­bil­i­ty award is a big part of our birth­day cel­e­bra­tions.
Our son and daugh­ter learned to read on dif­fer­ent sched­ules. #1 Son enjoyed being read to more than learn­ing to read — it's hard work, after all. On his 7th birth­day he received the priv­i­lege of read­ing in bed, a cal­cu­lat­ed and some­what pas­sive-aggres­sive move on the part of his par­ents. We'd always read togeth­er before bed — that would not change. But we were try­ing to cul­ti­vate a love of inde­pen­dent read­ing, which had been an uphill bat­tle so far, and we were all a lit­tle frayed over it. We were/are pret­ty strict on sen­si­ble-to-ear­ly bed­times. The hook to this priv­i­lege was phrased in such a way as to get him in bed by 7:30 with the priv­i­lege to read in bed until 8:00. (I admire those par­ents who have no lim­its on bed­time read­ing, but this kid need­ed lots of sleep and pret­ty much passed out at 8:00.) We gave him a head­lamp to wear in the dark while he was read­ing, which made the whole thing very cool.
Despite one of the worst cas­es of stom­ach­flu / Norovirus we have ever had (for 13 days some­one in our house threw up in dra­mat­ic splat­ter­ing fash­ion), the boy's read­ing skills sky-rock­et­ed dur­ing the first two weeks of his eighth year of life. Any has­sles about bed­time van­ished — post-sup­per-time there­after was all about tim­ing things per­fect­ly so as to be in bed in time to read. It was a ter­rif­ic suc­cess.
#1 Daugh­ter was inde­pen­dent in her read­ing ear­li­er. She got the read­ing in bed priv­i­lege at five. And she treat­ed it like a respon­si­bil­i­ty — one she was glad to ful­fill, but def­i­nite­ly some­thing that need­ed to be checked-off in her mind each day. As the sec­ond child, she was drug around more at night for sib­ling events, so she some­times got to bed lat­er than her under­stood bed­time. On those nights we would say, "We'll read a short bit togeth­er tonight, but no read­ing in bed because you need to get to sleep…." To which she would wail, "But it is my Respon­si­bil­i­ty to read in bed!"
Priv­i­lege or Respon­si­bil­i­ty? Two sides of the same coin, per­haps. We are a house­hold of hap­py bed-read­ers, so who cares?