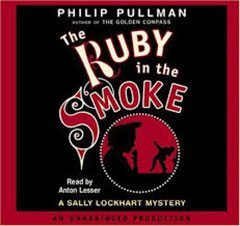 In our roadtrip/vacation van there are four very dif­fer­ent read­ers — dif­fer­ent inter­ests, dif­fer­ent read­ing inter­ests, vary­ing atten­tion spans, etc. In addi­tion to these dif­fer­ences and vari­ances, the kids are five and a half years apart. Find­ing a book that keeps every­one enter­tained and is appro­pri­ate for all ages can be a chal­lenge. Two years ago, The Ruby in the Smoke by Philip Pull­man fit the bill just fine. This year, we might take in the sec­ond in the Sal­ly Lock­hart quar­tet, The Shad­ow in the North.
"On a cold, fret­ful after­noon in ear­ly Octo­ber 1872…" It took no more than this open­ing line for every­one in the car to be on board. On paper it looks rather ordi­nary as far as first lines go. But read aloud by Anton Less­er (who has Game of Thrones, Shake­speare, Dick­ens, etc., in his mas­ter­ful­ly played/voiced roles) you are instant­ly and whol­ly trans­port­ed to that cold, fret­ful Octo­ber after­noon in 1872.
The set­ting for The Ruby in the Smoke is the seamy under­world of Vic­to­ri­an Lon­don. Six­teen-year-old Sal­ly Lock­hart, our intre­pid hero­ine, becomes involved in numer­ous intrigues, adven­tures, and scrapes, while inves­ti­gat­ing her father's recent mys­te­ri­ous death on the South Chi­na Sea. Good friends, fright­en­ing ene­mies, the cor­rupt British opi­um trade in India, and a fan­tas­tic ruby are all a part of this com­pli­cat­ed his­tor­i­cal mys­tery.
Not ten min­utes into the events of the nov­el (on the fourth full page if you are read­ing the book), Ms. Lock­hart asks the com­pa­ny sec­re­tary of her late father's ship­ping agency this ques­tion: "Have you ever heard the phrase 'the Sev­en Bless­ings'?" Instead of answer­ing, the man keels over dead.
He took a step for­ward — then dark­ness flood­ed his face, his hands clutched at his waist­coat, and he fell with a crash to the Turk­ish car­pet. One foot kicked and twitched five times, hideous­ly. His open eye was pressed to the carved claw-foot of the chair Sal­ly sat in.
Those mess­ing with yarn or Rubiks-cube-like-puz­zles in the back­seat put those diver­sions aside and leaned for­ward upon hear­ing about that open eye pressed into the claw-foot chair. This was one of those books in which mem­bers of our par­ty lob­bied to for­go stop­ping for lunch because it would mean get­ting out of the car and there­fore stop­ping the sto­ry, how­ev­er tem­porar­i­ly.
I've heard from oth­ers that they find this book intrigu­ing to read, but they could not lis­ten to it and fol­low the com­pli­cat­ed plot, ever shift­ing char­ac­ters, etc. There are a num­ber of shifts and intri­ca­cies that make it a chal­lenge, to be sure. I checked out the book from the library once and found someone's anno­tat­ed post-it note list of char­ac­ters stuck in the cov­er. But again, when your nar­ra­tor is Anton Less­er, it is worth lis­ten­ing care­ful­ly, I think, and we all man­aged to fol­low the con­sid­er­able action and twists of plot. Pull­man start­ed the book as a play and then turned it into a nov­el. When Less­er is read­ing it is like watch­ing the sto­ry unfold on stage.
The Sal­ly Lock­hart series is often described as being Dick­en­sian. To be sure, the vil­lains in this book are very bad, the allies are loy­al and very good. There are hags and letch­es, mixed motives and com­pli­cat­ed char­ac­ters. There's also opi­um, vio­lence, and the filth of the Lon­don slums. It's much short­er than David Cop­per­field, how­ev­er, while retain­ing noble Dick­en­sian traits.
Accom­pa­nied by The Ruby in the Smoke, we made it to the Cana­di­an bor­der in excel­lent time, even with a stop for lunch.