Many have asked what our fam­i­ly lis­tened to on vaca­tion this year. We have recent­ly returned and I can now report back. We had a lot of hours in the car — Min­neso­ta through the Black Hills and into the Tetons and up through Mon­tana etc. And back, of course. Good to have three dri­vers. Good to have three stel­lar audio books.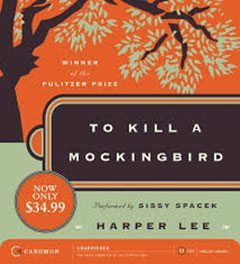 The first half of the trip we were lost in the world of To Kill a Mock­ing­bird. Sis­sy Spacek was the nar­ra­tor. The sto­ry is tremen­dous, of course, but I very much appre­ci­at­ed Spacek's read­ing, as well. Her gen­tle south­ern drawl sucked each of us right in. She's not a dra­mat­ic voic­es kind of nar­ra­tor — she reads to you as if you were sit­ting with her on Jem and Scout's porch, fan­ning your­self and par­tak­ing of some lemon­ade while a sto­ry that just can't be beat is read aloud. It was heav­en.
To be hon­est, I didn't know if this book would work for us. I was even a lit­tle ner­vous to try. One of us is a lit­tle young — almost twelve — and one had start­ed read­ing it but nev­er fin­ished, though he very much enjoyed a local the­ater pro­duc­tion of it. And Dad was pret­ty sure he'd read it at some point…but he couldn't remem­ber much about it. It goes with­out say­ing that it is one of my favorite books of all time, so stakes were high…. I'm pleased to say it was a tremen­dous hit. We fin­ished it sit­ting in road con­struc­tion in Wyoming (in which you turn off your car and just sit there for a half hour). Absolute­ly spec­tac­u­lar. Impor­tant. I was real­ly rather verklempt the entire time we lis­tened. I had that parental feel­ing of "I think my work here is just about done…." as it fin­ished up and there was a col­lec­tive sigh in the car. Enor­mous­ly sat­is­fy­ing.
We also lis­tened to the sec­ond Sal­ly Lock­hart mys­tery by Philip Pull­man. (I wrote about the first here.) The Shad­ow in the North picks up six years down the road from the first nov­el, The Ruby in the Smoke. Like its pre­de­ces­sor, this was an edge-of-your-seat mys­tery com­plete with séances, a dis­ap­pear­ing magi­cian, an incred­i­bly dan­ger­ous and moral­ly sus­pect inven­tion, love and romance, the begin­nings of women's rights, and ter­ri­ble, ter­ri­ble tragedy. We lit­er­al­ly took turns gasp­ing and exhort­ing "No!" and "YES! Sal­ly does it again!" (Oops — guess that was a spoil­er. But, as my daugh­ter would point out, you knew Sal­ly would make it because book #3 and #4 await us for anoth­er vaca­tion.) As men­tioned in my rec­om­men­da­tion of The Ruby in the Smoke, Anton Less­er, the nar­ra­tor, is fan­tas­tic — this is a book that needs accents and voic­es and he's got 'em!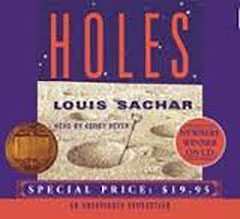 The last book we lis­tened to was Holes by Louis Sachar. We picked this up mid-trip at my col­lege roommate's house — her fam­i­ly had just lis­tened to it. Two in our par­ty have read this book a cou­ple of times, one of us try­ing (and not real­ly suc­ceed­ing) to fig­ure out its com­plex­i­ties. One start­ed it years ago, but had not liked it. One had nev­er heard of it. We all loved it. I was sur­prised at how well the two inter­twin­ing sto­ry­lines came off in a read­ing. The nar­ra­tor was sim­ply okay, but the sto­ry is amaz­ing. Lis­ten­ing (through the entire state of North Dako­ta) I fig­ured out some of the com­plex­i­ties that had pre­vi­ous­ly kept me intrigued, but con­fused.
It was a great vaca­tion! Won­der­ful places to vis­it, good peeps along the way, and books in the car to make the miles fly by!