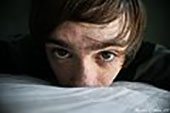 The begin­ning of the school year caught up with every­one last week, I think. My kids are exhaust­ed, a lit­tle over­whelmed, a lit­tle crispy around the edges. The oth­er kids in and around my life seem about the same. Fall tran­si­tions can be hard even when they go rel­a­tive­ly smooth­ly.
My youngest (age twelve) came home from school one day fried to a crisp — just done. When I gen­tly sug­gest­ed we skip the evening's activ­i­ties (brac­ing myself for her to tell my why she could-not-would-not) she sur­prised me and said, "Can we read?" I said, "Of course." And we did. We read a book we'd read togeth­er before — a book some might con­sid­er "too young" for her (if you're into lex­ile scores and such, which I am not). It was a love­ly evening. She was back on track the next morn­ing.
That was the first thing that hap­pened. The sec­ond was this: Con­fir­ma­tion start­ed at church. We're at a new time this year: Sun­day morn­ings. 9:20 a.m. The kids are, under­stand­ably, a lit­tle grumbly about the change. They dragged in, sport­ing ado­les­cent grumpi­ness around the cor­ners of their mouth, squin­ty world-weary eyes, and an atti­tude that was not quite Ready & Excit­ed to Learn. I feel for them. Half of them start­ed high­school this year. The oth­er half are try­ing to sur­vive eighth grade. Sev­er­al of them are sick — the kind of sick you feel like you can't stay home for, but the cough­ing and nose-blow­ing sug­gest that would a good idea, if only to stop the spread.
When I look at these kids I see both who they were as lit­tle kids and some­thing of who they will become these next few years. They're caught between child­hood and adult­hood — a nether­land that is tricky to nav­i­gate at times. I was so grate­ful they came. It was hard to imag­ine we were going to have a great kick-off to con­fir­ma­tion, how­ev­er, with every­one look­ing some vari­a­tion of sick, slight­ly hos­tile, and just plain exhaust­ed.
So I threw the plans for the morn­ing to the wind. I hand­ed out new note­books, set out art sup­plies, and announced that I was going to read them a sto­ry. They looked at me with sus­pi­cion. They are, of course, much too old for sto­ries. I smiled and opened the book. It was a ter­rif­ic sto­ry — not one they prob­a­bly would've picked up on their own, though. I read. They stared at me for awhile. Then they doo­dled, which I took to be a sure sign they were not only lis­ten­ing, but fair­ly absorbed. After about twen­ty min­utes, the air in the room felt dif­fer­ent. I stopped read­ing, hav­ing come to a log­i­cal end­ing point. They looked up, their eyes no longer squin­ty and sus­pi­cious.
"Can you keep read­ing?" two of them asked in uni­son. The oth­ers nod­ded. Well, twist my arm! I opened up the book again and kept going. Read to them for most of an hour. They left dif­fer­ent kids than when they came in.
The third thing that hap­pened this week was this: I over­heard a stressed out par­ent talk­ing about how she read to her kids only when they couldn't read them­selves. Once they start­ed sound­ing out words on their own, she said, "I'm so done! It's their respon­si­bil­i­ty now!"
I almost wept. What about joy?! What about hear­ing sto­ries?! Hav­ing some­one care enough to share a sto­ry with you? I care not one iota for the respon­si­bil­i­ty of read­ing — it's about JOY! It's about the mag­ic that can hap­pen — how things can some­times be set right once again — sim­ply by some­one read­ing to you.
I didn't screw up my courage in time to say some­thing (appro­pri­ate and kind) to this moth­er who couldn't wait to be done read­ing to her kids. So I'll say it here: Read to them! What­ev­er kids are in your sphere — read to them. Read books they've left behind or for­got­ten about, read things you know they won't come across, read your favorites, their favorites, some­thing new you found at the library, their home­work assign­ment, some­thing that makes you laugh, a great pic­ture book that came out after they were entranced with pic­ture books (they will be again!). Just read to them—espe­cial­ly if they seem "too old" to be read to.
The two most impor­tant things I did last week was read to a crispy tween and a group of weary teens. And guess what — it did me an awful lot of good, too.