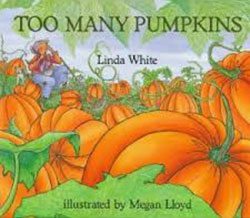 I have a thing for pump­kins — their orange­ness, their round­ness.… I'm not sure what it is, exact­ly. They're sort of a har­bin­ger of autumn, my favorite sea­son, so maybe that's it. Real­ly, I just find them sat­is­fy­ing some­how.
Giv­en my love of the orange autum­nal globes, it's a lit­tle odd, per­haps, that my favorite pump­kin book is about a woman who hates pump­kins. In fact, said favorite book opens with bla­tant pump­kin deri­sion. "Rebec­ca Estelle hat­ed pump­kins.…" we are told on the first page of Lin­da White's Too Many Pump­kins. I sort of flinch when I read this sen­tence to kids. They look at me with a wary, uncer­tain look in their eyes. I can hear my father say­ing, "Hate is a very strong word.…"
In this case, it's a strong word for a strong feel­ing — Rebec­ca Estelle does indeed hate pump­kins. She ate too many as a kid. (Appar­ent­ly, she grew up in a time before pump­kin-spiced every­thing took over the world.) A lean sea­son in Rebec­ca­'s child­hood left her fam­i­ly with noth­ing but pump­kins to eat one year, and she's nev­er got­ten the taste of baked, steamed, boiled, stewed, mashed pump­kins out of her mouth. Rebec­ca Estelle hates pump­kins so much you know right away that that she will some­how wind up with a full crop of them.
This book breaks a cou­ple of pret­ty hard and fast pic­ture book rules. It's long and full of "unnec­es­sary" detail. It's about an old­er woman, not a child. And yet…kids are pret­ty well mes­mer­ized by it. I've read it many times over the years, in many places, to old­er kids and younger kids, at Hal­loween Par­ties and Har­vest Fes­ti­vals, before Thanks­giv­ing din­ner, as post-trick-or-treat treat.… I've read it a cou­ple of times just in the last week, in fact. It nev­er fails to bring the kids under its spell.
The art is gor­geous. The pump­kins are large and round and the per­fect shade of orange — they almost pop off the page they are so beau­ti­ful­ly done. The green vines climb and twine through the sto­ry. The details of Rebec­ca­'s home and per­son are a joy. And there's a cat named Esmerel­da who some­how looks just like a cat named Esmerel­da should. This book is a hap­py mar­riage between writer (Lin­da White) and illus­tra­tor (Megan Lloyd) and the total pack­age is exquis­ite.
Too Many Pump­kins is about pump­kins, to be sure; but more impor­tant­ly, it's about per­son­al strug­gle, com­mu­ni­ty, and the pos­si­bil­i­ty that some­thing you loathe just might turn into some­thing you love. I won­der if this last thing is why kids love Too Many Pump­kins. Chil­dren have strong feel­ings — they love and loathe with aban­don. How inter­est­ing things become when some­thing you pre­vi­ous­ly loathed becomes some­thing you love. And even more inter­est­ing: when that loathed thing is what brings you good things like friends, pump­kin-spiced treats, and fun.