I've just read yet anoth­er arti­cle about the new length of pic­ture books. Some say pub­lish­ers won't even con­sid­er pub­lish­ing a pic­ture book over five hun­dred words any­more. Oth­ers say they should be under three hun­dred words. Why? Inevitably, the short­er atten­tion spans of chil­dren are cit­ed some­where in the rea­son­ing. Rub­bish, I say! As a fre­quent sto­ry­time read­er in var­i­ous venues, I can tell you that chil­dren will sit (even the ones you think won't) for quite a long time for a good sto­ry well read.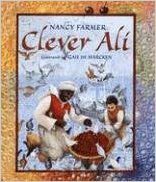 One of my favorite longer pic­ture books is Clever Ali by Nan­cy Farmer, illus­trat­ed by Gail De Mar­ck­en. This book has twen­ty two-page spreads, not the usu­al six­teen. Gor­geous art fills the pages, and there are lots of words — 5,153 words, a quick inter­net search tells me. (I'm will­ing to take their word for it.) I can tell you it takes a full thir­ty-one min­utes to read aloud. I've done it many times. Once I did it three times in a row, hence the care­ful tim­ing.
The sto­ry is about an Egypt­ian boy named Ali. When he turns sev­en, Ali begins work­ing with his father who is The Keep­er of the Pigeons for the wicked Sul­tan of Cairo. Being the Keep­er of the Pigeons is an impor­tant and dan­ger­ous job. As Ali shad­ows his father learn­ing the ins and outs of pigeon care, the palace, and the fas­ci­nat­ing and fright­en­ing lore attached to the wicked Sul­tan, he learns that the most impor­tant thing to know about pigeons is this: They must nev­er—nev­er ever—be overfed. An overfed pigeon becomes spoiled and self­ish.
Well, Ali is a soft-heart­ed lit­tle boy. He gives his pigeon, Oth­man, many spe­cial lit­tle treats and Oth­man does indeed become a spoiled, self­ish, and lazy car­ri­er pigeon. When Oth­man ruins a bowl of the wicked Sultan's rare cher­ries from the snowy moun­tains of Syr­ia, Ali is giv­en three days to replace the (irre­place­able) cher­ries or his father will be thrown into the Sultan's oubli­ette.
Some­thing shifts in the room when I read this mar­velous word, oubli­ette. The expres­sion on the kids' faces changes. They sit up straighter, lean for­ward even. The adults, who would have told you they weren't real­ly lis­ten­ing, look up. Everyone's eye­brows raise in ques­tion. Oubli­ette is a mag­i­cal word.
"What," [asks] Ali, "is an oubli­ette?"
"An oubli­ette," [answers his father] "O my son and light of my eyes, [an oubli­ette] is a deep, dark hole. The Sul­tan learned about oubli­ettes from the Frank­ish bar­bar­ians who live to the north and who nev­er bathe. The Frank­ish king keeps them for his ene­mies. He throws them inside and they fall down, down, down until they go ker­plop."
I can't in good con­science tell you more of the sto­ry — you sim­ply must go read it your­self. Suf­fice to say there's an ogre (the art is astound­ing — I always stop the read­ing so we can take in the pic­ture), the wicked Sul­tan sinks to new depths of wicked­ness, Oth­man the pigeon is infu­ri­at­ing, and Ali — sweet Ali! — is in ter­ri­ble dan­ger…. You must go read it, I say! Prefer­ably to the near­est child you can find!
The sto­ry is a dra­mat­ic reader's dream. I once read it to a rapt third grade class. There was a boy in the class who thought per­haps he was a lit­tle too old for pic­ture books. He lofti­ly request­ed per­mis­sion to read his own lengthy chap­ter book dur­ing my read­ing of Clever Ali. (He was very advanced, ter­ri­bly gift­ed.) I gave him per­mis­sion because I knew it wouldn't work. Sure enough, by page three — when the his­to­ry of the oubli­ette is revealed — that boy sat star­ing at me, unblink­ing and open-mouthed, his big 'olé chap­ter book hav­ing slid off his lap and onto the floor with­out him real­iz­ing it.
The sto­ry in Clever Ali can­not be told in under 500 words. I'm glad nobody told Nan­cy Farmer that was all the words she could use (in 2006) because chil­dren couldn't/wouldn't sit through any­thing longer. I've yet to meet a child (age 3 and up) who did not make it to the end of this mar­velous book, their eyes wide and glow­ing, big smiles on their faces, and requests to buy/bor­row/check-out the book imme­di­ate­ly.
The pen­du­lum will swing again. There are stel­lar pic­ture books under five hun­dred — even under three hun­dred — words, to be sure. But we need longer pic­ture books, too.