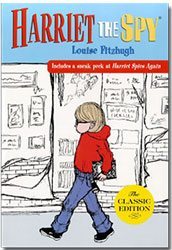 If you were to take me back to my ele­men­tary school today…and if every­thing was the same as it was when I was a stu­dent there…I could show you the exact place Har­ri­et the Spy resided on the school library's shelves. It was only there when I didn't have it checked out, which was not often. Even­tu­al­ly, Mrs. Schultz, the librar­i­an, talked to me about the impor­tance of "expand­ing one's read­ing list so that oth­ers might have a chance to read the books one loved." In oth­er words, if the check-out card in the front of the book list­ed Melanie Heuis­er and only Melanie Heuis­er, there was a prob­lem. So, even­tu­al­ly, I resort­ed to read­ing Har­ri­et stand­ing by the shelves on which she lived — a lit­tle fix each time our class went to the library. It was not a good day when some­one else checked it out before I got there.
Oh how I loved that book! My first New York book (I still love New York books!). A book about a fair­ly dis­agree­able girl, a girl who spied on peo­ple, a girl who kept record of her obser­va­tions in a note­book. Har­ri­et M. Welsch and I had a pro­found kin­ship. I, too, car­ried var­i­ous note­books (and do still!) to record my obser­va­tions. I, too, was intro­duced to Great Thoughts at an ear­ly age by Olé Gol­ly — one of her favorites (and mine) being: "Life is very strange." Most of all, what I loved about the book, I think, was that it took seri­ous­ly that life is not always black and white, right and wrong. Friend­ships don't always go smooth­ly. Some­times it can be dif­fi­cult to find your way.
I nev­er owned the book as a kid. Once I began buy­ing for my own children's book­shelves, I includ­ed it, of course. The blue paper­back ver­sion. I could not wait to read it with them. My son beat me to it — read it on his own. My daugh­ter read it with me when we read it with our moth­er-daugh­ter book club — the girls were nine. They all loved it. A cou­ple of them dressed up as Har­ri­et for Hal­loween that year.
The dis­cus­sion around the book was fas­ci­nat­ing. When we moth­ers asked them in what time peri­od they thought the book took place they said, with­out any hes­i­ta­tion, "Ours."
"You think this book is about kids today?" we asked. "You think it takes place now?"
Five heads bobbed up and down. We asked what evi­dence they had of this. They didn't have many par­tic­u­lars — they just knew. We point­ed out there were no com­put­ers, no cell-phones in the sto­ry. Har­ri­et doesn't even watch tele­vi­sion. The girls seemed bemused by this, but not at all con­vinced. They were floored when we showed them the copy­right — 1964. It was writ­ten before most of their moth­ers were born.
I've read many of the books I loved as a child with my kids. Many seem a lit­tle quaint, even to me, and all are clear­ly set in the past. (Most were set in the past when I read them!) Har­ri­et the Spy, how­ev­er, feels absolute­ly con­tem­po­rary still.
Louise Fitzhugh changed the course of children's lit­er­a­ture when she gave us Har­ri­et (fifty years ago this week!). Ani­ta Sil­vey tells the sto­ry on Children's Book-A-Day Almanac. Har­ri­et The Spy has felt real to a cou­ple of gen­er­a­tions of kids by now, and I sus­pect the book will con­tin­ue to speak to kids in future gen­er­a­tions. I, for one, can't wait to read the book with my grand­kids (many, many years from now!)