There are a lot of "chal­lenges" hap­pen­ing in the social media sphere these days — books, ice buck­ets, kind­ness, grat­i­tude, etc. All great things — per­haps one of the bet­ter uses for social media even, though it doesn't quite beat out birth­day greet­ings and first-day-of-school pic­tures, in my book.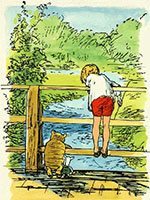 Last week, a good friend and fel­low read­er "chal­lenged" me to list ten of the books that have shaped or stayed with me in some way. 'Twasn't much of a chal­lenge; in fact, ten seemed like a pre­pos­ter­ous lim­it. But I game­ly list­ed ten off the top 'o my head. Most were children's books, but not all. The first — pos­si­bly the most influ­en­tial (besides Anne of Green Gables)—was Win­nie-the-Pooh.
The House at Pooh Cor­ner is the first book I remem­ber hav­ing read to me. I'm sure my par­ents read pic­ture books to me/us first — they still have all the lit­tle Gold­en Books from my child­hood on a shelf for the grand­kids. But the expe­ri­ence of read­ing I have ful­ly and absolute­ly asso­ci­at­ed with Pooh and friends. A chap­ter sto­ry each day after lunch and before nap — a slight­ly sleepy romp in the Hun­dred Acre Woods — is one of my cozi­est child­hood mem­o­ries. I was tired from the morn­ing's activ­i­ties, warm and com­fy next to my moth­er, and with such good friends — Pooh, Piglet, Eey­ore, Rab­bit and Tig­ger, Kan­ga and Roo and Owl…. Their gen­tle antics and adven­tures remain among my favorite in all of children's lit­er­a­ture.
In a bril­liant mar­ket­ing move, Dis­ney re-released a lot of Pooh para­pher­na­lia about the time my hus­band and I (and many chil­dren of the late 1960's and ear­ly 1970's) had our first baby. Need­less to say, our baby boy had Pooh wall­pa­per, a dar­ling Pooh and Piglet night­light, gor­geous Pooh book­ends, and a beau­ti­ful hand-hooked Pooh rug, sheets, tow­els, etc. These are all in my office now — well, not the wall­pa­per and sheets and tow­els, but most def­i­nite­ly the night­light, book­ends, and rug!
Some­how — as the eldest child, I guess — I am in pos­ses­sion of the paper­back books my moth­er read from. They're so tat­tered and well-loved I'm afraid to take a pic­ture of them lest they fall apart from the flash. A cou­ple of birth­days ago my moth­er gave me leather-bound, gild­ed-paged ver­sions of all the Win­nie-the-Pooh books. The two sets of dif­fer­ent­ly beau­ti­ful books have a place of hon­or on my shelves.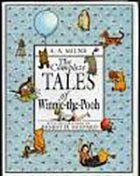 When my Gran gave me mon­ey for my first baby's first birth­day present, I used some of it to pur­chase The Com­plete Tales of Win­nie-the-Pooh in spiffy hard­back for my lit­tle boy. Around the same time we came across audio­tapes of the BBC's pro­duc­tion of the Pooh books. For years our boy went to sleep lis­ten­ing to Pooh — he wore the tapes out. Won­der­ful Pooh phras­es seeped into his speech — he had a smack­er­el instead of a snack, vis­it­ed friends and rela­tions, asked for sus­tain­ing books dur­ing try­ing times, hummed small hums, wor­ried about Hos­tile Ani­mals, and did stout­ness exer­cis­es on occa­sion.
I can­not think of bet­ter books to accom­pa­ny a child through the ear­ly years. Pooh sto­ries are sto­ries about friend­ship and loy­al­ty, love and grace, curios­i­ty and silli­ness, qui­et adven­tures out and about, and the com­forts of home. These books embody most every­thing we would wish for all the world's chil­dren. I feel priv­i­leged to have grownup with the sil­ly old bear…and to have raised my own chil­dren by him, too.