In recent weeks, we've had many requests for books about anger and fear and con­flict res­o­lu­tion.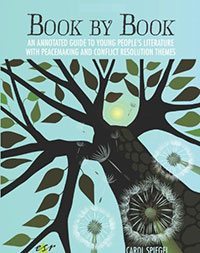 I was imme­di­ate­ly remind­ed of an excel­lent resource pub­lished in 2010 called Book by Book: an Anno­tat­ed Guide to Young People's Lit­er­a­ture with Peace­mak­ing and Con­flict Res­o­lu­tion Themes (Car­ol Spiegel, pub­lished by Edu­ca­tors for Social Respon­si­bil­i­ty, now called Engag­ing Schools).
Peace edu­ca­tor Car­ol Spiegel has gath­ered a use­ful, impor­tant, and intrigu­ing-to-read list of 600 pic­ture books and 300 chap­ter books that will spark your imag­i­na­tion and help you find just the right book to use in your class­room, library, or home.
As she says so well, "Sto­ries can gen­tly steal into the lives of young peo­ple and show the way to peace and con­flict res­o­lu­tion. Children's lit­er­a­ture is rich with such tales. As an exam­ple, pic­ture this. Annie strug­gles with her anger and then she hears about Sophie who gets just as angry. Annie is heart­ened when she learns how Sophie copes. Had some­one tried to talk direct­ly with Annie about ways to deal with anger, Annie may have been defen­sive. This pos­ture was unnec­es­sary when Sophie was being fea­tured."
Of course, the book Ms. Spiegel is describ­ing is Mol­ly Bang's book, When Sophie Gets Angry — Real­ly, Real­ly Angry … (and check out the 2015 book When Sophie's Feel­ings Are Real­ly, Real­ly Hurt).
There is an Index of Book Themes in the back mat­ter that will help you find books with themes such as:
Elder­ly, respect for
Emo­tion­al lit­er­a­cy: accept­ing lim­i­ta­tions and gifts
Explor­ing con­flict: nature of con­flict, con­flict styles
Friend­ship, inclu­sion and exclu­sion
You'll find good books that will be use­ful for your read­ing and dis­cus­sions, such as:
First Day in Grapes by L. King Perez, illus by Robert Casil­la (Over­com­ing Obsta­cles, Bul­ly­ing)
Why Mos­qui­toes Buzz in People's Ears by Ver­na Aarde­ma, illus by Leo and Diane Dil­lon (Lis­ten­ing, Rumors or Sus­pi­cion)
Prob­a­bly Still Nick Swan­son by Vir­ginia Euw­er Wolff (Accept­ing Lim­i­ta­tions and Gifts, Respect for Elder­ly or Dis­abled, Rumors or Sus­pi­cion)
The Reveal­ers by Doug Wil­helm (Bul­ly­ing, Prej­u­dice or Dis­like, Non­vi­o­lent Response)
REVOLUTION is Not a Din­ner Par­ty by Ying Chang Com­pes­tine (Non­vi­o­lent Response, Oppres­sion)

In our cur­rent world, where books have a shelf life of less than five years, you may not read­i­ly find some of these books (because they were pub­lished six or sev­en years ago). Get the book you're inter­est­ed in on inter­li­brary loan from your pub­lic library, read it, con­sid­er whether it's impor­tant to have it in your school or class­room library, and then find a used copy online.
The folks at Engag­ing Schools were kind enough to send me two down­load­able PDFs that may help to con­vince you to obtain this book: Table of Con­tents and Sup­ple­men­tal Index. You can order the book from Engag­ing Schools online.
I hope they will update this book … it's a crit­i­cal ref­er­ence in our unset­tled, grow­ing wis­er, open­ing our minds world.
Seri­ous­ly, you'll won­der why you don't already have this ref­er­ence book on your shelf.