Which celebri­ty, liv­ing or not, do you wish would invite you to a cof­fee shop?
My def­i­n­i­tion of celebri­ty is some­one whom I admire, who I think has con­tributed to soci­ety in his actions or words. To me, celebri­ty is more than a pret­ty face. He does more than recite words that some­one else wrote, act­ing out a sto­ry that some­one else has planned out and directs.
Eric Kim­mel is my favorite celebri­ty. I always love talk­ing to him. Anoth­er celebri­ty I can't wait to meet is Mon­i­ca Kulling. Of course, I'd love to talk to Mark Twain, too, about his adven­tures rid­ing the stage­coach west and his time in San Fran­cis­co. And Abi­gail Adams, wife of John Adams, about the times she lived in.
But let's be real: my friends are the celebri­ties in my life.

Which book do you find your­self rec­om­mend­ing pas­sion­ate­ly?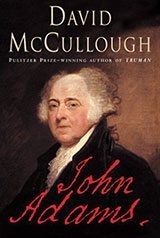 I am cur­rent­ly read­ing — for the sec­ond time—John Adams by David McCul­lough. I love McCullough's blend­ing of nar­ra­tive and research, cre­at­ing such a pow­er­ful sto­ry. Of course, we know all of his­to­ry is a sto­ry. He does it so well. I just fin­ished Ein­stein, by Wal­ter Isaac­son. For a long time I always thought I'd love to meet Ein­stein, speak­ing of celebri­ty. It turns out, while he didn't like the label "celebri­ty," he cer­tain­ly lived the life. Ein­stein was such a hound dog. For all his lofty thought exper­i­ments about space and time, he real­ly didn't have a clue about life on this plan­et. He had an inter­est­ing, com­plex life, and saw a lot of his­to­ry. It would be more inter­est­ing to speak to one of his friends, wives, or girl­friends, to see their reac­tion to nav­i­gat­ing such a com­plex per­son­al­i­ty. One of my favorite movies is IQ, in which Wal­ter Matthau plays Ein­stein as an old man. I like that Ein­stein.
Even more inter­est­ing, I bet it would be cool to lis­ten to a con­ver­sa­tion between Ein­stein and Stephen Hawk­ing!!
Anoth­er book I just read was Hap­py Birth­day, Alice Babette, writ­ten by Mon­i­ca Kulling and illus­trat­ed by Qin Leng. This books tells a gen­tle sto­ry about a birth­day par­ty between two friends, Gertrude Stein and Alice B. Tok­las. Of course, we know the his­to­ry of those two celebri­ty writ­ers, which makes this book all the more impres­sive.
Favorite city to vis­it?
I've vis­it­ed many his­tor­i­cal cities and towns as I researched my sto­ries. I vis­it­ed Get­tys­burg, PA sev­er­al times, walk­ing the bat­tle­fields, as I researched my Girls of Get­tys­burg. I've dri­ven along the Mis­sis­sip­pi Riv­er for a ways, as I researched life along the riv­er for my Big River's Daugh­ter. I've been to Boston and the sur­round­ing area, which is intent­ly inter­est­ing as it relates to John Adams. I've been to Wash­ing­ton, DC, of course, and just love that his­to­ry. I'd like to go again and check it out more, espe­cial­ly Arling­ton Nation­al Ceme­tery. And I'd love to go to Philadel­phia, for all the his­to­ry.
Tea? Cof­fee? Milk? Soda? What's your favorite go-to drink?
Diet Coke, most def­i­nite­ly. Although I've cut down quite a bit since my young years and now drink more water. I recent­ly had my first cup of cof­fee, made very weak and includ­ed sug­ar free hazel­nut cream­er. Very tasty! And it did the trick: I was up at 4, and I had a long day of trav­el­ing ahead of me. I was able to make it through with­out nod­ding off.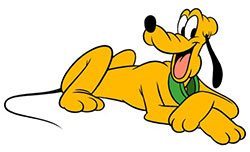 Is Plu­to a plan­et?
What a tricky good ques­tion!
Plu­to is a hound dog, and he's every bit as loy­al a friend as Lassie and Old Yeller. Just like Mick­ey Mouse!