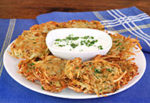 Print Recipe
Potato Latkes
Whether you're celebrating Hanukkah with these delicious treats or you're a fan of potatoes, you'll want to add this easy recipe to your repertoire. (from The Food Network)
In a food processor grate the potatoes. Line a sieve with cheesecloth and transfer potatoes to the sieve. Set sieve over a bowl, twist cheesecloth into a pouch, squeezing out some moisture. Let mixture drain for 15 minutes. After 15 minutes, pour off liquid from the bowl but leave the white potato starch that settles in the bottom of the bowl.

To that starch add shallots, eggs, flour, 1-1/2 teaspoons of salt and freshly ground pepper. Return drained potatoes to this mixture and toss to combine.

Preheat oven to 200 degrees. Line a baking pan with paper towels. When you are ready to eat, in a large skillet heat 1/4 inch of oil over medium high heat until hot. Drop heaping tablespoonfuls of potato mixture and cook for 3 to 4 minutes a side; latkes should be golden and crisp on both sides. Eat right away or keep warm in oven. Serve with applesauce or sour cream or cottage cheese mixed with sour cream.