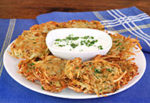 Print Recipe
Potato Latkes
Whether you're cel­e­brat­ing Hanukkah with these deli­cious treats or you're a fan of pota­toes, you'll want to add this easy recipe to your reper­toire. (from The Food Network)
Ingredients
1−1÷2

lbs

rus­set pota­toes

peeled

1⁄4

cup

fine­ly chopped shallots

2

large eggs

light­ly beaten

2

Tbsp

flour or mat­zo meal

may need more

1−1÷2

tea­spoons

salt and fresh­ly ground black pepper

Veg­etable oil for frying
Instructions
In a food proces­sor grate the pota­toes. Line a sieve with cheese­cloth and trans­fer pota­toes to the sieve. Set sieve over a bowl, twist cheese­cloth into a pouch, squeez­ing out some mois­ture. Let mix­ture drain for 15 min­utes. After 15 min­utes, pour off liq­uid from the bowl but leave the white pota­to starch that set­tles in the bot­tom of the bowl.

To that starch add shal­lots, eggs, flour, 1−1÷2 tea­spoons of salt and fresh­ly ground pep­per. Return drained pota­toes to this mix­ture and toss to combine.

Pre­heat oven to 200 degrees. Line a bak­ing pan with paper tow­els. When you are ready to eat, in a large skil­let heat 1⁄4 inch of oil over medi­um high heat until hot. Drop heap­ing table­spoon­fuls of pota­to mix­ture and cook for 3 to 4 min­utes a side; latkes should be gold­en and crisp on both sides. Eat right away or keep warm in oven. Serve with apple­sauce or sour cream or cot­tage cheese mixed with sour cream.