I'd like to know a thou­sand things about this book because you've opened so many doors for my imag­i­na­tion. I'll restrict myself to only a few of those ques­tions, pri­mar­i­ly to help stu­dents who are drawn in by all the sto­ries with­in this pho­to­graph and the poems you've writ­ten about it.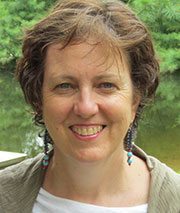 You have been a jour­nal­ist and a music crit­ic. You're a pic­ture book writer, a biog­ra­ph­er, a non­fic­tion writer. This is your first book writ­ten in poet­ry. How did you learn about poet­ic form so that you had con­fi­dence to write this book?
I wrote a cou­ple of sort-of poems and thought they might work as a way to tell the sto­ry of the pho­to­graph "Harlem 1958." Then I start­ed read­ing poet­ry, and I attend­ed a poet­ry retreat. Most­ly I just kept writing.
How long did it take you to write Jazz Day? Is that more or less time than it nor­mal­ly takes you to write a pic­ture book biography?
I'm not sure, maybe a year and a half. Less time than my pic­ture book bios, but that's not count­ing the time I spent try­ing oth­er forms in which to tell the sto­ry. That's always the hard part for me, fig­ur­ing out what the sto­ry is and how I want to tell it. That peri­od can last many months.
How did you find the right place to ask per­mis­sion to use Harlem 1958 in your book?
I went through the Art Kane estate.
You wrote "This Moment" in the form of a pan­toum. That form uses four-line stan­zas. The sec­ond and fourth line from one stan­za become the first and third line of the fol­low­ing stan­za. How long did it take you to get this poem just right?
Not long. It's like a puz­zle. But I wrote that poem near the end, when I was already famil­iar with the sto­ry and the peo­ple in the photo.
Do you recall when you first learned about the pan­toum form?
At the poet­ry retreat, from the teacher, a poet named Lesléa Newman.
Did you end up being hap­py you'd cho­sen to write the book in poet­ry or decid­ing this is the last time you'll do this?
Absolute­ly, yes. Poems turned out to be the per­fect way to write about this pho­to­graph, jazz, a Harlem street, the 1950s — the whole thing.
How do you decide the sub­ject of your next book?
I fol­low my nose, I guess. What inter­ests me. It doesn't always work; I have a few books which I spent a lot of time research­ing and writ­ing, and in the end, they didn't work. My next book is not about music or the arts, and I had to muster the courage to tack­le some­thing com­plete­ly unfamiliar.
Were you drawn to this book because of your love for jazz or pho­tog­ra­phy or the 1950s? What pulled you into the project?
Jazz pulled me in, but I'd known about this par­tic­u­lar pho­to ever since I began learn­ing about jazz.
What dif­fer­ence did it make to the book that you were able to inter­view a pri­ma­ry source, the pho­tog­ra­ph­er Art Kane's son, Jonathan Kane?
A big dif­fer­ence because there are lots of ver­sions out there of what hap­pened that day, whose idea it was to take the pho­to, etc. I basi­cal­ly used Jonathan Kane's ver­sion of events.
You had no idea how your poems would be illus­trat­ed, how they would make that leap from sep­a­rate poems and illus­tra­tions to inte­grat­ed dou­ble-page spreads that work togeth­er to help us under­stand a time, a place, a feel­ing, a group of peo­ple. Did you find your­self alter­ing your poet­ry to allow room for the illus­tra­tor to make his own con­tri­bu­tions to the book?
No, not at all. The way it works is that I com­plete the man­u­script, revise it togeth­er with my edi­tor, and then the fin­ished text is sent to an illus­tra­tor who has been cho­sen by the art edi­tor. I may have changed a word or two to suit an illus­tra­tion or lay­out, but that's all. I was sent sketch­es and invit­ed to com­ment, which I did, but for the most part, Fran­cis and I worked inde­pen­dent­ly. We didn't even meet until after the book was pub­lished. That's pret­ty much the norm.
Your list poem, for exam­ple, "What to Wear (from A to Z)" is illus­trat­ed bril­liant­ly in list fash­ion as well. Were you aware of includ­ing items in your list that could be eas­i­ly illustrated?
No, I don't imag­ine how my words will be illus­trat­ed. I guess that's why I am a writer, not an illustrator!
You state in the author's note that you researched why some of the most famous jazz musi­cians aren't in the pho­to. What drew you into doing this "extra" research? Or do you view it as extra?
It wasn't extra, not to me. I knew many "greats" were miss­ing: Louis Arm­strong, Ella Fitzger­ald, Sarah Vaugh­an, Miles Davis, on and on. I thought it might be fun to focus on one of the miss­ing peo­ple, and maybe fig­ure out what he or she was doing instead of being at the pho­to shoot. It was also a way of talk­ing about the jazz life; most of these guys, and gals, were on the road all the time.
Rox­ane, thank you for tak­ing the time to share your insights with our read­ers. Your book has received six starred reviews from the major review jour­nals … it's hard not to fall in love with Jazz Day.