Authors Emer­i­tus, a com­pi­la­tion of short biogra­phies of deceased children's lit­er­a­ture cre­ators, is a Bookol­o­gy Children's Lit­er­a­ture resource. When a Book­storm™ includes books by authors and illus­tra­tors in the index we like to high­light those biogra­phies. This month: Tom Feel­ings (The Mid­dle Pas­sage) and Vir­ginia Hamil­ton (Many Thou­sand Gone).

Tom Feel­ings, born on May 19, 1933, was a native of Brook­lyn, NY. He attend­ed the School of Visu­al Arts for two years before join­ing the Air Force, work­ing as a staff artist. He then worked as a free­lance artist, pub­lished in Look mag­a­zine, trav­eled to Ghana to work for the African Review, and returned to the U.S. in 1966 to con­cen­trate on illus­trat­ing books with African and African-Amer­i­can themes.
He cre­at­ed the com­ic strip "Tom­my Trav­el­er in the World of Negro His­to­ry" in 1958 for New York Age, a news­pa­per based in Harlem. He col­lab­o­rat­ed with tal­ent­ed black writ­ers such as Julius Lester, Eloise Green­field, Nik­ki Grimes, and Maya Angelou.
In his life and work he tried to por­tray the real­i­ty of life for African Amer­i­cans while depict­ing the beau­ty and warmth of black cul­ture. Feel­ings won numer­ous awards for his work. Moja Means One, a Swahili count­ing book, and Jam­bo Means Hel­lo, a Swahili alpha­bet book, were cho­sen as Calde­cott Hon­or Books in 1972 and 1974. Some­thing On My Mind won the Coret­ta Scott King Award in 1978. The Mid­dle Pas­sage was award­ed the Coret­ta Scott King Award for Illus­tra­tors and the Jane Addams Chil­dren's Book Award. Feel­ings referred to him­self as a sto­ry­teller in pic­ture form.
Mr. Feel­ings died August 25, 2003 at the age of 70.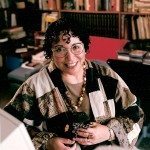 Vir­ginia Hamil­ton was born on March 12th, 1936, on a farm in Yel­low Springs, Ohio. As a writer, she achieved crit­i­cal suc­cess from the start with the pub­li­ca­tion of her first book, Zeely.
Her 1974 nov­el M.C. Hig­gins the Great won the New­bery Medal, mak­ing Vir­ginia the first African Amer­i­can author ever to receive this hon­or. In addi­tion, the book won the Nation­al Book Award, Boston Globe – Horn Book Award, Lewis Car­roll Shelf Award, the Peace Prize of Ger­many, New York Times Out­stand­ing Children's Book of the Year and Hans Chris­t­ian Ander­sen Hon­or Book, among oth­ers. This marked the first time a book had won the grand slam of New­bery Medal, Nation­al Book Award, and Boston Globe – Horn Book Award.
In 1992 she was award­ed the Hans Chris­t­ian Ander­sen Award for Writ­ing, the high­est inter­na­tion­al recog­ni­tion bestowed on an author or illus­tra­tor of children's lit­er­a­ture. At the time she was only the fourth Amer­i­can to win the award, which has been pre­sent­ed every oth­er year since 1956.
In addi­tion to the awards for M.C. Hig­gins the Great, her work has won New­bery Hon­ors, Coret­ta Scott King awards and hon­ors, an Edgar Allen Poe award, and has been on mul­ti­ple "best of the year" lists.
Hamil­ton said of her work:
"I see my books and the lan­guage I use in them as empow­er­ing me to give utter­ance to the dreams, the wish­es, of African Amer­i­cans. I see the imag­i­na­tive use of lan­guage and ideas as a way to illu­mi­nate the human con­di­tion. All of my work, as a nov­el­ist, a biog­ra­ph­er, cre­ator and com­pil­er of sto­ries, has been to por­tray the essence of a peo­ple who are a par­al­lel-cul­ture soci­ety in Amer­i­ca. I've attempt­ed to mark the his­to­ry and tra­di­tions of African Amer­i­cans, a par­al­lel cul­ture peo­ple, through my writ­ing, while bring­ing read­ers strong sto­ries and mem­o­rable char­ac­ters liv­ing near­ly the best they know how. I want read­ers, both adults and chil­dren, to care about who the char­ac­ters are. I want read­ers to feel, to under­stand, and to empathize. I want the books to make a world in which the char­ac­ters are real."
She died on Feb. 19, 2002