While tak­ing a clos­er look at Creek­find­ing: A True Sto­ry, it is impos­si­ble to sep­a­rate the nar­ra­tive and the illus­tra­tions because togeth­er they make the book whole. And yet two dif­fer­ent artists cre­at­ed the words and the illus­tra­tions that guide the read­er toward an under­stand­ing of the Brook Creek restora­tion project. Clau­dia McGe­hee notices the details, the encom­pass­ing emo­tions and the nuances of the land­scape that encour­age to walk along­side Team Brook Creek while they explore this restored ecosys­tem. Do add this book to your book­shelves. You'll want to read it and soak in the art when­ev­er you need reas­sur­ance that we can be good stew­ards of this Earth..
When you begin work on a new book, what is the first thing that you do?
I find a qui­et place to read the man­u­script sev­er­al times, close my eyes, and imag­ine the "scenes" the words bring forth to me, keep­ing a sketch­book handy to get these "first blinks" of inspi­ra­tion. This goes for when I have authored the book as well; I don't start illus­trat­ing until the man­u­script is complete.
In the Illustrator's Note, you state, "I made the rip­ply, stur­dy lines of earth, water, and sky in scratch­board and paint­ed the prairie greens, creek blues, and every­thing in between with water­col­ors and dyes." Can you tell us a bit about the tools you use for scratchboard?
I use a sharp skin­ny X‑acto blade (a num­ber 16, with a beveled end) to carve into the scratch­board sur­face, reveal­ing the white chalky lay­er below. I scratch out what I want to be white or col­ored, and leave an out­line and detail in black. When all the line-work is com­plete, I scan the image into my Mac and print it onto water­col­or paper. From here I use water­col­or and dyes and paint tra­di­tion­al­ly at my board.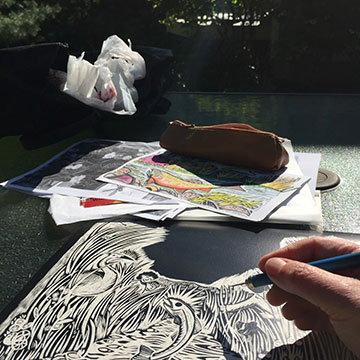 For read­ers who would like to work with scratch­board, what type of paper do you use? What do you mean by dyes? How do you apply them to the paper? And why do you use them?
I use Ess­dee brand scratch­board. It is robust enough to be scratched, inked again if I want to make a cor­rec­tion and reworked. There is also a thin­ner grade of scratch­board (the com­pa­ny Melis­sa and Doug makes this kind) that younger peo­ple can scratch with wood­en sty­lus, much less sharp than an X‑acto blade.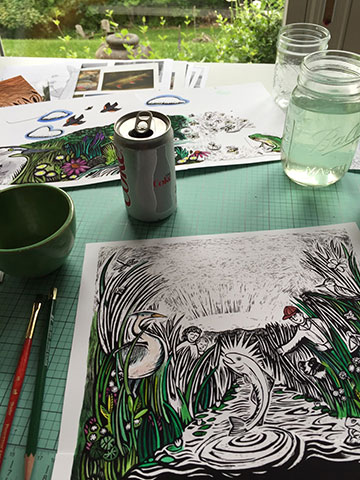 The dyes go by the brand name Dr. Ph. Mar­t­in's. They've been around for­ev­er. They are essen­tial­ly water­col­or, known for their vivid, almost flu­o­res­cent qual­i­ty. I apply them just as I do water­col­ors, with a brush. They work very well for prairie and creek­side flow­ers and crit­ters. I am very par­tial to the Doc Mar­tin char­treuse (frog green!). The dyes do tend to fade in the sun­light, so I keep my orig­i­nals in dark file draw­ers to pre­serve the color.
How do you pre­serve and store scratch­board artwork?
I have a large, old­er, flat file where a lot of work goes. I also archive in big plas­tic bins, sep­a­rat­ing the art­work by each indi­vid­ual book project.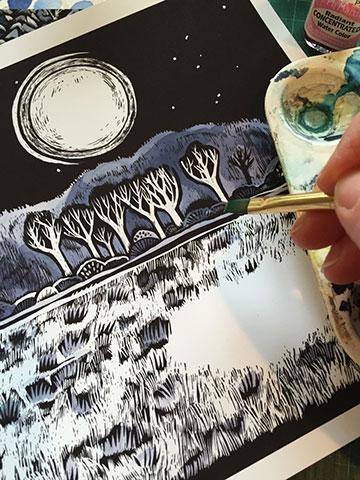 At what point in the mak­ing of the book do you cre­ate the endpapers?
A high­light for me is to behold a pic­ture book's end-sheets. Good ones will give an indi­ca­tion of the book's over­all mes­sage or spir­it. Some­times they tell a sto­ry as well. I savor mak­ing my own end-sheets, usu­al­ly treat­ing myself to mak­ing them at the very last of a book project. The Creek­find­ing end-sheets are some­thing I've want­ed to try for a while, using them to sug­gest a pas­sage of time. The open­ing of the book is a sun­rise on the creek, com­plete with red-winged black bird, and the back sheet is a sunset.
You vis­it­ed Prairie Song Farm, which is where the creek in this book was restored. As an artist, how do you look at a new loca­tion that you will make the focus of a new book?
I sim­ply try to observe and be in the moment when I vis­it a book setting's loca­tion. I want the place to speak to me and I have to be qui­et to hear it. My work relies on small details that make the set­ting unique. Hope­ful­ly, my impres­sions will pass on suc­cess­ful­ly to my illus­tra­tions lat­er in the studio.
You have a degree in archae­ol­o­gy. What does the knowl­edge you stud­ied bring to the work you do now?
In a prac­ti­cal sense, my archae­ol­o­gy back­ground helped me hone my research skills, as impor­tant to an illus­tra­tor as they are to a writer. There is also a lev­el of basic curios­i­ty in the archae­ol­o­gist, a love for the "what comes next?" that is sim­i­lar in the process of mak­ing a non­fic­tion-based pic­ture book.
The humans, birds, fish, and insects in this book all look joy­ful. Was that a con­scious deci­sion on your part?
I may nev­er work for Nation­al Geo­graph­ic, but I believe that all ani­mals are capa­ble of "smil­ing" and show­ing hap­pi­ness like humans do and I nat­u­ral­ly want to show this. After all, I would be hap­py if I were a brook trout in Mike's creek! I don't want them to look too sweet or whim­si­cal how­ev­er, but I do hope my birds and fish et al express a sense of joy in liv­ing that all crea­tures feel.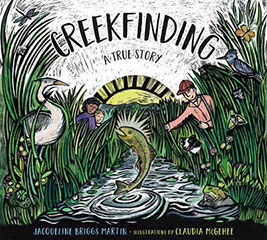 The art in this book is gor­geous, sump­tu­ous, an invi­ta­tion to rev­el in our nat­ur­al land­scapes. What do you feel while you're work­ing on a book like this? And once it's print­ed and in your hands?
Thank you! I real­ly am tak­en by our nat­ur­al world's beau­ty. It sus­tains me. My per­son­al art mis­sion is for my work to entice read­ers out­doors after a good read to expe­ri­ence nature themselves.
Actu­al­ly mak­ing book art is not as mag­i­cal a time as some imag­ine! It is hard phys­i­cal and men­tal work. Pub­lish­ing dead­lines are crit­i­cal to make, so at times I feel I am a marathon run­ner, pac­ing her­self through a long race. There are cer­tain­ly points of joy, like the com­ple­tion of thumb­nails or sketch­es. I will laugh out loud if I feel I have real­ly nailed a spread. But there are also frus­tra­tions when I just can't get a page to come together.
The best part of mak­ing Creek­find­ing is that Jack­ie and I live quite close and are friends and we reg­u­lar­ly con­nect­ed to share the progress of the book. I looked at ear­ly ver­sions of her man­u­script and she looked at the art­work in progress. It was nice to have this cama­raderie, and what we lat­er called "Team Brook Creek," which includes Mike Oster­holm, the book's sub­ject. It was tru­ly a unique project to be part of.
Thank you, Clau­dia for shar­ing with us an inside look at the incred­i­ble work you do.
Don't miss the com­pan­ion inter­view with author Jacque­line Brig­gs Mar­tin or the Book­storm for Creek­find­ing: A True Sto­ry offer­ing com­pan­ion books and web­sites for fur­ther explo­ration or incor­po­ra­tion into les­son plans.