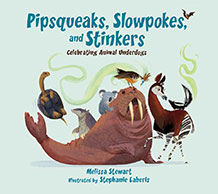 This month we're fea­tur­ing Melis­sa Stew­art, author of sci­ence books for young read­ers and a seem­ing­ly tire­less advo­cate for read­ing non­fic­tion books, par­tic­u­lar­ly expos­i­to­ry non­fic­tion ("5 Kinds of Non­fic­tion"). Melis­sa has writ­ten more than 180 books in her career, the first of which was pub­lished in 1998 and the most recent of which is Pipsqueaks, Slow­pokes, and Stinkers: Cel­e­brat­ing Ani­mal Under­dogs (illus­trat­ed by Stephanie Laberis, pub­lished by Peachtree Pub­lish­ers). We recent­ly put our heads togeth­er for an inter­view address­ing our curios­i­ty about Melissa's books and her work. Pull up a chair to the table and join us!
Do you work on more than one book at a time?
Yes, I usu­al­ly work on at least a half dozen books at a time. I might be writ­ing the rough draft of one and revis­ing one or two oth­ers. I might be research­ing one, and wait­ing for research mate­ri­als for anoth­er. I could be review­ing illus­tra­tor sketch­es or check­ing lay­outs or review­ing notes from an edi­tor or copy edi­tor. There's a lot of jug­gling. Each day, before I stop work­ing, I make a list of what I plan to work on the next day. This helps to keep me organized.
You work on many dif­fer­ent types of books with­in the pletho­ra of knowl­edge about our nat­ur­al world. How do you clear your head to work on a joke book after you've writ­ten about the droughts in our world?
Some­times it's a strug­gle, espe­cial­ly when I need to shift gears between writ­ing with a live­ly, humor­ous voice and a more lyri­cal voice. If my voice is off, I stop writ­ing and start read­ing to get in the right mind­set. It's sort of like cleans­ing my palate with sor­bet or pick­led gin­ger between dif­fer­ent cours­es of a meal.
You write for a vari­ety of pub­lish­ers includ­ing Peachtree Pub­lish­ers, Nation­al Geo­graph­ic Kids, Beach Lane Books, and Harper­Collins. Do you pitch your ideas to these com­pa­nies or do they come to you with ideas for the books they'd like?
A lit­tle bit of both. When pub­lish­ers have a large mass mar­ket series, such as Nation­al Geo­graph­ic Read­ers or HarperCollins's Let's‑Read-and-Find-Out-Science®, they usu­al­ly decide what top­ics they would like to add and then search for a writer. But for pic­ture books and oth­er trade books, I devel­op the idea. For pic­ture books, I need to sub­mit the com­plete man­u­script, and then the pub­lish­er may accept it or they may reject it. For longer books, I sub­mit a pro­pos­al with an out­line and writ­ing sample.
When you're writ­ing a book that a pub­lish­er hired you to write, do you have para­me­ters with­in which you need to stay?
Yes. They give me a word count and usu­al­ly tell me what text fea­tures to include. I use exist­ing books in the series as models.
Do you find that dif­fi­cult to do?
No. I find it com­fort­ing to have guide­lines. It's sort of like putting togeth­er a jig­saw puz­zle. All the pieces are there. I just have to fig­ure out the right way to put them together.
With pic­ture books, I'm invent­ing the puz­zle. I find that chal­leng­ing, but I enjoy being able to exper­i­ment and play. It's a more cre­ative experience.
How do you keep your research organized?
I don't real­ly have a good sys­tem. I type all my notes into a Word file. Over time, it becomes unwieldy.
Before I start writ­ing, I think about the major cat­e­gories of infor­ma­tion I'll need. Then I cut and paste, cut and paste to cre­ate major chunks of relat­ed infor­ma­tion. Depend­ing on the book, even these chunks can still be unwieldy. Thank good­ness Word allows me to do search­es to find exact­ly the infor­ma­tion I need.
Some­times I use index cards or sticky notes to help me decide the order in which these chunks will be pre­sent­ed in the book. I like that I can phys­i­cal­ly move them around.
Do you return to that research when you're writ­ing a new book?
Some­times I try. After all, it would be more effi­cient, but there are two rea­sons that it usu­al­ly doesn't work out.
Because our knowl­edge of the world is chang­ing so quick­ly, notes I took 5 or even 3 years ago may be out of date.
Even when I include the same ani­mal in two books, my hook is inevitably dif­fer­ent, so my notes may not have the spe­cif­ic details I need.
Who finds the pho­tos that are includ­ed in your books?
Some­times me. Some­times a pho­to researcher who works for the pub­lish­ing com­pa­ny. And some­times we work togeth­er. It depends on the pub­lish­er and the project.

Do you have any input for the illus­tra­tors who have worked on books such as Can an Aard­vark Bark? and Under the Snow and A Place for Birds?
Some­times I play a role in select­ing the illus­tra­tor, and some­times I don't. It depends on the pub­lish­er and the project. Some­times I pro­vide a pack­age of ref­er­ence mate­ri­als for the illustrator.
Because I'm the con­tent expert, I always have an oppor­tu­ni­ty to review the illustrator's sketch­es and com­ment on any­thing that isn't sci­en­tif­i­cal­ly sound. It isn't unusu­al for the illus­tra­tor to do sev­er­al sets of sketch­es. S/he keeps work­ing until all the details in the art are accurate.
If you could break your week down into the per­cent­ages of what you do, how much time do you spend on the dif­fer­ent tasks required of a suc­cess­ful writer?
This has shift­ed a lot over the years. When my first book was pub­lished 20 years ago, authors weren't expect­ed to play a role in mar­ket­ing. Most children's books were sold to schools and libraries. But in the ear­ly 2000s, school book bud­gets were slashed and many school librar­i­ans lost their jobs. For a while, there were sev­er­al large brick-and-mor­tar book­store chains, and they were major play­ers in the mar­ket. But now, most of them are gone.
Today social media is explod­ing and authors are expect­ed to be active­ly involved in sell­ing their books. And so I spend a lot of time blog­ging and tweet­ing and devel­op­ing mate­ri­als for my web­site. That means I have less time to actu­al­ly work on books.
While there real­ly is no typ­i­cal day or week, I can say that I now spend only about 50 per­cent of my time work­ing on books. The rest of the time is devot­ed to mar­ket­ing, speak­ing at schools, attend­ing con­fer­ences, and read­ing recent­ly pub­lished children's books.
Of the time I do spend work­ing on books, prob­a­bly about 50 per­cent of the time is spent phys­i­cal­ly writ­ing. The rest of the time, I'm doing research, devel­op­ing ideas for new projects, or read­ing adult books and arti­cles about science.
What's your favorite aspect of your career?
The phys­i­cal act of writ­ing, espe­cial­ly those mag­i­cal hours "spent in the flow." But a close sec­ond is spend­ing time in schools speak­ing with and lis­ten­ing to kids.
What do you wish were dif­fer­ent about your career?
I don't think any­one likes rejec­tions, but it's an inevitable part of the writ­ing process.
If you could select one of your back­list titles, which book would you like to see peo­ple read­ing with more fre­quen­cy? Can you tell us why?
Because sci­ence is always chang­ing, some of my old­er books con­tain infor­ma­tion that is out of date. In fact, I some­times cheer when I find out a title is going out of print. I'm more than hap­py to have young read­ers focus on titles I've pub­lished in the last 5 or 6 years.
Curi­ous about Melissa's books? Vis­it her web­site.
Edu­ca­tors, don't miss the many, many resources Melis­sa has made avail­able for you. Her site is a ver­i­ta­ble trea­sure lode!