Melanie Heuis­er Hill recent­ly inter­viewed Lin­da Sue Park, curi­ous about her dai­ly work habits as a writer, and how Lin­da Sue bal­ances life and work.
Do you have spe­cif­ic writ­ing goals that you for­mu­late and work toward — a cer­tain num­ber of words/pages a day, a draft fin­ished by a cer­tain date, revi­sion done in x num­ber of weeks etc.?
Yes. First, I write in scenes (as opposed to chap­ters), and my goal is to write 500 words per day of that par­tic­u­lar scene. What I write can be and usu­al­ly is absolute­ly awful — the aim is the quan­ti­ty, not quality!
I begin my writ­ing day by revis­ing the pre­vi­ous day's 500, which is actu­al­ly the main task in terms of the time it takes me. I then fin­ish by writ­ing anoth­er 500 crap­py words.
But I don't have a long-term goal oth­er than the dai­ly one: a nov­el takes as long as it takes. This means that I pre­fer to write my books on spec, with­out a con­tract. Con­tracts stip­u­late dead­lines! I've had to work with a dead­line as well, for some of my books. I don't mind a dead­line for cer­tain tasks like copy­edit­ing or proof­read­ing, but I hate hav­ing one for a first draft.
Do these goals fluc­tu­ate or change for trav­el, fam­i­ly, hol­i­days, life's inter­rup­tions, etc?
When trav­el­ing for work, I try to get at least a lit­tle writ­ing done, espe­cial­ly in air­ports or on flights. When I'm on vaca­tion, I take a break from writ­ing — vaca­tions for me are usu­al­ly a time to wal­low glo­ri­ous­ly in READING.
Like most writ­ers, I've always man­aged writ­ing in and around fam­i­ly time. That's even more true now, because my hus­band and I are care­givers for our two (adorable and bril­liant, of course) grandchildren.
You pub­lish word counts and brief com­men­tary on writ­ing process on social media with the hash­tags #amwrit­ing and #amjug­gling. Why do you put this out there pub­licly? Do you keep track of these writ­ing word counts else­where, as well?
I began tweet­ing my word counts dur­ing a time when I was feel­ing par­tic­u­lar­ly over­whelmed by dai­ly life (see grand­chil­dren, above), and find­ing it dif­fi­cult to focus on writ­ing. I thought that announc­ing my word count in pub­lic would make me feel account­able. It worked real­ly well to moti­vate me.
To my sur­prise, I began to get respons­es from folks that my word counts and com­ments about jug­gling pri­or­i­ties were inspir­ing to them. So that was anoth­er rea­son to continue.
I don't keep track of the word counts any­where else, although I sup­pose some com­put­er whiz could fig­ure it out from the time and date stamps in the Word file?
How has the jug­gling of life and writ­ing changed over your career? Is it hard­er or eas­i­er now?
Hard­er or eas­i­er, hmmm … That would be a day-to-day answer. Two comments:
1) For me, it's all about desire and dis­ci­pline. I want to write so bad­ly that I estab­lished the nec­es­sary dis­ci­pline to do so. Some days, it's hard­er than oth­ers. But the key is that I made writ­ing a HABIT.
When some­thing is a habit, it's auto­mat­i­cal­ly built in to your day. Exam­ple: You don't have to think about brush­ing your teeth, right? For me, writ­ing is a habit in exact­ly the same way. It took me months, twen­ty years ago, when my kids were young and I was teach­ing full time, to estab­lish that habit, but it was worth it. Now it's not an "issue," or a ques­tion of "find­ing the time." It's an auto­mat­ic part of my day.
2) I sit with my lap­top and type. I make up sto­ries. I play with words. For a liv­ing. That makes me one of the luck­i­est peo­ple on the plan­et. I have to admit that inward­ly, I snort and roll my eyes when folks talk about how HARD writ­ing is. Com­pared to what many or most oth­er peo­ple have to do all day long? Please.
Any chance you'd tell us a lit­tle about recent books and what you're work­ing on now?
I'm delight­ed to have sev­er­al projects in the works. This month, in March, the third book of the Wing & Claw tril­o­gy was pub­lished by Harper­Collins. It's called Beast of Stone and it's the con­clu­sion of the adven­tures of Raf­fa, Echo, and their friends. Also in March, Col­by Sharp's The Cre­ativ­i­ty Project was pub­lished, and I'm proud to have a con­tri­bu­tion in that amaz­ing book.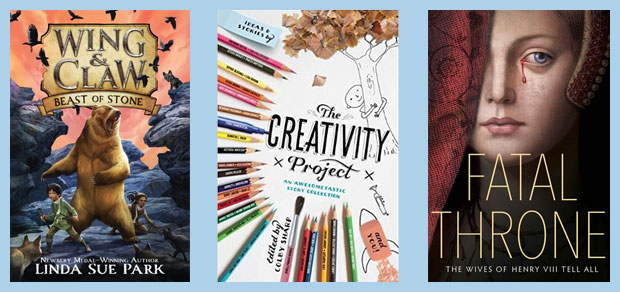 And I can hard­ly wait for May, for the pub­li­ca­tion of a YA col­lab­o­ra­tive his­tor­i­cal-fic­tion nov­el titled Fatal Throne: The Wives of Hen­ry VIII Tell All. Sev­en authors — one male, six female — each wrote from the points of view of the six queens and Hen­ry him­self. I had so much fun work­ing with the oth­er ter­rif­ic authors and writ­ing Cather­ine Howard's chapter.
My cur­rent work-in-progress is anoth­er his­tor­i­cal fic­tion nov­el that I'm hop­ing to fin­ish in 2018. If you'd like to track my progress, I'm post­ing my word count on Twit­ter @LindaSuePark.
___________________
Thank you, Lin­da Sue, for tak­ing time from your writ­ing and trav­el­ing to share your thoughts.
Learn more about Lin­da Sue Park.