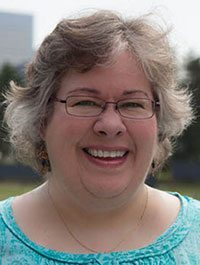 In this inter­view with Lisa Bullard, author of Turn Left at the Cow, our Book­storm™ this month, we asked nine ques­tions to which she gave heart­felt answers.

Lisa, thank you for your will­ing­ness to share your writ­ing process and your thoughts about mys­ter­ies with us. Mys­ter­ies have rabid fans and you've writ­ten a book that's not only smart and fun­ny and sassy, but it's a taut thriller. We appre­ci­ate hav­ing such a good book to read and to share with oth­er fans.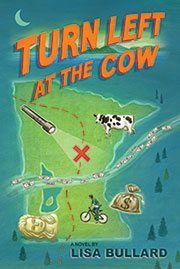 At what point in writ­ing your nov­el, Turn Left at the Cow, did you know it was going to be about an unsolved bank robbery?
That's a great ques­tion — it makes me think back to the whole excit­ing process of how this sto­ry evolved over time! When I first set out to write this book, I actu­al­ly imag­ined it as a mur­der mys­tery for adult read­ers. And then one day, when I had about 5 or 6 chap­ters writ­ten, I was revis­ing the open­ing to the sto­ry, and a com­plete­ly dif­fer­ent voice marched in and took over the first-per­son nar­ra­tion — and it was the voice of a young teenage boy. He had so much ener­gy, and I could "hear" him so clear­ly, that I knew this was tru­ly his sto­ry to tell. And of course he want­ed to talk to oth­er kids more than he want­ed to talk to adults! But that meant I had to rethink many oth­er ele­ments of the nov­el to instead make it a sto­ry for young readers.
I thought it seemed unlike­ly that a 13-year-old would be able to get involved in a mur­der inves­ti­ga­tion in a way that felt real­is­tic, so I brain­stormed oth­er pos­si­ble mys­ter­ies. At about the same time, I read a news­pa­per arti­cle about a man who was con­vinced that infa­mous hijack­er D.B. Coop­er was actu­al­ly his broth­er. I used one of my great­est writ­ing tools — the ques­tion "What if?" — and start­ed think­ing along the lines of "What if my char­ac­ter dis­cov­ers that one of his rel­a­tives was involved in a noto­ri­ous robbery?"
You've set Turn Left at the Cow in a small, rur­al town. Trav's grand­ma lives in a cab­in on a near­by lake. Why did you decide that the "place" for this sto­ry should be in this locale?
This loca­tion was at the heart of this sto­ry from the very begin­ning; it stayed the same no mat­ter what oth­er details changed, and to me, this set­ting speaks so loud­ly that it's like anoth­er char­ac­ter in the book. It's based pri­mar­i­ly on the loca­tion of my family's lake cab­in, which is on Green Lake (near two very small Min­neso­ta towns, Spicer and New Lon­don), in west cen­tral Min­neso­ta. Since my fam­i­ly moved around when I was a kid, it's the one place that I've con­sis­tent­ly returned to since I was a very small child, and it's a place that has sunk deep into my bones. Our lake cab­in orig­i­nal­ly belonged to my grand­par­ents, and I've spent some of the most impor­tant times in my life there with fam­i­ly and friends. It's even where my par­ents had their hon­ey­moon, so I've tru­ly been vis­it­ing there my entire life! But of course, my sto­ry is fic­tion, so I did take some lib­er­ties with the set­ting — for exam­ple, I gave the town in the book a (nonex­is­tent in real life) giant stat­ue of a bull­head (fish), because many of my oth­er favorite Min­neso­ta towns fea­ture giant statuary.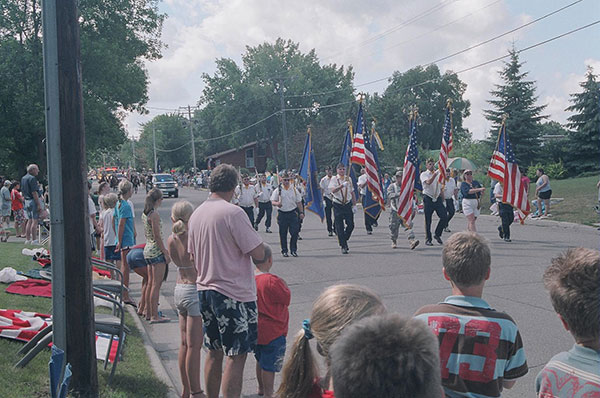 Travis, your pro­tag­o­nist, is a 13-year-old boy whose dad died before he was born. This serves as a strong moti­va­tion for him run­ning away from his moth­er in Cal­i­for­nia to his grand­moth­er in Min­neso­ta. Does your sure-foot­ed knowl­edge of Trav's moti­va­tion come from your own experience?
I have been so lucky to have a dad who has always been very active in my life. To this day, we still talk and laugh and argue with each oth­er like we did when I was a lit­tle kid and a teenag­er. But many of the peo­ple I've been clos­est to through­out my life are not so lucky. I've been close friends with sev­er­al peo­ple who lost their father when they were quite young, and my clos­est uncle died the sum­mer I turned nine — so my cousins no longer had a father of their own. As my mom explained to me, that meant I need­ed to "share" my dad with them.
As I men­tioned ear­li­er, one of my great­est writ­ing tools is the ques­tion "What if?" It chal­lenges me to expand my sto­ries beyond my own per­son­al expe­ri­ences and to live inside the expe­ri­ences of a char­ac­ter who is very dif­fer­ent from me. One of the biggest "What if" ques­tions in my own life has always been: "What if I didn't hap­pen to have the dad that I was lucky enough to have?" I decid­ed that this sto­ry was the place for me to try to imag­ine what it might be like for some­one to des­per­ate­ly crave a rela­tion­ship with a lost father.
Read­ers are fas­ci­nat­ed by the "red her­rings" in a who­dunit, the clues that could, but don't, solve the mys­tery. At what point in writ­ing the sto­ry did you con­scious­ly work with (plant your) red herrings?

I love quirky details, and I built a lot of them into the sto­ry: for exam­ple, there's a human head carved out of but­ter, a walk­ing cat­fish, and a game where the win­ner is cho­sen by a poop­ing chick­en. But I don't want to give away any clues to read­ers who haven't yet had a chance to read my sto­ry, so I'm hes­i­tant to tell you here which details are red her­rings and which details are key clues! I'll just say that some of the red her­rings were in place before I wrote a sin­gle word of the sto­ry, some of them wan­dered in out of the mys­te­ri­ous depths of my sub­con­scious as I was writ­ing the first few drafts, and oth­ers were things I cre­at­ed quite delib­er­ate­ly when I was revis­ing and reached a point where I felt I need­ed to mis­lead read­ers from fig­ur­ing out the solu­tion too easily.
Since that's a real­ly vague answer, how about this? After you've read the sto­ry, feel free to vis­it the con­tact page on my web­site (lisabullard.com) and send me an email with any ques­tions you have about the spe­cif­ic red her­rings in my sto­ry — I'd be delight­ed to send you an answer!
Your sto­ry is very tense as it approach­es its cli­max. Did you have to re-work your man­u­script to achieve this?
Yes, absolute­ly! The entire sto­ry required many rounds of revi­sion, but I received some key advice that real­ly helped me make this sec­tion more dra­mat­ic and sus­pense­ful. The nov­el took me about 3 years total to write, but one year in par­tic­u­lar was very pro­duc­tive. Dur­ing that year I took a series of class­es from mys­tery writer Ellen Hart, and got great advice and feed­back from her and the oth­er stu­dents in the class. One of the things I learned was that you should write in short, chop­py sen­tences when you want to cre­ate a scene that feels chaot­ic and quick-mov­ing. Those short sen­tences push the read­er for­ward through the sto­ry more quick­ly because they read more quick­ly. In my first draft, I had includ­ed lots of long and mean­der­ing sen­tences, and those had to be bro­ken up or delet­ed altogether.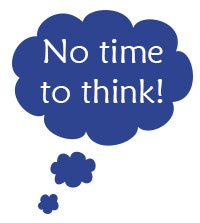 I had also writ­ten a lot of reflec­tive pas­sages in those tense scenes — para­graphs where my char­ac­ter was doing a lot of think­ing along the lines of "How did this even hap­pen?" But in real life, when some­thing real­ly high-action and stress­ful is hap­pen­ing, a per­son usu­al­ly doesn't have time to stop and think too hard — they only have time to react and keep mov­ing. Stop­ping to fig­ure out exact­ly where things went wrong comes after­wards. So I went back and took out all of those places where my char­ac­ter was "over-think­ing," and just had him respond­ing to the dan­ger of the moment as best he could.
When you write a mys­tery, how do you know that it's mys­te­ri­ous enough?
Wow, that's anoth­er great ques­tion. I'm not sure that I know how to answer it exact­ly, but I'll do my best! To me, mys­tery sto­ries are puz­zles: as the writer, your job is to hand the read­er all the pieces of the puz­zle, but to do it in such a way that the puz­zle isn't over­ly easy to solve. So for exam­ple, I've nev­er liked mys­ter­ies where the answer is some­thing the read­er couldn't pos­si­bly have fig­ured out — when there's some impor­tant clue that the author has held back, and then on the last page, the detec­tive says some­thing like, "This let­ter that was locked in a bank vault until 5 min­utes ago proves that the thief was Mr. Vil­lain!" As a read­er, I want a fair chance to put togeth­er all the puz­zle pieces for myself — and if the writer still fools me after play­ing fair, then good for them!
So when I was writ­ing this mys­tery, I knew I had to play fair — I had to give the read­er all of the impor­tant clues. It was okay if I spread out the clues over the whole book. And it was total­ly okay if I mis­lead the read­er into think­ing that some of those clues weren't as impor­tant as they turned out to be in the end! After all, it's the reader's job to put the puz­zle pieces togeth­er to get the right answer — I trust my read­ers to be smart, so I don't have to make it TOO easy for them!
As far as the actu­al writ­ing process, I made a long list of all the clues I knew in advance, and I thought about how I could work them into the sto­ry at inter­vals so there would be clues all through­out. I also built in things that seemed like fake clues to height­en the sus­pense and to make the puz­zle more excit­ing. Final­ly, as I was writ­ing, at any point where I felt like the sto­ry was slow­ing down too much, I would ask myself, "What is some­thing real­ly unex­pect­ed or sur­pris­ing that could hap­pen to my char­ac­ter next?" — and that approach pro­vid­ed some addi­tion­al clues.
I also worked to think of metaphors and set­ting details that would add a spooky atmos­phere to the whole sto­ry, and I tried to put my char­ac­ter into sit­u­a­tions that seemed dan­ger­ous. After all, anoth­er big part of mys­ter­ies is that they're more fun if they're kind of scary!
Do you read mys­ter­ies? How old were you when you began read­ing them? Can you remem­ber some of the first mys­ter­ies you read?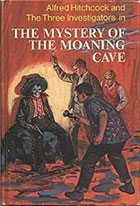 I love mys­ter­ies! They're still some of my absolute favorite books, and they're some of the first books I remem­ber read­ing. When I was in ele­men­tary school, I was lucky enough to be giv­en a huge box full of books that had belonged to either my mom or my old­er girl cousins when they were younger. The box held a lot of mys­tery series, some of them pret­ty old-fash­ioned but still won­der­ful. The dif­fer­ent series includ­ed Judy Bolton, Trix­ie Belden, Nan­cy Drew, and the Three Inves­ti­ga­tors. And some of the first "grown-up" books I ever read were Agatha Christie mys­ter­ies and sus­pense sto­ries by Mary Stew­art. As a kid, I loved mys­tery sto­ries so much that I made up my own mys­ter­ies and forced my broth­er and friends to "play" Three Inves­ti­ga­tors in our base­ment — we even wrote secret mes­sages in invis­i­ble ink (lemon juice) and then decod­ed them by hold­ing them over the toaster.
What is there about a mys­tery that you think appeals to kids?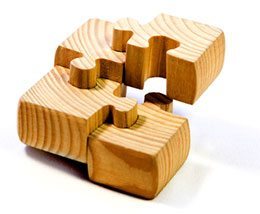 It's fun to get that lit­tle spine-tingly feel­ing that comes when some­thing is a lit­tle bit scary, so that's part of it. Many mys­ter­ies are action-packed and fast-mov­ing (rarely bor­ing), so that's anoth­er part of it. But I think a big rea­son is that work­ing to put togeth­er the puz­zle of the sto­ry is kind of like a game — and if, as a read­er, you man­age to fig­ure out the mys­tery before the story's detec­tive does, then you also feel pret­ty darn proud of your­self, and smart!
Can you share with us what you're work­ing on now? Is it anoth­er mys­tery? (We hope so.)
I've writ­ten sev­er­al non­fic­tion books since Turn Left at the Cow was pub­lished, and now I'm wrestling with anoth­er mys­tery. My writ­ing process is pret­ty slow when it comes to nov­els (and my life in the last few years has been real­ly com­pli­cat­ed) — plus I write a lot of my first draft in my head before any of it actu­al­ly hits paper — so there isn't a whole lot actu­al­ly writ­ten down yet. But I can tell you that this sto­ry is set in the north woods of Min­neso­ta, and like Turn Left the mys­tery has to do with a com­pli­cat­ed fam­i­ly sto­ry and a lot of quirky small-town char­ac­ters. Includ­ing Big­foot, by the way — now there's a mys­tery for you!