by Lisa Bullard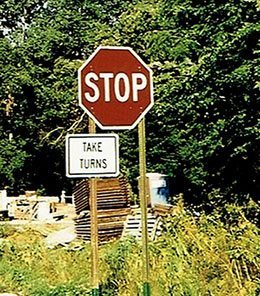 If you go road trip­ping with enough dif­fer­ent peo­ple, you dis­cov­er anoth­er way that human beings sort them­selves out: into the dri­vers of the world, and the pas­sen­gers of the world.
The dri­vers are only com­plete­ly hap­py when they have con­trol of the steer­ing wheel. But, on every trip, there comes a point where they tire out and lose their con­cen­tra­tion. Then it's nec­es­sary to shift dri­vers. Even a short break can bring the orig­i­nal dri­ver back to peak dri­ving abil­i­ty.
This is true of a writ­ing road trip as well. At some point, we tire out and lose our con­cen­tra­tion. When my stu­dents have been focus­ing on a longer writ­ing ses­sion, I've dis­cov­ered that tem­porar­i­ly "shift­ing dri­vers" works as a quick and effec­tive break.
Here's how it works. Ask stu­dents to shift their writ­ing uten­sil to their non-dom­i­nant hand, and to try writ­ing two or three sen­tences with that hand. Some­times I use the board to mod­el the "crazy ax mur­der­er" results that my left hand pro­duces when I shift dri­vers this way.
This gives stu­dents a chance to shake out their dom­i­nant hand, which has like­ly grown tired of grip­ping a pen­cil. It pro­vides stu­dents a chance for a quick laugh over their attempts to write with their non-dom­i­nant hand. And I've read infor­ma­tion that sug­gests that shift­ing hands this way re-engages the oth­er side of our brain, which enlivens the writ­ing process.
So when you've assigned a longer writ­ing project, remem­ber to fol­low the road signs in today's pho­to at some point: First, STOP. Then, TAKE TURNS. It's a lit­tle trick to bring your stu­dents back to peak writ­ing abil­i­ty.