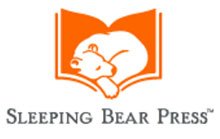 A is for Alpha­bet! Sleep­ing Bear Press is known for their intrigu­ing and infor­ma­tion­al alpha­bet books. But Sleep­ing Bear also pro­duces a vari­ety of both non­fic­tion and fic­tion books for read­ers young and not so young. Like me. Every time I read a Sleep­ing Bear book with a stu­dent, I learn so much and "see" a top­ic with a new perspective.
For exam­ple, a mon­strous­ly mag­nif­i­cent book, M is for Mon­ster, writ­ten by J. Patrick Lewis, for­mer U.S. Children's Poet Lau­re­ate, fol­lows the alpha­bet but is mar­velous­ly full of men­ac­ing mon­sters that lurk in many sur­pris­ing places (except under your bed at night). In this delight­ful book for the any-age read­er, one learns about the ori­gins of Franken­stein as well the Loch Ness Mon­ster, Baba Yaga, Xing Tian, the giant, and oth­er mon­sters from around the globe and across gen­er­a­tions. What a way to learn geography!
Anoth­er favorite of mine is D is for Desert, a World Deserts Alpha­bet by Bar­bara Gowan and illus­trat­ed by Gijs­bert van Franken­huyzen. Imag­ine "cap­tur­ing water" in one of the dri­est places on earth, the Ata­ca­ma Desert, by erect­ing enor­mous fog nets.
Sleep­ing Bear's long list of out­stand­ing books also includes biog­ra­phy. I recent­ly dis­cov­ered a new favorite, Nature's Friend: The Gwen Fros­tic Sto­ry, by Lind­sey McDi­vitt and illus­trat­ed by Eileen Ryan Ewen. Gwen Fros­tic did not let phys­i­cal dis­abil­i­ty or social prej­u­dices keep her from going to school, achiev­ing her goals and express­ing her pas­sions in words and images. Nature's Friend inspired me to learn more about this publisher.
I asked Barb McNal­ly, their senior children's edi­tor, to describe why she is excit­ed about the books cre­at­ed by Sleep­ing Bear Press.
Tell us about a few of your recent pub­li­ca­tions and why they are unique.
One of the things I enjoy most about the Sleep­ing Bear pub­lish­ing pro­gram is that, even with a rel­a­tive­ly small list (we pub­lish 28 – 30 titles per year), we have offer­ings for almost every age — from board books up to mid­dle grade. It's won­der­ful to have a hand in cre­at­ing books for these dif­fer­ent ages. That said, we are known for our beau­ti­ful pic­ture books and we have some titles on our fall '19 and spring '20 sea­sons that are stand­outs. One book in par­tic­u­lar, A Boy Like You, is on trend both in art and mes­sage, and has got­ten a fab­u­lous response from review­ers and con­sumers. It's a beau­ti­ful cel­e­bra­tion with a focus on push­ing back against some of the con­fus­ing and tox­ic mes­sages boys are often sent on what it means to be a male. It's always a joy when you feel an author is com­ing into their own and we have an author on the spring '20 list who has two titles: Bread for Words and Fly, Fire­fly! Both titles were inspired by true sto­ries yet are very dif­fer­ent in their approach and exe­cu­tion. I'm excit­ed to see the response from young readers.
What is most reward­ing — and chal­leng­ing — about being an edi­tor or publisher?
I have been in the book indus­try for almost 30 years and I con­tin­ue to be sur­prised and amazed by the sheer vol­ume of won­der­ful sto­ries that are pub­lished each year. There is a nev­er-end­ing well of tal­ent, both from new voic­es as well as long-estab­lished authors and artists whose work con­tin­ues to inspire, enter­tain, and engage the young read­er. That sense of excite­ment and dis­cov­ery is what brings me to the office each day. I think the chal­lenge for any pub­lish­ing pro­gram is to ensure that every read­er is able to con­nect with some­thing on your list and make sure that you are offer­ing oppor­tu­ni­ties for diver­si­ty in sto­ries, voic­es, and per­spec­tives. I think the more we know and share with one anoth­er, the rich­er our lives become.
What are your visions and hopes for the future of children's literature?
Hav­ing been in this indus­try for many years, I remem­ber when we all groaned and wrung our hands about what would hap­pen to print­ed books when eBooks came about. Well, eBooks came and still the print­ed book remains strong. In my opin­ion, there is no replace­ment for the unique expe­ri­ence of a par­ent and child hold­ing a copy of a book and read­ing togeth­er, and research sup­ports the val­ue of read­ing aloud to a child. My hope is that, despite the many dis­trac­tions of devices and demands on their time, par­ents will con­tin­ue to see the impor­tance of devel­op­ing their children's life­long read­ing habits. I'm not wor­ried about edu­ca­tors and librar­i­ans — they already know this. But habits and rou­tines start in the home and par­ents set the exam­ple. The impor­tance of read­ing with a child can­not be overstated.
Thank you, Barb, for your insights about books and read­ers. I strong­ly agree with your state­ment, "The impor­tance of read­ing with a child can­not be over­stat­ed." And, besides being so impor­tant, read­ing with chil­dren is fun.