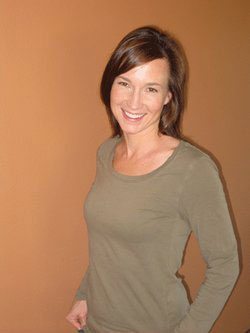 The first Princess Posey book was pub­lished in 2010. How long before that were you asked to illus­trate the book? And were the plans to have it be a sin­gle book at that time or were there already inten­tions to pub­lish more than one book about Posey?
Susan Kochan and Cecil­ia Yung at Pen­guin con­tact­ed me in Novem­ber of 2008 about the Princess Posey series. If I am remem­ber­ing this right, there were two books planned ini­tial­ly. The first book was well received, so I think that's what expand­ed the series out.
Know­ing how impor­tant it is to have char­ac­ters in books look the same no mat­ter how they are stand­ing or sit­ting or mov­ing, how did you begin to cre­ate Posey's look?
Stephanie Greene's text cre­at­ed Princess Posey through her approach­able and clever text. After read­ing the first man­u­script, I thought that this is a real and relat­able kid- some­one we all know. As an aside, I loved that Posey's fam­i­ly sit­u­a­tion is not explained. We don't know why her father isn't in the pic­ture. This isn't a divorce book or a book about why dad isn't there — her world is not about the absence of some­one. Posey has her fam­i­ly, her neigh­bors, friends, and a teacher who are lov­ing and nur­tur­ing and that's enough.
What type of draw­ing mate­ri­als and papers do you use when you're illus­trat­ing the Posey stories?
The Princess Posey illus­tra­tions are done tra­di­tion­al­ly with water­col­ors and paper. I do a lit­tle clean­ing up dig­i­tal­ly, but 90% or bet­ter is tra­di­tion­al media.
What do you think of dif­fer­ent­ly when cre­at­ing the black-and-white draw­ings and spot illus­tra­tions for Posey as opposed to cre­at­ing the illus­tra­tions for your newest book: Star Stuff: Carl Sagan and the Mys­ter­ies of the Cos­mos?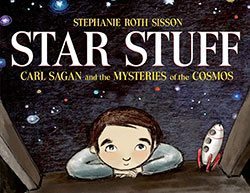 When I was work­ing on the illus­tra­tions for Star Stuff: Carl Sagan and the Mys­ter­ies of the Cos­mos, I was prepar­ing for a life out­side of the U.S. on this lit­tle island called Mau­ri­tius. On Mau­ri­tius the air is humid (paper buck­les and molds) and qual­i­ty art mate­ri­als are dif­fi­cult to find, plus ship­ping orig­i­nal art­work is an act of faith in an incred­i­bly unre­li­able ser­vice at best. I can't even count on a let­ter mailed with­in Mau­ri­tius with clear­ly print­ed address­es to make it to its des­ti­na­tion. For Star Stuff, I used most­ly dig­i­tal media work­ing on a Wacom™ tablet with some scanned art — most­ly for back­grounds. I need­ed to teach myself a method that I could use that could be uploaded to an FTP serv­er. I uploaded the book short­ly before we moved to Mau­ri­tius and it worked!
Do you keep a file of images, either on paper or dig­i­tal­ly, that helps you with ideas?
Yes, I have files for all of my books. I am also a big fan of Pin­ter­est. When­ev­er I find images that I think I can use I col­lect them. This is a great way to cre­ate a book.
Posey has three friends, a teacher, Miss Lee, and her moth­er and grand­fa­ther as main char­ac­ters. Do you orga­nize your infor­ma­tion about each of them in a par­tic­u­lar way? What form does those records take?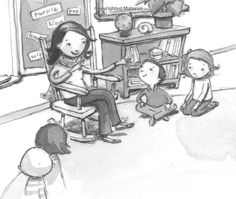 I keep a file with images of Posey's world. It con­tains maps of her neigh­bor­hood, draw­ings of her house, a floor­plan of her house and draw­ings of each room. I do a bit of the same for the oth­er char­ac­ters, not­ing what sort of cloth­ing they wear. For exam­ple, Nik­ki wears a lot of tunics and wears a head­band, Posey likes her bling. I have scans of the char­ac­ters in var­i­ous posi­tions and have a "line up" draw­ing with their heights rel­a­tive to one another.
Do you feel that you know Posey and her world quite well now? Does it feel like a real place to you?
Yes, def­i­nite­ly. Her world sits as a com­plete place in my mind.
On your web­site, you wrote that Tomie dePao­la was the first illus­tra­tor who made you real­ize that you could have a job writ­ing and illus­trat­ing children's books. What kind of train­ing did you go through to make you con­fi­dent in your work?
Yes, I was lucky to have met Tomie dePao­la when I was in ele­men­tary school. I haven't received any for­mal art train­ing. My col­lec­tion of books for chil­dren grows by the year and includes most of my favorites from child­hood. I study those books. I love every­thing about them from the feel of the paper, how the sto­ry is laid out, the the­ater of this thing we call a book. I began draw­ing (like most of us) as soon as I could hold a pen­cil, I've just nev­er stopped.
What books would you rec­om­mend to bud­ding illustrators?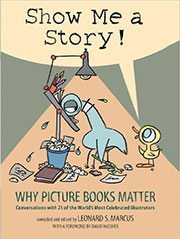 Study the books you love and ask your­self why you like them. Study how the sto­ry unfolds, how we meet the char­ac­ters in the book, and what we can tell about the char­ac­ters from the pic­tures. I've noticed that many suc­cess­ful illus­tra­tors come from a film back­ground. Watch movies and see what kind of light­ing is used to set a mood, how scenes are framed and how things are paced to height­en the emo­tion of the sto­ry. As a sto­ry­teller, my num­ber one focus is always the emo­tion­al con­nec­tion between the read­er and the char­ac­ters and the sto­ry. As far as books go, there are so many! Leonard Mar­cus has writ­ten some gems about chil­drens' lit­er­a­ture, I love read­ing biogra­phies of illus­tra­tors and writ­ers for inspi­ra­tion, too. My first stop though in this process of becom­ing a cre­ator of con­tent for chil­dren is the SCBWI (Soci­ety of Chil­dren's Book Writ­ers and Illustrators).
Stephanie, it has been a joy to come to know Posey through the visu­als you cre­ate. Many of them show ten­der­ness, humor, and joy … all of which young read­ers appre­ci­ate. Thank you for shar­ing your tal­ents with us.