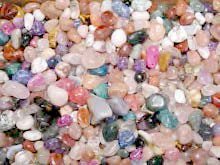 One of my favorite road-trip mem­o­ries is "mud-pud­dling" in west­ern North Car­oli­na. We had fol­lowed signs that lured us in with the promise of gem­stones prac­ti­cal­ly free for the tak­ing. The space we wan­dered into looked like a road­side pic­nic area, and seemed ide­al for the kind of lazy after­noon we had in mind. We each pur­chased buck­ets of dirt-cov­ered rocks for a small fee, and then claimed our places along
a bench in front of a trough of run­ning water.
While sun­shine dap­pled the green of the sur­round­ing hills, my best friend and I revert­ed back to one of the great delights of child­hood: muck­ing about. We played in the mud­dy water, wash­ing off our piles of rocks, con­vinced each time that the nat­ur­al beau­ty of a stone was revealed that we had dis­cov­ered a fab­u­lous trea­sure. Could this be a ruby? An emer­ald? A sap­phire?
We left a few hours lat­er with noth­ing more than a pile of pret­ty rocks. But we had found some­thing much more valu­able in our trea­sure hunt than a gem­stone: one per­fect after­noon, reclaimed briefly from a child­hood we'd both left behind long before.
Words are the trea­sures I've car­ried for­ward with me from that child­hood; I've been col­lect­ing my favorites for most of my life: Col­ly­wob­bles. Lugubri­ous. Gob­bledy­gook. Insou­ciance.
Why not spend a few moments on a per­fect after­noon tak­ing your stu­dents on a lin­guis­tic trea­sure hunt? Ask them to them crack open the dic­tio­nary and write down one or more new word "gems" and their mean­ings. Have them use these new-found words to inspire their own poems, or cre­ate a col­lec­tive class poem by swirling all the words togeth­er.
I've made a career out of prov­ing that there are lots of trea­sures to be found when you go muck­ing about amidst
words.