I've been read­ing Tri­cia Springstubb's books ever since her first pic­ture book, Phoebe & Dig­ger, was pub­lished. I eager­ly await each new book. They are books that res­onate with many young read­ers: chap­ter books, mid­dle grade nov­els, and one pic­ture book. They are sto­ries of fam­i­lies, neigh­bor­hoods, and the changes that con­front every child. They are thought-pro­vok­ing, seri­ous, and laugh-out-loud fun­ny. I want­ed all of us to know more about this intrigu­ing author.
"She thought she knew every­thing there was to know about her­self and Sylvie, but now she thinks maybe the real trick of see­ing, the kind of see­ing humans could real­ly use, is the kind that lets you see through some­one else's eyes."
—Moon­pen­ny Island
"Hat­ing some­one becomes a habit as sure as lov­ing him does. Let­ting go of a feel­ing, even a ter­ri­ble one — it's hard. It hurts."
—Moon­pen­ny Island
"The heck of it is, Flor? No two peo­ple see eye to eye on what hap­py is."
—Moon­pen­ny Island
Is it easy for you to remem­ber spe­cif­ic feel­ings and details from your own childhood?
I think we're all nest­ing dolls, with our ear­li­er selves tucked away inside. I'm lucky that my child­hood doll is easy to bring to light — not so much spe­cif­ic events or details, but how intense­ly I felt every­thing, every­thing, dur­ing those years. Fear, love, shy­ness, the desire to make my moth­er proud, the plea­sures and con­fu­sions of friend­ship — it's all wait­ing for me to pull out and hold in my hand.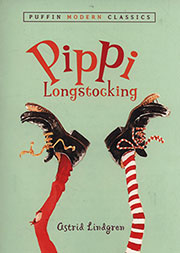 What were your favorite books to read when you were grow­ing up?
When kids ask me that I beg off, because I'm ter­ri­ble at "favorite" ques­tions! I was an omni­vore read­er — comics, mys­ter­ies, biogra­phies of saints. I only wish I still read as wide­ly as I did then. I remem­ber lov­ing, and being ter­ri­fied by, Hans Chris­t­ian Ander­son. I read "Pip­pi Long­stock­ing" over and over. It's always fun to tell an audi­ence of kids how I adored Nan­cy Drew — there are always eager nods of agree­ment. She's still such a won­der­ful char­ac­ter and role model.
How old were you when you first deter­mined you would write books? Were you always going to write books for children?
I'm still sur­prised to be a writer of any sort. Much as I loved books grow­ing up, I nev­er thought about how they came to be. They just were, like trees and rivers and birds. It wasn't till my late 20's that I slow­ly mor­phed from read­er to writer.
Which of your ear­li­er career expe­ri­ences do you feel inform your writing?
Every job I've ever had (not count­ing wait­ress­ing) was with chil­dren. I worked in Head Start, in a group home for ado­les­cents, in the children's room of a pub­lic library. Kids are my peo­ple. Each expe­ri­ence I have with them teach­es me some­thing, and when I'm lucky, I trans­late what I learn into stories.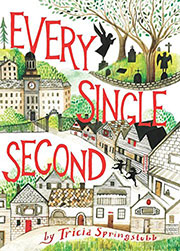 Your sto­ries are set in neigh­bor­hoods where peo­ple know each oth­er and rely on one anoth­er. Has this been your own experience?
Sense of place is so impor­tant to my work. I grew up in a sub­di­vi­sion where all the hous­es were exact­ly alike and we kids ran in and out of each other's kitchens and bath­rooms and yards all day long. My hus­band and I raised our three daugh­ters in an inner ring sub­urb much like Cody's, where peo­ple look out for each oth­er. So I love this kind of small, shel­ter­ing com­mu­ni­ty. Yet I'm also inter­est­ed, in books like Moon­pen­ny Island and Every Sin­gle Sec­ond, in explor­ing the pres­sures that work against insu­lar­i­ty. I'm about mir­rors, but also wide-open windows.
Your sto­ries range from the very fun­ny Cody, who's just right for sec­ond and third graders, to the quite seri­ous tale of Nel­la, whose neigh­bor­hood is altered for­ev­er by an acci­den­tal shoot­ing that may be racial­ly moti­vat­ed. As a writer, how do you switch between the light­heart­ed tone of the Cody chap­ter books and the more intense tone of Every Sin­gle Sec­ond?
I began writ­ing the Cody books as a kind of anti­dote to my more heavy-duty nov­els. I real­ly appre­ci­ate you find­ing them fun­ny — I so val­ue fun­ny! Cody copes with many of the same issues my old­er char­ac­ters do, includ­ing get­ting along with her fam­i­ly and friends, and try­ing to under­stand the dif­fer­ence between wrong and right and then to act on it. She's also huge­ly empa­thet­ic, with peo­ple and ani­mals (includ­ing baby skunks and Mada­gas­car hiss­ing cock­roach­es). But I do keep things light and fun, and this is just anoth­er side of me as both a per­son and a writer.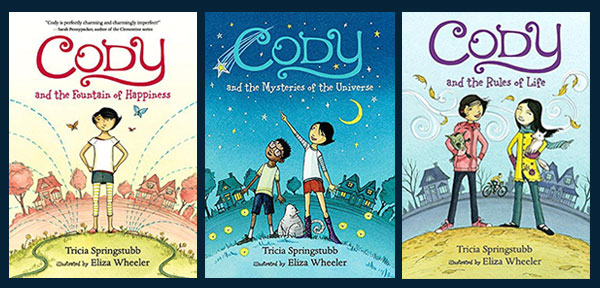 Your Cody books (there are three now) are a series. Did you write the first one (Cody and the Foun­tain of Hap­pi­ness) and then deter­mine with your edi­tor that these would become a series or did you set out to cre­ate a char­ac­ter who could sus­tain a series?
I wrote the first book with fin­gers crossed it would be a series. I knew Cody and Spencer had lots more sto­ries to tell! Liz Bick­nell at Can­dlewick gave me a two-book con­tract and then (hooray!) extend­ed it to four.
How do you devel­op the plots of the dif­fer­ent books in a series?
I had an idea to write one book for each of the sea­sons. And I want­ed the last book (com­ing spring 2018) to have some sense of clo­sure. But oth­er than that — I don't know! The char­ac­ters just lead me on.
Fathers are piv­otal char­ac­ters in your books.
In the Cody books, her father is an over-the-road truck­er. His home­com­ings are very impor­tant to the plot because he often pro­vides good counsel.
In the Mo Wren books, Mo's moth­er died in an acci­dent. Her father is deal­ing with grief and start­ing life over.
In Every Sin­gle Sec­ond, the father has a secret that plays a piv­otal role in Nella's com­ing to terms with her chang­ing world.
In Moon­pen­ny Island, when Flor's moth­er takes an extend­ed leave from the fam­i­ly to find her­self, Flor's father, the island's police offi­cer, is left to manage.
I think your books are refresh­ing with this promi­nence of fathers. Have you thought about why the fathers are in your stories?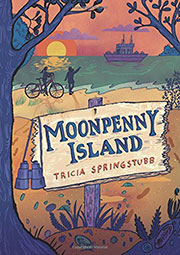 I'm always afraid when I sub­mit a new man­u­script that my edi­tor will say, Here we go again — anoth­er father book! My rela­tion­ship with my own father was com­pli­cat­ed and not always hap­py. When I was small, he was my super-hero. As I grew up, I nev­er doubt­ed that he loved me and my sib­lings, but he wasn't always the father I longed for and need­ed. Now, in hind­sight, I can see the pain he must have been in him­self, but I still clear­ly remem­ber how con­fus­ing it was to real­ize he wasn't, after all, per­fect, that he had his own weak­ness­es. I think all kids go through some ver­sion of this in the tween years (not Cody, not yet!) and maybe it's even more com­pli­cat­ed for daugh­ters than sons. That com­plex­i­ty, that mix­ture of love and regret and grow­ing self-reliance, is some­thing I keep exploring.
Your lan­guage is often poet­ic, with phras­es that cap­ture the reader's imag­i­na­tion, paus­ing for a moment to con­sid­er the images that you evoke. Do you col­lect words and phras­es to draw from? Do you read poetry?
Thank you! Lan­guage is so impor­tant to me. My work is very sentence‑y. I hope to make every line count. I nat­u­ral­ly reach for sim­i­les and metaphors: it's my way of try­ing to con­nect our inner and out­er lives. I do read poet­ry — but I'm always resolv­ing to read more of it!
There are always a ful­ly devel­oped set of neigh­bor­hood char­ac­ters in your books, depend­able because they have such intrigu­ing sto­ries of their own. How do you devel­op these sup­port­ing char­ac­ters? Do you keep a note­book full of inter­est­ing peo­ple and then find them good homes in your books?
I do keep note­books! But writ­ing minor char­ac­ters is easy for me. The tricky part is not get­ting too inter­est­ed in them, so they attempt to stage a coup and become major char­ac­ters. In my first drafts, I'm always try­ing to bal­ance what I think should hap­pen with the zil­lion oth­er pos­si­bil­i­ties. I'm the boss of this uni­verse, after all! That said, in my cur­rent work in progress, a new char­ac­ter has just appeared, lit­er­al­ly stand­ing in the mid­dle of the road. I have the feel­ing he's not budging.
Cody's moth­er is Head of Shoes at a depart­ment store. Cody often remarks on her mother's out­fit and her shoes. Your illus­tra­tor, Eliza Wheel­er, often draws the moth­er in her stylin' fin­ery. Where does this fash­ion state­ment come from?
I'm so not a fash­ion icon (ask my daugh­ters)! But a great part of the fun of writ­ing is cre­at­ing char­ac­ters you'll nev­er be. I love think­ing up Mom's glam out­fits. And Eliza's illus­tra­tions are so delectable!
Anoth­er impor­tant aspect of your books is that each main char­ac­ter has a broth­er or sis­ter, old­er or younger, with whom they bick­er but ulti­mate­ly love deeply, show­ing that love in their actions and thoughts. Your char­ac­ters, although their worlds are chang­ing around them, nev­er feel iso­lat­ed because they have a sib­ling to love. Why is this impor­tant to you in build­ing your stories?
I come from a big fam­i­ly — two broth­ers and two sis­ters. My sib­lings were con­stant sources of annoy­ance, envy, and out­right fury, but what would I ever have done with­out them? There's some­thing about shar­ing a nest that stays with you the rest of your life. Noth­ing makes me hap­pi­er than lis­ten­ing to my three grown daugh­ters, who drove each oth­er crazy grow­ing up and are best friends now, share child­hood sto­ries. In my work in progress, my main char­ac­ter is an only child, and she's fine with that. I'm real­ly enjoy­ing writ­ing her and explor­ing what oth­er kinds of con­nec­tions she makes with the world.
Can you share with us which books we can look for­ward to next?
Next April the last Cody book, Cody and the Heart of a Cham­pi­on, will pub­lish. I've got a pic­ture book (hard­est thing for me to write) in the works, and a new mid­dle grade nov­el that I've just torn com­plete­ly to pieces and start­ed over. I'd also love to write a book with a boy as a main char­ac­ter, some­thing I've yet to pull off. As Steven­son wrote, "The world is so full of a num­ber of things, I'm sure we should all be as hap­py as kings."
___________________
Tri­cia, thank you most of all for writ­ing books that are worth cher­ish­ing as chil­dren grow into adults. I believe they're books they'll car­ry with them for all of their lives because you're tal­ent­ed enough to be fun­ny and car­ing enough to write about the big ques­tions that real­ly mat­ter to kids.
Learn more about Tri­cia Springstubb.