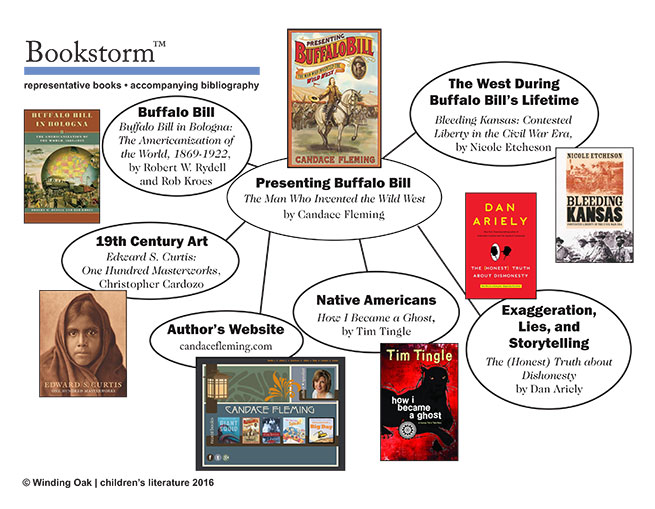 Pre­sent­ing Buf­fa­lo Bill pro­vides an excel­lent oppor­tu­ni­ty to teach dif­fer­en­ti­a­tion between fic­tion and non­fic­tion, mythol­o­gy and fact, as well as the dis­cern­ment, research, and dis­cus­sion skills that are nat­u­ral­ly born out of this type of close read­ing. Buf­fa­lo Bill's life and Wild West Show are excit­ing and the author makes them all the more vivid and engag­ing with her writ­ing. In her sec­tions on "Pan­ning for the Truth," the dif­fer­ences between myth (or sto­ry­telling or mar­ket­ing) are called out for fur­ther examination.
Our per­cep­tions of the Wild West have changed as we have lis­tened to voic­es from many cul­tures, shar­ing their expe­ri­ences, open­ing our eyes, com­mu­ni­cat­ing in ways those who immi­grat­ed to Amer­i­ca didn't have avail­able. West­erns, movies and books set in the "Old West" can now be looked at with dif­fer­ent eyes and more under­stand­ing minds. Thought­ful papers on then and now can encour­age height­ened aware­ness. A Tall Tale Con­test might point out how exag­ger­a­tion and decep­tion work in mar­ket­ing and inter­net articles.
We've includ­ed books on truth and lies, mythol­o­gy ver­sus authen­tic­i­ty, as well as fic­tion and non­fic­tion writ­ten at var­i­ous points in our his­to­ry. There are excel­lent resources in the back mat­ter of Can­dace Fleming's book as well. We trust you will find inspi­ra­tion and resources aplen­ty to accom­pa­ny your study of Pre­sent­ing Buf­fa­lo Bill.
Downloadables
You'll find more infor­ma­tion about Can­dace Flem­ing on her web­site.
BOOKSTORM TOPICS
Buf­fa­lo Bill. He was once one of the most famous men in the world. Hun­dreds of dime nov­els were writ­ten about him. Sev­er­al ver­sions of his auto­bi­og­ra­phy are avail­able. Many authors have cho­sen to chron­i­cle his life and his Wild West Show. We've cho­sen a few that will pro­vide a means for stu­dents to con­trast and com­pare. Online resources will add depth to research.
Art of the 19th Cen­tu­ry. Buf­fa­lo Bil­l's most famous por­trait was paint­ed by the French artist Rosa Bon­heur. Hun­dreds of posters from the Wild West Show can be stud­ied to reveal how they tell a per­sua­sive sto­ry or influ­ence the audi­ence to attend the shows.
Exag­ger­a­tion, Lies, and Sto­ry­telling. One of the most thought-pro­vok­ing aspects of Pre­sent­ing Buf­fa­lo Bill is the atten­tion Can­dace Flem­ing pays to the verac­i­ty of the sto­ries Will Cody told and oth­ers told about him. We've includ­ed cur­rent books about truth, lying, decep­tion, and mar­ket­ing. An in-depth study that car­oms off Can­dace's book will fas­ci­nate your students.
Mythol­o­gy ver­sus Authen­tic­i­ty. Com­par­ing oth­er myths to that of the Wild West, includ­ing folk heroes of the same era such as Davy Crock­ett, and mod­ern-day myths such as Star Wars and Star Trek, will help with com­par­a­tive analysis.
Native Amer­i­cans. Buf­fa­lo Bill employed hun­dreds of Amer­i­can Indi­ans in his Wild West shows. He inter­act­ed with famous chiefs and brought entire fam­i­lies into his show encamp­ments. We've includ­ed biogra­phies of heroes such as Sit­ting Bull, Crazy Horse, and Red Cloud, as well as con­tem­po­rary nov­els and nonfiction.
The West Dur­ing Bill Cody's Life­time. Flem­ing sets the Wild West Show and Bil­l's life with­in the con­text of geog­ra­phy, his­to­ry, and pol­i­tics. The Book­storm includes books about the chil­dren, women, men, and pol­i­tics of Bil­l's life, those who lived in the authen­tic West.
Let us know how you are mak­ing use of this Book­storm™. Share your ideas and any oth­er books you'd add to this Bookstorm™.