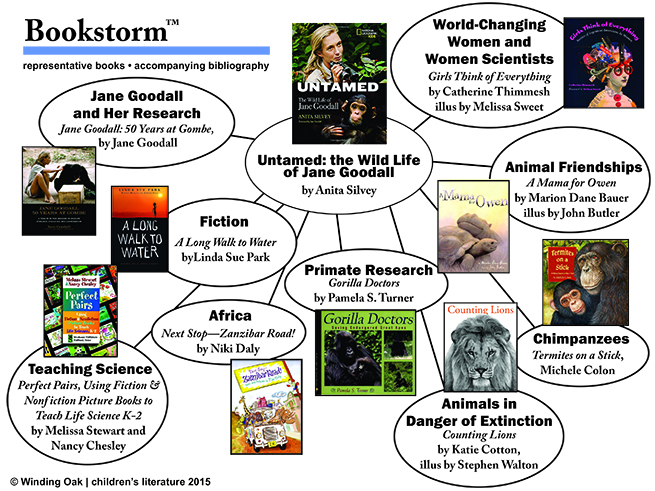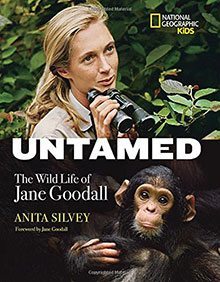 This month, we are pleased to fea­ture Untamed: The Wild Life of Jane Goodall, writ­ten by Ani­ta Sil­vey, with pho­tographs and book designed by the incred­i­ble team at Nation­al Geo­graph­ic. This book is not only fas­ci­nat­ing to read, it's a beau­ti­ful read­ing expe­ri­ence as well.
It's not often that a book offers us a glimpse into the child­hood of a woman who has fol­lowed a brave, and car­ing, career path, but also fol­lows her through more than 50 years in that cho­sen pro­fes­sion, describ­ing her work, dis­cov­er­ies, and her pas­sion for the mam­mals with whom she works. I learned so much I did­n't know about Dr. Goodall and her chim­panzees, Africa, field work, and how one moves peo­ple to sup­port one's cause.
In each Book­storm™, we offer a bib­li­og­ra­phy of books that have close ties to the the fea­tured book. For Untamed, you'll find books for a vari­ety of tastes and inter­ests. The book will be com­fort­ably read by ages 9 through adult. We've includ­ed fic­tion and non­fic­tion, pic­ture books, mid­dle grade books, and books adults will find inter­est­ing. A num­ber of the books are by Dr. Jane Goodall her­self — she's a pro­lif­ic writer. We've also includ­ed books about teach­ing sci­ence, as well as videos, and arti­cles acces­si­ble on the internet.
Jane Goodall and Her Research. From Me … Jane, the pic­ture by Patrick McDon­nell about Jane Goodal­l's child­hood, to Jane Goodall: the Woman Who Rede­fined Man by Dale Peter­son, there are a num­ber of acces­si­ble books for every type of reader.
Pri­mate Research. We've includ­ed non­fic­tion books such as Pamela S. Turn­er's Goril­la Doc­tors and Jim Otta­viani and Maris Wick­'s Pri­mates, a graph­ic nov­el about the three women who devot­ed so much of their loves to study­ing pri­mates: Jane Goodall, Dian Fos­sey, and Biruté Galdikas.
Chim­panzees. Dr. Goodal­l's research is specif­i­cal­ly about chim­panzees so com­pan­ion books such as Michele Colon's Ter­mites on a Stick and Dr. Goodal­l's Chim­panzees I Love: Sav­ing Their World and Ours are suggested.
Fic­tion. Many excel­lent nov­els have been writ­ten about pri­mates and Africa and con­ser­va­tion, rang­ing from real­ism to sci­ence fic­tion and a nov­el based on a true sto­ry. Among our list, you'll find Lin­da Sue Park's A Long to Water and Eva by Peter Dick­in­son and The One and Only Ivan by Kather­ine Applegate.
World-Chang­ing Women and Women Sci­en­tists. Here you'll find pic­ture book biogra­phies, longer non­fic­tion books, and col­lec­tions of short biogra­phies such as Girls Think of Every­thing by Cather­ine Thimmesh, Silk & Ven­om by Kathryn Lasky, and Rad Amer­i­can Women: A to Z by Kate Schatz.
Africa. The titles about, or set on, this con­ti­nent are numer­ous. Learn­ing About Africa by Robin Koontz pro­vides a use­ful and cur­rent intro­duc­tion to the con­ti­nent. We also looked for books by authors who were born in or lived for a while in an African coun­try; Next Stop — Zanz­ibar! by Niki Daly and Mag­ic Gourd by Coret­ta Scott King Hon­oree Baba Wague Diakiteare are includ­ed in this section.
Ani­mal Friend­ships. Chil­dren and adults alike crave these sto­ries about unlike­ly friend­ships between ani­mals who don't nor­mal­ly hang around togeth­er. From Cather­ine Thimmesh's Friends: True Sto­ries of Extra­or­di­nary Ani­mal Friend­ships to Mar­i­on Dane Bauer's A Mama for Owen, you'll be charmed by these books.
Ani­mals In Dan­ger of Extinc­tion. We've includ­ed only two books in this cat­e­go­ry but both of them should be stars in your book­talks. Count­ing Lions by Katie Cot­ton, illus­trat­ed by Stephen Wal­ton, is a stun­ning book — do find it! Dr. Goodall con­tributes a mov­ing book, Hope for Ani­mals and Their World: How Endan­gered Species Are Being Res­cued from the Brink.
Teach­ing Sci­ence. If you're work­ing with young chil­dren in grades K through 2, you'll want Per­fect Pairs by Melis­sa Stew­art and Nan­cy Ches­ley. For old­er stu­dents in grades 3 through 6, Pic­ture-Per­fect Sci­ence Lessons will inspire you.
Let us know how you are mak­ing use of this Book­storm™. Share your ideas and any oth­er books you'd add to this Bookstorm™.
Downloadables