This col­umn focus­es on the­mat­ic con­nec­tions among Calde­cott Award books, but this month we are intro­duc­ing some books about illus­tra­tion. In pic­ture books, the illus­tra­tions often car­ry half, or more than half, of the nar­ra­tive. Increased under­stand­ing of illus­tra­tion tech­niques can enhance your appre­ci­a­tion and plea­sure when read­ing and shar­ing pic­ture books. Some of these books are enter­tain­ing to read from begin­ning to end. Oth­ers are handy ref­er­ences to dip into on occasion.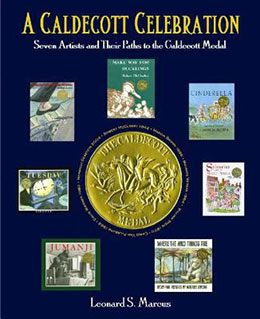 Calde­cott Cel­e­bra­tion:
Sev­en Artists and their Paths
to the Calde­cott Medal
Leonard Mar­cus
Walk­er & Com­pa­ny, 2008
Calde­cott Medal win­ners from sev­en decades are pre­sent­ed in the book Mar­cus wrote to cel­e­brate the 70th anniver­sary of the pres­ti­gious award. Learn how pop­u­lar artists Robert McCloskey, Mar­cia Brown, Mau­rice Sendak, William Steig, Chris Van Alls­burg, David Wies­ner, and Mordi­cai Ger­stein cre­ate their illus­tra­tions through per­son­al anec­dotes and vis­its to their stu­dios. An intro­duc­tion pro­vides his­tor­i­cal infor­ma­tion about the Calde­cott Award.
From Cov­er to Cov­er:
Eval­u­at­ing and Review­ing Chil­dren's Books
Kath­leen T. Horn­ing
Harper­Collins, revised edi­tion, 2010
Con­sid­ered a defin­i­tive resource for eval­u­at­ing and review­ing children's lit­er­a­ture, this book con­tains a chap­ter on pic­ture books. With­in that chap­ter, Horn­ing ana­lyzes texts and illus­tra­tions in sev­er­al pic­ture books. A dis­cus­sion of visu­al ele­ments, com­po­si­tion, media, and style are pre­sent­ed with exam­ples from exem­plary books. In addi­tion to cri­te­ria for eval­u­a­tion, a brief his­to­ry of pic­ture books intro­duces the chapter.
A Pic­ture Book Primer:
Under­stand­ing and Using Pic­ture Books
Denise I. Mat­ul­ka
Libraries Unlim­it­ed, 2008
After defin­ing pic­ture books and pro­vid­ing a his­to­ry of the for­mat, Mat­ul­ka delves into the "Anato­my of a Pic­ture Book." This acces­si­ble hand­book helps edu­ca­tors and librar­i­ans bet­ter under­stand how pic­ture books work, intro­duc­ing para­text, com­po­si­tion, design, ele­ments of art, style, and medi­um, with black and white draw­ings to illus­trate the con­cepts pre­sent­ed. The book includes an exten­sive glos­sary of pic­ture book terms.
Pic­ture This: How Pic­tures Work
Mol­ly Bang
Chron­i­cle Books, 2019
The 2016 25th anniver­sary edi­tion of Bang's clas­sic work is the third ren­di­tion of her 1991 exam­i­na­tion of the emo­tion­al impact of images. Using geo­met­ric shapes and lim­it­ed col­or to illus­trate scenes from "Lit­tle Red Rid­ing Hood," the author-illus­tra­tor explores and explains the pow­er of design. Lat­er, she out­lines her twelve prin­ci­ples of art and com­po­si­tion. This revi­sion includes an in-depth study of the emo­tion that dri­ves four illus­tra­tions from Bang's Calde­cott Hon­or book When Sophie Gets Angry — Very, Very Angry….
Read­ing Pic­ture Books with Chil­dren:
How to Shake up Sto­ry­time and
Get Kids Talk­ing about What They See
Megan Dowd Lam­bert
Charles­bridge, 2015
Lam­bert describes her Whole Book Approach to shar­ing pic­ture books with chil­dren, devel­oped dur­ing her expe­ri­ence lead­ing sto­ry­time pro­grams at the Eric Car­le Muse­um of Pic­ture Book Art in Mass­a­chu­setts. This child-dri­ven tech­nique goes far beyond read­ing sto­ries, encour­ag­ing active par­tic­i­pa­tion of the young audi­ence through open-end­ed ques­tions and prompts well before the nar­ra­tive begins. Chil­dren con­sid­er such fea­tures as trim size, cov­er, end­pa­pers, typog­ra­phy, and page design. The full-col­or hand­book con­cludes with sam­ple ques­tions for group lead­ers, as well as a glos­sary of book and sto­ry­time terminology.
Read­ing the Art in
Calde­cott Award Books:
A Guide to the Illus­tra­tions
Hei­di Ham­mond and Gail Nord­strom
Row­man & Lit­tle­field, 2014
This is a hand­book to be used in con­junc­tion with select­ed Calde­cott Award books. Artis­tic analy­ses of the illus­tra­tions will help those who share books with chil­dren to dis­cuss the art­work for which the books won the award. Styles, media, com­po­si­tion, and design are also pre­sent­ed. Use­ful com­po­nents of the book include a glos­sary of art terms and index­es of author-illus­tra­tor-title, media, and style.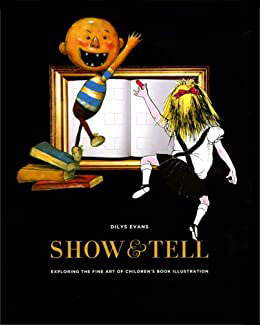 Show and Tell:
Explor­ing the Fine Art
of Children's Book Illus­tra­tion
Dilys Evans
Chron­i­cle Books, 2008
Evans exam­ines the works of twelve accom­plished pic­ture book illus­tra­tors — many Calde­cott award win­ners — includ­ing Bryan Col­lier, Denise Flem­ing, Bri­an Selznick, and David Wies­ner. Each chap­ter includes a brief biog­ra­phy of the fea­tured cre­ator, includ­ing their ear­ly art expe­ri­ences and artists who have influ­enced their work, and a close study of full-col­or illus­tra­tions from a num­ber of his or her notable titles.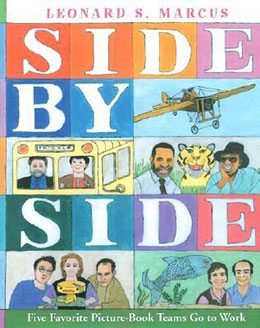 Side by Side:
Five Favorite Pic­ture-Book Teams Go to Work
Leonard Mar­cus
Walk­er & Com­pa­ny, 2001
Mar­cus describes the col­lab­o­ra­tion and cre­ative process of writ­ing and illus­trat­ing pic­ture books with five teams: Julius Lester and Jer­ry Pinkney, Joan­na Cole and Bruce Degen, Arthur Yorinks and Richard Egiel­s­ki, Alice and Mar­tin Provensen, and Jon Sci­esz­ka, Lane Smith, and Mol­ly Leach. The chap­ters gen­er­al­ly focus on writ­ing and illus­trat­ing one book. Thumb­nail sketch­es, dum­my books, and fin­ished work are includ­ed as well as man­u­script notes. Some per­son­al infor­ma­tion about the authors and illus­tra­tors may also be of interest.
Teach­ing Art with Books Kids Love
Art Ele­ments, Appre­ci­a­tion
and Design with Award-win­ning Books
Dar­cie Clark Fro­hardt
Ful­crum, 1999
This book is orga­nized into three parts: ele­ments of art, prin­ci­ples of design, and artis­tic style. With­in each part, Fro­hardt defines the con­cept, lists fine art and children's lit­er­a­ture exam­ples, and then demon­strates how an award-win­ning artist used the con­cept in a par­tic­u­lar book.This is fol­lowed with var­i­ous activ­i­ties chil­dren can attempt for their own explo­ration of the con­cept. While not com­pre­hen­sive, the book intro­duces basic infor­ma­tion appro­pri­ate for an ele­men­tary audience.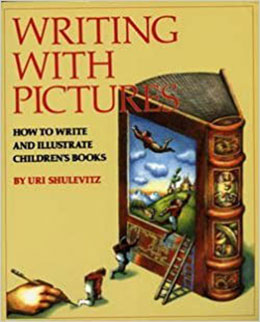 Writ­ing with Pictures:
How to Write and Illus­trate Children's Books
Uri Shule­vitz
Wat­son-Gup­till, 1997
In this clas­sic work geared to aspir­ing children's book cre­ators and afi­ciona­dos, renowned author-illus­tra­tor Shule­vitz stud­ies the pic­ture book, con­sid­er­ing the sto­ry, struc­ture, and illus­tra­tions. Hun­dreds of black, white, and red images fill the hefty tome, describ­ing the visu­al prin­ci­ples cov­ered. Note that with leaps in book print­ing tech­nol­o­gy in recent years, the con­clud­ing sec­tion, "Prepar­ing for Repro­duc­tion," now pro­vides a his­tor­i­cal view of 20th cen­tu­ry book print­ing, espe­cial­ly col­or pre-separation.