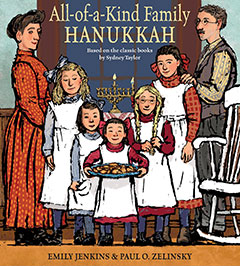 Read­ing and admir­ing the books of Paul O. Zelin­sky rais­es my curios­i­ty. How does he work on the illus­tra­tions for his own books and those of oth­er authors? What is he think­ing about when he evolves his unfor­get­table characters?
Of his newest book, All-of-a-Kind Fam­i­ly Hanukkah (writ­ten by Emi­ly Jenk­ins), Mr. Zelin­sky says, "Now that I'm done, when I con­sid­er how I worked on these pic­tures, try­ing to rough them up when they got too smooth, to flat­ten them out when they got too round, to main­tain a sense of tex­ture through­out, I think that per­haps what I was real­ly try­ing do was rep­re­sent the qual­i­ties of a good pota­to latke! Take a look at one, very close up, and see if you agree."
A pota­to latke? This makes me curious …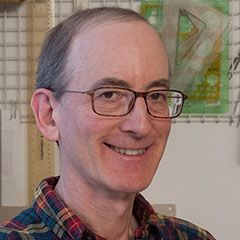 What is the first thing you do when you get to work in the morning?
I pull off a sheet from my note pad and write down a list of the things I want to get done that day. I then promptly lose that note under other pieces of paper on my drawing table.
How long do you think about a new book before you start working with it on paper?
It's hard to define when I start working on something on paper. At any point after I've gotten a manuscript, on the edges of other pages: meeting notes, or shopping lists, or anything else, little sketches may appear that relate to it. The earliest stages aren't work, anyway; they're play, or it just won't work.
Also, I may be sort-of think­ing about a next book before I'm done with a cur­rent one, in which case I won't do much beyond this casu­al, unplanned sketch­ing (and stuff­ing the sketch­es into a fold­er if they seem worth sav­ing); and the amount of time I spend at this depends on how soon I fin­ish the cur­rent book.
But if the ques­tion is how quick­ly does a book progress from just-read man­u­script to seri­ous sketch­es to fin­ished art, the answer is: I don't think there's any way to know.
What is the quality of the light in your studio? Where does the light come from?
My studio faces as close to north as possible, as studios are supposed to do. That's so sun doesn't move across the room as the day goes by, radically changing the light conditions. The window light includes some light from the sky, and the rest reflected off the grass and walls of a beautiful churchyard across the street. So the overall light coming in my windows usually has a greenish cast. I also have some fluorescent light fixtures, thin bright tubes that emit a surprisingly decent color of light compared to the fluorescents of the past. Clipped to a bookcase I have two bright LED lamps that I bought to match the lighting used in the American Writers Museum in Chicago—I was working on a mural for them, and it was important to know how things would look in their real home. (The mural was finished just in time for the museum's opening, in May of 2017).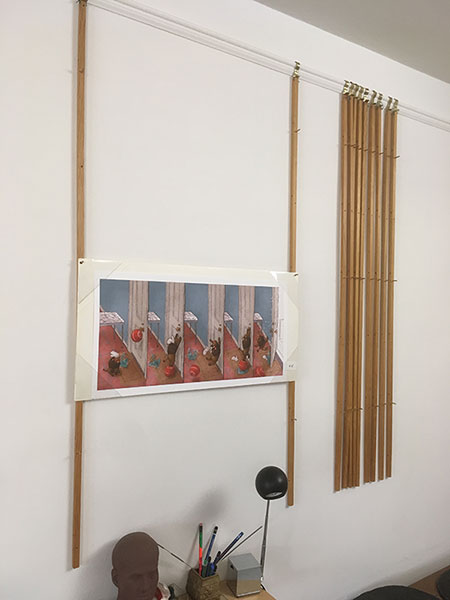 How do you organize your tasks? Does that differ from book to book?
I try to organize my tasks, but I would not call them, in the end, organized. Some procedures have evolved that I do use regularly, such as my system for hanging finished art on my wall (if the art isn't digital). I have sticks of square wooden molding hanging from the picture molding on my walls, with pegs sticking forward at intervals of about 15 inches. I can vary the space between sticks to match the width of the art (which I attach to cardboard with holes for the pegs), and it's all quite flexible and reusable.
What does your work day look like?
No pattern that I can see. The closer to the deadline, the more efficiently I work, except for sometimes. On Thursday mornings if at all possible I go to the Minerva's Drawing Studio—that's the name of a figure drawing workshop/studio on New York's Lower East Side, not far from me, where on Thursdays its founder Minerva Durham talks about drawing, art, history, philosophy, and more, in a wonderfully idiosyncratic way, during the model's breaks. I think that drawing the figure keeps my hand-eye coordination from falling away—the human body is probably the most demanding thing you can draw. And I'm fascinated by anatomy.
What's your favorite paper to use for creating art?
It's been a while since I used it, but for watercolor I have been most comfortable with Arches cold press paper. For a combination of watercolor and digital printing, a technique I've used on a few books, I have a stash of Whatman 90 lb. hot press, an amazing paper that, naturally, went out of production over ten years ago. For digital printing I like Moab Entrada Rag Bright, but you really can't touch it up manually, which is too bad.
What is the most reliable of the tools you use to create art?
My computer is most reliable in the sense that mistakes are infinitely forgivable. Otherwise, I don't really know. Oils work well for me; watercolor is riskier, and other mediums have their own difficulties.
The Horn Book asked me to write about this once, and what I wrote still applies except for the part about the com­put­er, which has changed one hun­dred percent.
How do you save the thoughts you don't have time to execute that day?
I write them down on little pieces of paper that I promptly lose. I also write them in my phone's Notes app and lose them there. When the time comes to execute these ideas, I do find that most of them (as far as I know) come back to me; I actually don't mind this process.
Do you work on more than one book at a time?
Every time I've tried to work on more than one book at a time, I find myself working on one book at a time. At most.
Paul O. Zelin­sky will receive a 2018 Eric Car­le Hon­ors Artist award for life­long inno­va­tion in the field. The Hon­ors will be bestowed on Thurs­day, Sep­tem­ber 27, 2018, at Gaus­tavi­no's in New York City.
Do spend some time on Paul O. Zelinsky's web­site. There are many oppor­tu­ni­ties to be fas­ci­nat­ed tucked here and there.