As most of us are aware, pic­ture book authors and illus­tra­tors sel­dom get to meet each oth­er. Cer­tain­ly not before a book is pub­lished, unless there are research points to check.
Once in a while, a duo cre­ates sev­er­al books togeth­er and they get to know one anoth­er. We're curi­ous about how that works. Meet David LaRochelle, author, and Mike Wohnout­ka, illus­tra­tor, of six books togeth­er (so far), three of which have become a series. How do an author and illus­tra­tor work on a series?
Their most recent title is See the Ghost: Three Sto­ries about Things You Can­not See, pub­lished by Can­dlewick Press in July 2023 (978−1536219821). This fol­lows See the Cat: Three Sto­ries about a Dog (Theodor Geisel Award win­ner) and See the Dog: Three Sto­ries about a Cat. So now it's a series!
When and how did the ghost tap you on the shoul­der, inspir­ing you to base the third book in the series on some­thing invisible?
David: Can­dlewick expressed an inter­est in a third book even before the first book was pub­lished. I knew that the book had to fit the for­mat of the first two, and I want­ed its title to con­tain a seem­ing­ly con­tra­dic­to­ry state­ment. I didn't get very far with See the Sea or See the Sheep: Three Sto­ries about Scary Ani­mals, but when I came up with the idea of ask­ing read­ers to see some­thing that couldn't be seen, I thought kids would find that funny.
Mike: David's cre­ativ­i­ty nev­er ceas­es to amaze me. When he told me had an idea for a book in the series, I thought it would be some­thing like: "See the Mouse" or "See the Duck." I was blown away by David's idea of a sto­ry about things you cannot see. So clever.
What par­tic­u­lar chal­lenges did you have with this book?
David: Besides com­ing up with a new theme, the biggest chal­lenge for me was com­ing up with a third invis­i­ble char­ac­ter. A ghost and the wind felt like nat­ur­al choic­es, but beyond that, I was stumped. A thought? An invis­i­ble alien? Nei­ther of those felt right. I was grate­ful when I final­ly real­ized that the third char­ac­ter could be invis­i­ble sim­ply because it was so small. That's when I jot­ted down the idea of a fairy named Trix­ie (although her orig­i­nal name was Teeny).
Mike: Draw­ing invis­i­ble things sounds like it would be easy, but there were some chal­lenges. For exam­ple, there were some scenes where so much was hap­pen­ing, such as when Max and Baby Cakes get blown around by a wind­storm dur­ing their pic­nic or when the Fairy releas­es a burst of mag­ic, that I strug­gled to depict all of this action on just the right hand side of the book. Final­ly it dawned on me that I could expand these illus­tra­tions onto the left hand side of the book that was usu­al­ly reserved for the nar­ra­tor. I don't know why it took me so long to real­ize this, espe­cial­ly since I had used this tech­nique in the pre­vi­ous two books, but once I did, it gave me the room I need­ed to depict these moments as dra­mat­i­cal­ly as possible.
David, how many drafts of the man­u­script do you believe you went through before the final book? What tools do you use to make your revisions?
David: I didn't real­ize there were so many drafts till I went back and checked my files! It began with a lot of brain­storm­ing in my sketch­book, which is also where I first sto­ry­board­ed the idea to see how com­fort­ably it filled 64 pages. Then I made a dum­my with sim­ple sketch­es out of fold­ed paper. After receiv­ing com­ments on the dum­my from Mike and my writ­ing group, I made a revised sec­ond dum­my which I sent to my edi­tor, Andrea Tom­pa. After hear­ing her com­ments, I made a third dum­my. And then we began the process of email­ing small­er changes back and forth until we reached the point of finess­ing tiny details, such as adding an extra "e" on "Wheee!" or chang­ing a punc­tu­a­tion mark. If I knew how many revi­sions a book was going to take, I some­times won­der if I'd be too daunt­ed to even begin!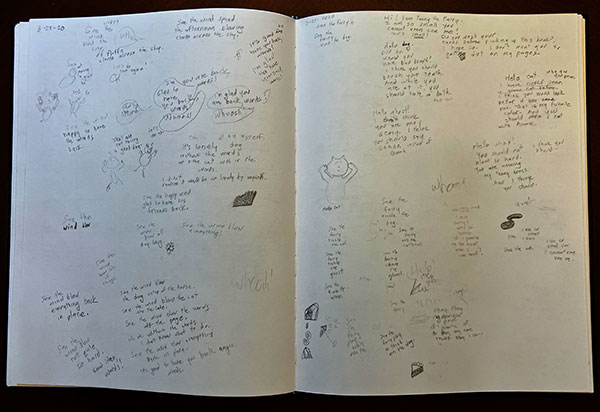 Mike, do you have to revise your illus­tra­tions often dur­ing the process? If so, what tools do you use to make changes?
Mike: Of course there are always revi­sions. This usu­al­ly hap­pens dur­ing the sketch­ing stage. I work tra­di­tion­al­ly not dig­i­tal­ly. I use brown Pris­ma­col­or® pen­cils for the sketch­es and Acry­la® Gouache paint for the final art. When I'm done with all the pen­cil sketch­es I will scan them into my com­put­er and make minor adjust­ments to the sketch­es in Pho­to­shop. After assem­bling all the sketch­es and lay­ing out the whole book with the text in place, I will cre­ate a PDF port­fo­lio of the book and e‑mail it to the pub­lish­er. After a few weeks (or a few months, depend­ing on the pub­lish­er!) I will receive com­ments back from the art direc­tor. If the revi­sions are small I can usu­al­ly make these changes in Pho­to­shop, but some­times they are big­ger and I will have to go back to the draw­ing board — literally!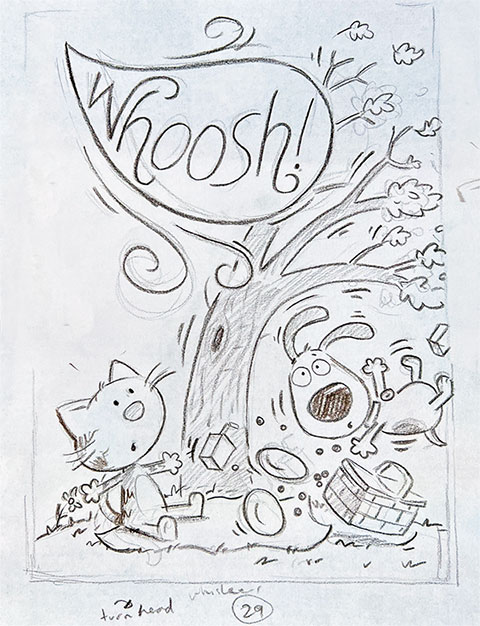 Mike: Before cre­at­ing the final art­work, I will do lots of col­or stud­ies. This whole process helps insure few­er revi­sions dur­ing the paint­ing stage.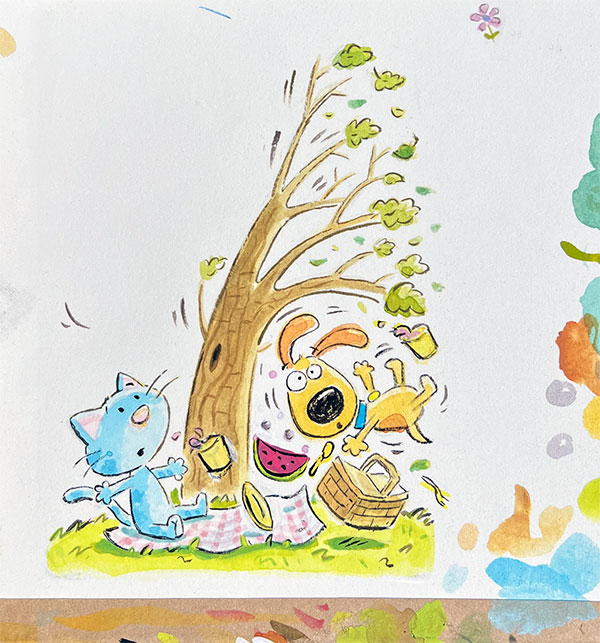 David, because you have an estab­lished author/illustrator rela­tion­ship, do you con­fer more with your illus­tra­tor or your edi­tor? Is it help­ful to you to talk the book over with Mike as you're working?
David: I con­fer more with Mike at the begin­ning of the process. He has an excel­lent sense of what makes a good sto­ry and I always lis­ten to his com­ments care­ful­ly. Once I begin work­ing with my edi­tor, I most­ly focus on her com­ments. Try­ing to sat­is­fy too many peo­ple can become frus­trat­ing. But when I checked my notes for this book, I saw that I was still run­ning a few changes past Mike even late in the game. Some­times hav­ing an extra voice telling me if I'm on the right track is the reas­sur­ance that I need!
Mike, because you have an estab­lished author/illustrator rela­tion­ship, do you con­fer more with your author or your art direc­tor? Is it help­ful to you to talk the book over with David as you're working?
Mike: I feel David and I have become more and more col­lab­o­ra­tive with each book. David will show me the sto­ry and ask for my feed­back before send­ing his dum­my to the publisher.
With See the Ghost, I have to admit, I thought David's idea might have been a lit­tle too cre­ative. I thought there was no way in the world Can­dlewick would ever pub­lish a book like this. For exam­ple, the cov­er idea of David's orig­i­nal dum­my had noth­ing on it except a patch of grass. So, before we sub­mit­ted the sto­ry to the pub­lish­er, I sug­gest­ed adding Max and Baby Cakes to the cov­er and adding the pic­nic scene to the "Wind" story.
David and I always say our num­ber one goal is to cre­ate the best book pos­si­ble, and often­times this means let­ting go of our egos and lis­ten­ing to each oth­er's suggestions.
David, does writ­ing a series get eas­i­er or harder?
David: Both.
It's eas­i­er because the for­mat, and at least some of the char­ac­ters, have already been established.
But it's hard­er because it becomes more dif­fi­cult to come up with a fresh theme. I don't want sub­se­quent books to feel like a rehash of the first one. And because the first two books were so well-received, there's the chal­lenge of try­ing to meet the publisher's (and our) expectations.
Mike, does illus­trat­ing a series get eas­i­er or harder?
Mike: As the illus­tra­tor, it's def­i­nite­ly eas­i­er. After illus­trat­ing the first book in a series you have so many things fig­ured out when you start on the sub­se­quent books. Like, how the char­ac­ters are going to look and the palette — what col­ors you're going to use.
There are still chal­lenges, but these two BIG things are already established.
Thank you both for your can­did answers about work­ing as a pic­ture book team. I know you're both work­ing on your next book, so we're for­tu­nate to spend this time with you.
Two More Books in This Series
More Books on Which David and Mike Have Collaborated