by Jen Bryant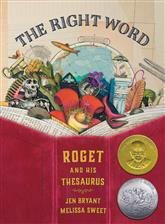 Sev­er­al months ago, I was asked to be on a pan­el for a new-writ­ers work­shop. Dur­ing the ques­tion and answer peri­od, one woman com­ment­ed: "I keep hear­ing that writ­ing is a craft that requires time and prac­tice to mas­ter. I get that … but as some­one who's eager to be an appren­tice but has nei­ther the time nor mon­ey to enroll in an MFA pro­gram, how — exact­ly — do I go about find­ing some­one who's qual­i­fied, will­ing, and avail­able to men­tor me?"
It was a great ques­tion — one which we took turns answer­ing, based on our unique per­son­al expe­ri­ences. That pan­el made me recall the details of my own (very long, cir­cuitous road) to becom­ing a pub­lished children's author, and how I found my own "Mas­ter writ­ers" from whom I learned a great deal about the art and craft of writ­ing. This is what I told her .… .
After spend­ing the first sev­en years after col­lege as a French teacher and H.S. X‑C coach, I began my writ­ing life almost by acci­dent: We relo­cat­ed in the mid­dle of the school year and I sud­den­ly had no full-time job. I con­tin­ued to teach part-time, but I also began some free­lance writ­ing. I wrote mag­a­zine arti­cles and book reviews and com­piled quotes for a gift-book company.
At first, I got by using the "tri­al and error" method (accent on the error!) and work­ing on my own when my baby daugh­ter napped. In col­lege, I'd majored in for­eign lan­guages, not Eng­lish or Cre­ative Writ­ing, so while I had no for­mal train­ing, I also had very low expec­ta­tions. In ret­ro­spect, this was an advan­tage: I had no pre­con­ceived notions about what was "accept­able" and so moved freely between gen­res and for­mats — exper­i­ment­ing, fail­ing, and try­ing again. That got me through the first cou­ple of years … but I got to a point where I want­ed to write bet­ter.
I'd pub­lished sev­er­al essays and reviews in lit­er­ary mag­a­zines and I was read­ing a lot of poet­ry (and try­ing to write my own), when I stum­bled upon my first pro­fes­sion­al men­tor. While attend­ing a read­ing at a Philadel­phia book­store, I saw a fly­er for a work­shop run by a local poet-pro­fes­sor. Dis­ap­point­ed that I couldn't make the sched­uled class­es, I asked her if, instead, she'd be will­ing to meet me for twice-a-month tutor­ing ses­sions. She agreed, and thus began my first true writ­ing appren­tice­ship, held in a bak­ery on South Street (I can still smell those cran­ber­ry scones!)
It would take me pages to explain what I learned from her, but suf­fice to say that despite my being a "pub­lished author" I knew in my heart that I was just start­ing to learn how to write. She assigned month­ly read­ings, cri­tiqued my poet­ry drafts, shared her own drafts and fin­ished poems, and answered hun­dreds of questions.
When she moved away for her job, I con­tin­ued my writ­ing appren­tice­ship with anoth­er Philadel­phia poet. His style was very dif­fer­ent, but that stretched me in new direc­tions and made me exper­i­ment even more. I learned so much from him, that when he, too, moved on to a new job in Col­orado, we con­tin­ued to exchange work by mail. [** I should note that nei­ther of these poets wrote for chil­dren, and that near­ly ALL of what I read and wrote while work­ing under their guid­ance was aimed at adults, not kids. Nonethe­less, every­thing they taught me has influ­enced and improved my writ­ing for young people.]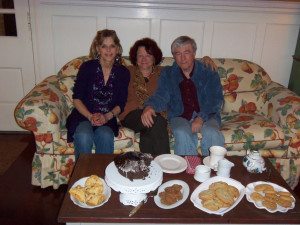 About this time, I got to know Jer­ry and Eileen Spinel­li, who lived near­by and whose books I'd admired for years. As our friend­ship grew, they became men­tors of a dif­fer­ent sort, answer­ing ques­tions about pic­ture books (Eileen con­vinced me to turn one of my "art poems" into my first pic­ture book, Georgia's Bones), edi­tors (Jer­ry con­nect­ed me with his edi­tor, Joan Slat­tery at Knopf, who became my edi­tor for the next decade), and bol­ster­ing my spir­its through the inevitable ups and downs of book pub­lish­ing. Where my pre­vi­ous men­tors had been about skill devel­op­ment, the "nuts & bolts" of craft, the Spinel­lis were more like gear-greasers, facil­i­tat­ing my for­ay into children's lit­er­a­ture and cheer­ing each small success.
I was lucky to find these peo­ple, I know — but I believe I also made my own luck: I cre­at­ed a work­shop tuto­r­i­al where there was none; I per­se­vered in my appren­tice­ship through changes in logis­tics, geo­graph­i­cal dis­tance, and personal/ fam­i­ly demands — and I made my writ­ing life a priority.
I tru­ly believe that, with a lit­tle per­sis­tence, any­one can find a writ­ing men­tor, some­one (or a series of some­ones) who can be both Teacher and Guide on their oth­er­wise soli­tary journey.