Wel­come to the third arti­cle in our series, Peace-olo­gy: Find­ing High­er Ground. Our first two arti­cles dis­cussed the con­cept of High­er Ground and the infra­struc­ture of peace­build­ing in our class­rooms and homes. In this arti­cle, we explore find­ing peace with­in. How can we shift our hearts and minds towards peace? How can we help the chil­dren in our class­rooms do the same? What books, both for chil­dren and adults, can sup­port our efforts?
Joyce Bonafield-Pierce: Let Peace Begin with Me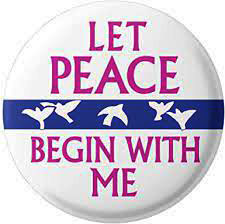 I sang the song that begins, "Let there be peace on earth. And let it begin with me" for years until one day I real­ized: Yes, peace real­ly does begin with me! I choose what I put out into the world. And those choic­es can make a huge dif­fer­ence, even if to one per­son. I am respon­si­ble for my respons­es, whether they come from Low­er Ground or High­er Ground. Response-able implies that I have that choice, and what I choose is my response-abil­i­ty.
How can I con­tribute peace to a dif­fi­cult sit­u­a­tion? Instead of get­ting angry, or using harsh words, or putting some­one in her place, can I stop, breathe, and find anoth­er response – a High­er Ground response?
To respond from a place of peace, I need to nur­ture peace at my cen­ter. I need a rock­ing chair or a "peace place" — real or imag­ined — where I can go to be calm amidst the chaos of the moment.
I need calm before I can find a way to counter or pos­si­bly trans­form the neg­a­tiv­i­ty or over­whelm fac­ing me.
For chil­dren who are just form­ing a view of them­selves and the world, my response (or any adult's response) – Low­er Ground or High­er Ground— is mag­ni­fied through their eyes. Chil­dren ask, "Is the world a car­ing and safe place that val­ues me? Or is it a place as found in the Hunger Games, where car­ing is absent, and we must com­pete for our very survival?"
How can we bring our more peace­ful selves into our class­rooms and allow that calm space with­in us to radi­ate out? How can we help our stu­dents feel their own calm as they work on their dai­ly projects? This can be espe­cial­ly chal­leng­ing with cer­tain stu­dents who do not yet have the skills to deal with their anger and frus­tra­tion and tend to act it out instead. We can help these young peo­ple find their own peace place.
Nel Nod­dings, an edu­ca­tor who fur­ther devel­oped Car­ol Gilligan's "eth­ic of care," states that more than lead­ing our class­es by rules, though they're impor­tant, we can focus on how we respond to our stu­dents. Ver­bal­ly notic­ing and reflect­ing the good things they do back to them, acknowl­edg­ing their strengths and tal­ents, speaks vol­umes. We can mod­el the behav­ior we would like to see in our stu­dents and make vis­i­ble to them how we find a peace place with­in our­selves. With our empa­thy, under­stand­ing, and appre­ci­a­tion, chil­dren can stretch and grow into their best selves.
Noddings,Nel. The Chal­lenge to Care in Schools: An Alter­na­tive Approach to Edu­ca­tion. (2nd. Ed.). 2005. New York, NY: Teach­ers Col­lege Press.
Helping Children Find Their Own Peace through Art
Renee Dauk-Bleess: As Joyce wrote, peace begins with us. We each have the "response-abil­i­ty" to con­tribute peace to a sit­u­a­tion. As the art teacher for my ele­men­tary school, I try to man­i­fest the three build­ing blocks of peace­mak­ing in my classroom:
Cre­ate a phys­i­cal space that sup­ports and upholds teach­ing for peace
Set up a calm­ing atmos­phere of peace, using the beau­ty of nature, music, and the sound of water, and
Inten­tion­al­ly mod­el and inte­grate a shared lex­i­con of peace
Our first peace art project was to design a Tri-fold Name Plate, our first step to find our inner peace. To begin, stu­dents fold­ed a stan­dard 8.5' x 11 sheet of paper into thirds. On Side #1, they wrote their name in the mid­dle of the paper using a favorite col­or mark­er. Side #2, they cre­at­ed a one minute free-flow­ing line design as they lis­tened to beau­ti­ful, soft music. Side #3, at the top of the paper, they wrote the sen­tence "What brings me peace." Togeth­er, we dove into cre­at­ing that shared lex­i­con of peace, iden­ti­fy­ing what peace looks like and feels like to us.
With chart paper at the ready, I asked stu­dents: What does peace FEEL like in your bod­ies? Hes­i­tant at first, a few stu­dents start­ed to share. Then more ideas flowed:
Peace feels like …
You are in the moment
Safe
You can breathe
Hap­py
Calm
Relaxed
Focused
Qui­et
Free
Trust
You have peace of mind
Com­fort­able
I then asked stu­dents to think about what peace LOOKS like; to pon­der words, images, thoughts, peo­ple, places, ani­mals, or expe­ri­ences that bring them that feel­ing of PEACE.
Peace looks like …
Birds chirp­ing in the morning
Sit­ting in the sun
A koi pond
Hunt­ing
Fish­ing
Play­ing music
Fam­i­ly and friends
The wind
Waves hit­ting the shore
My dog
Hold­ing a baby
The sound of a heartbeat
Look­ing up at the moon
We took time to share as many ideas as we could. As stu­dents brain­stormed, our shared lex­i­con of peace grew stronger.
I want­ed stu­dents to embody that sense of peace, to inter­nal­ize it, and to visu­al­ize what brings them peace. On Side #3 of our Tri-Fold, I asked them to add three bul­let points under the sen­tence "What brings me peace." After each bul­let point, I asked them to write a word or a phrase, a spe­cial per­son or place, a com­fort­ing image or thought, an expe­ri­ence, or an ani­mal that helps bring them peace. Stu­dents were encour­aged to illus­trate these as well.
Finding Peace in Children's Picture Books
Caren Stel­son: Joyce remind­ed us, peace begins from with­in, and Renee Dauk-Bleess and her stu­dents illus­trat­ed what brings them peace on their Tri-Fold Name Plates. Children's book authors Bap­tiste Paul and Miran­da Paul with illus­tra­tor Esteli Meza have fol­lowed a sim­i­lar path. Togeth­er they have cre­at­ed the vibrant, rhyming pic­ture book, Peace, that joy­ful­ly echoes and adds to Joyce's and Renee's ideas.
Peace is on purpose.
Peace is a choice.
Peace lets the small­est of us have a voice.
When we are with friends or enjoy­ing a care­free day, peace can come eas­i­ly. But when con­flict emerges, peace becomes com­pli­cat­ed. That's the moment to stop, take a breath and remember,
"I am respon­si­ble for my respons­es."
That may also be the moment to reach for the pic­ture book, How to Apol­o­gize, by David LaRochelle, illus­trat­ed by Mike Wohnout­ka. The first sen­tence is, "Every­one makes mis­takes." What hap­pens after the mis­take is up to us. We may need to be response – able and apologize.
But how?
The char­ac­ter Hip­po offers two con­trast­ing exam­ples — a Low­er Ground and a High­er Ground apol­o­gy. Apol­o­gy #1: "… if your lad­der wasn't tak­ing up so much space, I wouldn't have bumped into it." Apol­o­gy #2. "I'm sor­ry I knocked you over."
Which apol­o­gy would you pre­fer to offer? Which apol­o­gy would you pre­fer to receive? Going deep­er, what brave apolo­gies can we make or accept that could bring heal­ing, jus­tice and peace into our own lives, our homes, com­mu­ni­ties and beyond?
Modeling Embodied Gratitude and Inner Peace for Our Students
Ellie Rosch­er: In 12 Tiny Things: Sim­ple Ways to Live a More Inten­tion­al Life, Hei­di Barr and I wrote the chap­ter on HOME as an invi­ta­tion to grat­i­tude. Embod­ied grat­i­tude is anoth­er way to think about being at inner peace. I lived in fif­teen dif­fer­ent places between grad­u­at­ing from col­lege and buy­ing my first house. In that tran­sient sea­son, I learned to be grate­ful for the ever-shift­ing roof over my head. It was my response-abil­i­ty to choose grat­i­tude. I also learned to expe­ri­ence a sense of home in my body, in my rela­tion­ships, and in the present moment as my liv­ing quar­ters changed. Our mantra for the chap­ter reads: Grat­i­tude, embod­ied, is to find home with­in. If we expe­ri­ence our bod­ies as home, we can live from a place of peace.
Years into home own­er­ship, I do expe­ri­ence home in my house, yes, but I con­tin­ue to inhab­it my body and know it as home as well. Grat­i­tude keeps me awake to the gift of my body and the rich­ness of the present moment. Naguib Mah­fouz says, Home is not where you were born; home is where all your attempts to escape cease. There are end­less invi­ta­tions to escape our bod­ies and dwell in our minds or to escape the present moment to exist in the past or the future. There are end­less invi­ta­tions to get swept up in con­flict and live from Low­er Ground. It is my response-abil­i­ty to choose to be mind­ful of my breath a few times a day, and my breath anchors me in my body and in this moment. It is my peace place. If I were in Renee's art class, I would draw, "My con­scious breath" on my Tri-Fold Name Plate.
With my con­scious breath, I more often respond instead of react. This sim­ple prac­tice has grown grat­i­tude for what is with­in in me and around me. I embody grat­i­tude, which encour­ages me to be at home wher­ev­er my feet are plant­ed, liv­ing more often from a High­er Ground and tak­ing my abil­i­ty to respond seri­ous­ly. With a col­lec­tive con­scious breath, we can help our stu­dents learn to do the same.
_________________________
For each Peace-olo­gy post, Caren, Ellie, Renee, and Joyce part­ner to learn and explore the mean­ing of peace by talk­ing and lis­ten­ing with each oth­er. If you'd like to share your ideas about peace, books, and chil­dren, please share your com­ments here, vis­it our web­sites, or con­nect with Joyce and Renee about their High­er Ground work.