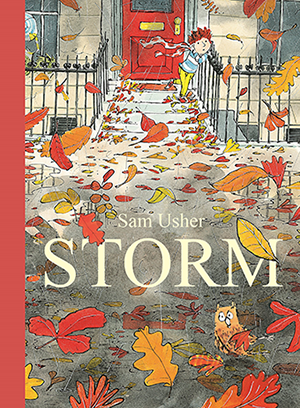 That irre­sistible urge to jump into a cush­ioned pile of waist-high leaves, sink­ing into the vivid col­ors, the smell of earth and sky, the sounds of nature embrac­ing you?
Don't miss Storm by Sam Ush­er (Tem­plar Books). The glow­ing reds and golds of fall jump off the cov­er, invit­ing you to open the book and set­tle in for an autumn sto­ry. Grand­son and Grand­dad rev­el in the approach­ing storm.
"When I woke up
this morn­ing,
the wind was rattling
the win­dows.

"I could­n't wait to
go outside."
Ush­er cre­ates his sto­ry with illus­tra­tions rem­i­nis­cent of Quentin Blake, with a line that's firmer, more defined. They're yummy.
This is a book about leaves and love and mem­o­ries and adven­tures. The col­ors are bright and invit­ing. The approach­ing storm is the star of the book. As blus­tery clouds gath­er, kite fly­ing becomes dan­ger­ous. Time to go home. Home, safe from the storm.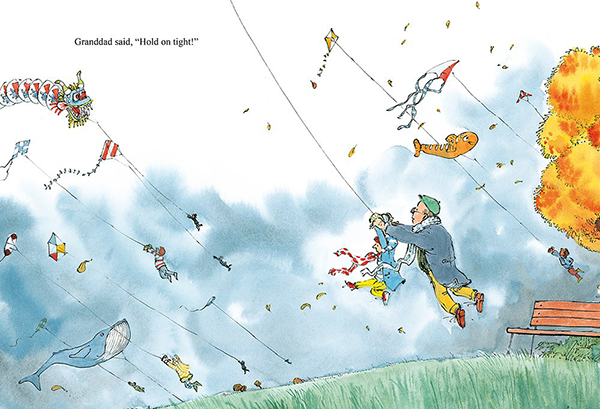 This is a gor­geous, heart­warm­ing book. Ush­er pre­vi­ous­ly cre­at­ed Rain, Sun, and Snow, all set in the same loca­tion. They are reas­sur­ing books. Good read-alouds for weath­er dis­cus­sions or a cozy day at home.
Storm
Sam Ush­er
Tem­plar Books / Can­dlewick Press, 2018
ISBN 978−1−536202−823