by Vic­ki Palmquist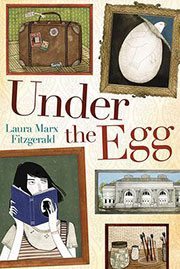 In Under the Egg, Theodo­ra Ten­pen­ny begins her sto­ry when her beloved grand­fa­ther, Jack, is hit by a taxi … and dies. Out­side their 200-year-old Man­hat­tan town­home, Jack whis­pers to Theo to "look under the egg." Deal­ing with her grief, but des­per­ate because she and her head-in-the-clouds moth­er have no income, Theo tries to fig­ure out what her grand­fa­ther meant. She's fair­ly cer­tain he's try­ing to pro­vide for them, but did he have to be so mysterious?
What unrav­els is a tense mys­tery of art "theft," Jack's sol­dier­ing in World War II, sus­pi­cious adults who become alto­geth­er too inter­est­ed, and a new best friend, Bod­hi, who aids and abets Theo's hare­brained, but ulti­mate­ly bril­liant, schemes.
Under the Egg is a fast-paced, intel­li­gent, learn­ing-about-art-his­to­ry while sav­ing the world sort of book, not unlike Indi­ana Jones or Mr. Lemoncello's Library. I stayed up all night to read it, unable to rest until the mys­tery was solved.
On Lau­ra Marx Fitzgerald's web­site, there are won­der­ful resources. When I fin­ished Dan Brown's The DaVin­ci Code, the first thing I did was find a paint­ing of The Lord's Sup­per to see if he was right. Fitzger­ald saves us the hunt. There's a map of all the places Theo vis­its in New York City. There's more about Raphael, with thought­ful­ly pro­vid­ed paint­ings that link to fas­ci­nat­ing sto­ries from the painter's life. There's a page devot­ed to sep­a­rat­ing fact from fic­tion. And more.
Read­ers who love adven­tur­ous romps, who like to puz­zle through a mys­tery, or enjoy vis­it­ing art muse­ums will adore this book.