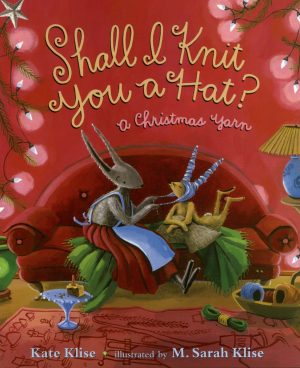 I've received a won­der­ful ear­ly Christ­mas gift this year — two new reg­u­lar sto­ry­times to con­duct. Both inter­est­ed in the season's books — and do I have Christ­mas books to share!
The only down­side — and I can live with it — is that it's via the tech­nolo­gies with which we see peo­ple these days. I'm so grate­ful for the Zooms, the Face­Times, the Face­book Lives…it's the only way to safe­ly see folks and it makes things like sto­ry­time pos­si­ble. It's noth­ing like gath­er­ing in per­son. Still—sto­ry­time! I love it how­ev­er it comes. And to go through our Christ­mas books again is sheer joy. My kids are old enough that we haven't done marathon Christ­mas sto­ry­times around here in awhile. My heart is filled with glad­ness to pull them off the shelf again.
Secret upside: One of the tech­nolo­gies does not coöper­ate on my com­put­er and so requires that I film via phone, and for one rea­son or anoth­er (I've giv­en up try­ing to under­stand it), I can't do it in a way that lets me see if I'm hold­ing the book straight and out of the glare of the light. I require assis­tance. For­tu­nate­ly, I have gen­er­ous and will­ing cam­era folk in my house. Last week, it was Dar­ling Daugh­ter, home from col­lege, who filmed. And since she was on the oth­er side of the cam­era, it was like read­ing her some of her old favorites. I saw her smile a cou­ple of times as we read. Anoth­er lay­er of sto­ry­time fun for me. (It's all about me!)
This week I'm read­ing Shall I Knit You a Hat? A Christ­mas Yarn by Kate Klise, illus­trat­ed by her sis­ter, M. Sarah Klise. (If you have four min­utes, this lit­tle video about how they start­ed mak­ing books togeth­er is super sweet and sis­ter­ly and Christmasy.
Shall I Knit You a Hat? is a sto­ry about knit­ting. Rab­bits knit­ting. And I know that sounds too odd to be good, but I promise you, it makes such a sweet sto­ry. A bliz­zard is com­ing in on Christ­mas Eve and the for­cast says it won't stop until the snow reach­es the tallest tips of Lit­tle Rabbit's ears. (Lit­tle Rab­bit has very long ears.) So Moth­er Rab­bit, as knit­ter every­where do, chan­nels all her wor­ry into a sweet lit­tle long-eared hat for her Lit­tle Rab­bit. In turn, Lit­tle Rabbit's gen­er­ous heart leads them to make hats for all their friends. Sur­rep­ti­tious­ly, they mea­sure their friends and design hats with their par­tic­u­lar needs, per­son­al style, and spe­cial con­sid­er­a­tions tak­en into account. For instance, the deer's hat must show off his love­ly antlers.
It is so stinkin' cute! And I've nev­er read this book to a kid or group of kids who did not love it. Some­times we try our hand at design­ing hats for oth­er ani­mals — very cre­ative activity.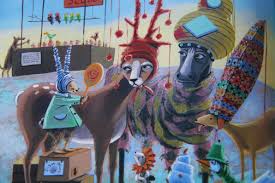 I'll be watch­ing this week's sto­ry­time audi­ences because the last time I read it to a group of kids they point­ed out two things I had not noticed. 1) Lit­tle Rab­bit cre­at­ed the gift tags for the box­es con­tain­ing the extra­or­di­nary hats he designed. They are sim­ple paint­ings of the ani­mal receiv­ing the hat — kids notice this kind of detail. The tags look just like what they would paint. 2) When the ani­mal friends first receive the hats — hats that are pret­ty eclec­ti­cal­ly designed — they look less than thrilled. It's not until the snow falls that they ful­ly appre­ci­ate the care and love that has gone into the designs of their indi­vid­ual hats.
This is the work of a mar­velous writer-illus­tra­tor part­ner­ship — the sto­ry is shared in words and pic­tures. Some­times the adult read­ers miss it, but kids notice.
So, fa-la-la-la-la! I'm off to read to screens full of kids. Hop­ing my daugh­ter will film again this week. She loved this book when she was little.