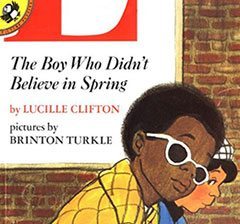 Phyl­lis: Each year, as soon as the snow melts, I'm eager to go search for native wild­flow­ers. Two of the ear­li­est flow­ers bloom in two dif­fer­ent pro­tect­ed places a car ride away. And every year, I go too ear­ly — either the ephemer­al snow tril­li­ums aren't even up yet or the pasque flow­ers are still such tiny, tight, fur­ry brown buds that they're hard to spot in the dried grass on the hill­side where they grow. When I do final­ly find snow tril­li­ums and pasque flow­ers in bloom, I know spring real­ly has arrived.
A lit­tle boy named King Shabazz also goes look­ing for spring in Lucille Clifton's The Boy Who Didn't Believe in Spring, illus­trat­ed by Brin­ton Turkle. His search takes him down city streets rather than up windy hill­sides, but the impe­tus is the same.
When King Shabazz's teacher talks about spring, he whis­pers, "No such thing." When his moth­er talks about spring, he demands, "Where is it at?"
One day after his teacher has talked about blue birds and his Mama had talked about crops com­ing up, King Shabazz has had enough.
"Look here, man," he tells his friend Tony Poli­to, "I'm going to get me some of this spring." They set off through their urban neigh­bor­hood, search­ing for spring. They look around the cor­ner, by the school and play­ground, by the Church of the Sol­id Rock, past a restau­rant and apart­ment build­ings until they come to a vacant lot walled in by tall build­ings with an aban­doned car sit­ting in the middle.
When the boys go to inves­ti­gate a sound com­ing from the car, Tony Poli­to trips on a patch of lit­tle yel­low pointy flow­ers. "Man, the crops are com­ing up!" King Shabazz shouts. The sound turns out to be birds who fly out of the car, where the boys dis­cov­er a nest with four light blue eggs.
"Man, it's spring!" says King Shabazz.
As do pic­ture books by Vera B. Williams, Ezra Jack Keats, and Matt de la Peña, Clifton's book cel­e­brates the city where so many of us live and where spring arrives, as well, even if you don't yet believe in it.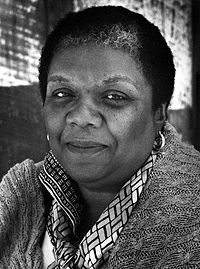 Jack­ie: I loved this book so much that I had to do a lit­tle research on Lucille Clifton, who wrote more than twen­ty books for chil­dren. You men­tioned cel­e­bra­tion, Phyl­lis. Here's what New York­er mag­a­zine writer Eliz­a­beth Alexan­der said of Clifton after her death in 2010:
Clifton invites the read­er to cel­e­brate sur­vival: a poet's sur­vival against the strug­gles and sor­rows of dis­ease, pover­ty, and attempts at era­sure of those who are poor, who are women, who are vul­ner­a­ble, who chal­lenge con­quis­ta­dor nar­ra­tives. There is lumi­nous joy in these poems, as they speak against silence and hatred.
There is lumi­nous joy in this book — joy in the char­ac­ters who are best friends and wait at the stop­light, which they have nev­er gone past before, to see what the oth­er will do; joy in the dis­cov­ery of a bird's nest on the front seat of a beat-up car. This is a sto­ry of sur­vival, too. The boys do cross the street, even though Junior Williams has said he will beat them up if he sees them. They will sur­vive. They have courage, each oth­er, and appre­ci­a­tion for spring.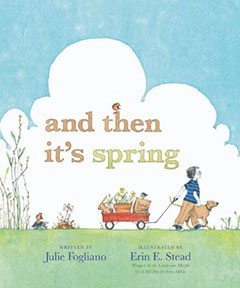 Phyl­lis: Julie Fogliano's book and then it's spring is anoth­er sto­ry of wait­ing, this time in a more rur­al set­ting, told in sec­ond per­son in one long extend­ed sen­tence whose syn­tax cap­tures the feel­ing of wait­ing and wait­ing and wait­ing.
"First you have brown,
all around you have brown,
the book begins, and pro­ceeds to seeds, a wish for rain, rain, a "hope­ful, very pos­si­ble sort of brown" but still brown. As time pass­es (and the sin­gle sen­tence con­tin­ues) the child gar­den­er wor­ries that the birds might have eat­en the seeds or bears tromped on them, until final­ly the brown
"still brown,
has a green­ish hum
that you can only hear
if you put your ear to the ground
and close your eyes…"
until final­ly, on a sun­ny day,
"…now you have green,
all around you have green."
Jack­ie: I love Julie Fogliano's lan­guage: "…a hope­ful, very pos­si­ble sort of brown." And the brown with the green­ish hum just makes me smile. I know this is a blog about writ­ing but I have to men­tion Erin Stead's illus­tra­tions. Her pos­si­ble-birds-eat­ing-seeds paint­ing is full of jokes — there's a bird wear­ing a bib, a bird flat on its back, birds billing (as in billing and coo­ing) a bird trilling. It would be worth giv­ing up a few seeds to see these live­ly birds in one's yard.
Phyl­lis: And the sign to keep bears away (which the bear is using to scratch under his arm) made me laugh out loud: "Please do not stomp here. There are seeds and they are trying."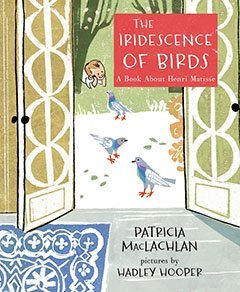 The Iri­des­cence of Birds, A Book about Hen­ri Matisse by Patri­cia MacLach­lan also uses the syn­tax of an elon­gat­ed sen­tence to height­en a sense of yearn­ing and show how Matisse's love of col­or and light might have bloomed from his child­hood "in a drea­ry town in north­ern France where the skies were gray and the days were cold" and his moth­er bright­ened their home with paint­ed plates and flow­ers and red rugs on the dirt floor, and his father raised pigeons "with col­ors that changed with the light as they moved." The sin­gle long inter­rog­a­tive sen­tence is answered by anoth­er, short­er question:
"Would it be a sur­prise that you became
A fine painter who paint­ed
Light
And
Move­ment
And the iri­des­cence of birds?"
Jack­ie: This book does for me what all good pic­ture books do, it makes me want to know more about Hen­ri Matisse — and his remark­able moth­er. She knew that a red rug trumps a dirt floor any day — and she must have had a lode of artis­tic abil­i­ty her­self. And this book makes me want to try to write a sto­ry in one sentence.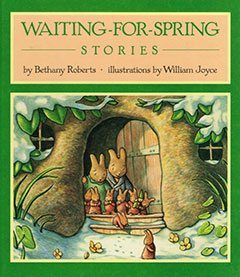 Phyl­lis: Wait­ing-for-Spring Sto­ries by Bethany Robert was a baby gift to my first daugh­ter, and it con­tin­ues to enchant. Papa Rab­bit, "like Grand­pa Rab­bit before him and Great-Grand­pa Rab­bit before that," helps to pass the time with his lit­tle rab­bits until Spring arrives by telling sto­ries, sev­en in all. And true to a child's sen­si­bil­i­ty of the world, wind talks, a star yearns to sing, the lit­tle rabbit's too big feet com­plain about the ways he tries to shrink them, a worm reas­sures a rab­bit, and, in my favorite, "The Gar­den," veg­eta­bles rebel against a farmer who plans to eat them for supper.
"'Get him, boys,' called the onion." And they do. The onion makes him cry, pota­to trips him, the car­rot whacks him on the head, and they escape by rolling out the door.
"After that, the farmer rab­bit always ate pan­cakes for his dinner."
Jack­ie: Those veg­eta­bles could be in a hor­ror pic­ture book, for sure. But maybe they are too fun­ny for a hor­ror pic­ture book.
Phyl­lis: The book and the sto­ry­telling end with sun­light pour­ing in the win­dow and the snow begin­ning to melt from the windowpanes.
"Spring is here at last!"
Jack­ie: These sto­ries remind me of Arnold Lobel's work in their sure por­tray­al of char­ac­ters I care about in just a few words. And I so love the talk­ing grass and the talk­ing feet and the feisty onion, car­rot, and pota­to. I don't know why but I found myself want­i­ng to hear some­thing from the lit­tle rab­bits between the sto­ries, some­thing about the wait­ing or the upcom­ing spring. But that's anoth­er book. These sto­ries are cozy and charm­ing and just right to read while we wait.
Phyl­lis: Last week I saw pasque flow­ers and snow tril­li­ums. This week I found green leaves grow­ing in my gar­den. This year's time of yearn­ing is over. It's time to go out­side and glo­ry in spring­time, here at last.