inter­view by Vic­ki Palmquist and Mar­sha Qua­ley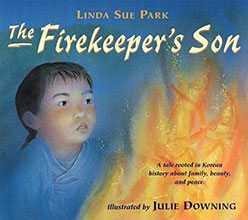 The illus­tra­tions in The Fire­keep­er's Son are all dou­ble-page spreads. How did that design deci­sion affect your choic­es and work?
I decid­ed on the for­mat because the land­scape is an impor­tant part of the sto­ry. The orig­i­nal dum­my I made had few­er pages so I split many spreads into small­er images. For­tu­nate­ly, my won­der­ful edi­tor rec­og­nized the prob­lem and allowed me to make the book 40 pages instead of 32, so I could spread the sto­ry over 20 spreads. We both felt the expan­sive dou­ble-page spreads helped make the sto­ry feel big­ger.
My favorite spreads are on pp. 24 – 25 and pp. 30 – 31. Sim­i­lar in palate and sub­ject, one (pp. 30 – 31) is effec­tive­ly a close-up of the oth­er (pp. 24 – 25), and that helps so much to height­en sus­pense at a crit­i­cal moment. Did this image come quick­ly or was it reached slow­ly?
My favorite sequence of spreads is between pp. 24 – 25 and pp. 30 – 31. This is the cli­mac­tic moment in the text, and Lin­da Sue expert­ly builds the cli­max to Sang-hee's moment of deci­sion. The sequence of images took a long time to get just right (most of my ideas come V E R Y slow­ly) I drew and redrew these 4 spreads many times so I could find just the right way to show how Sang-hee decides to put aside his desire to see sol­diers (as shown in the shad­ow on pp. 24 – 25) to the moment where he lights the fire.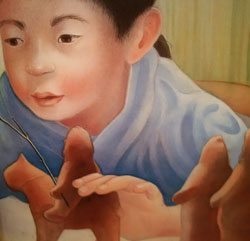 The toy fig­ures Sang-hee plays with are a cru­cial ele­ment in the nar­ra­tive, yet they're not men­tioned in the text. When and how did they become part of the sto­ry?
As an illus­tra­tor, my job is to bring some­thing new to the text. The text says that Sang-hee loves sol­diers and I want­ed to show his inter­est in a way that young read­ers could under­stand. I watched my own son, who was Sang-hee's age, when I was illus­trat­ing this book. He spent a lot of his time mak­ing Lego® fig­ures and play­ing with them, so I start­ed won­der­ing what the 17th cen­tu­ry equiv­a­lent was to Lego® and came up with the idea of clay sol­diers.
Sang-hee plays with clay (or mud) sol­diers. Did you find exam­ples of these in your research? How do you go about mak­ing sure those toys were in use dur­ing the time peri­od in which the book is set?
Chil­dren did­n't have toys in the small Kore­an vil­lages and any that they made would not have sur­vived, how­ev­er I spoke to a cura­tor at the Asian Art Muse­um and he sug­gest­ed that chil­dren might have fash­ioned sim­ple fig­ures out of mud or clay. The actu­al sol­diers were made by my 6‑year-old-son so they looked like some­thing a young boy would make.
Where did you do your research to find the uni­forms Kore­an sol­diers would have worn dur­ing this time peri­od? They seem to have reflec­tive riv­ets on their jack­ets. Is this some­thing you could detect from your research?
I love the research part of the process. San Fran­cis­co has a won­der­ful Asian Art Muse­um and I was able to go behind the scenes and look at some of the sol­diers' actu­al uni­forms. The muse­um also pro­vid­ed me with tons of visu­al ref­er­ence for all the cos­tumes in the book. The reflec­tion in the riv­ets actu­al­ly rep­re­sents sparks from the 2nd coal. I want­ed to visu­al­ly blend real­i­ty and fan­ta­sy.
Did you use mod­els for the peo­ple in your paint­ings?
I do use mod­els. My son's best friend posed for Sang-hee, and his moth­er posed as well. I find one of the hard­est parts of paint­ing the illus­tra­tions for a book is mak­ing the char­ac­ters look con­sis­tent. It helps me if I find a real per­son to pose.
Do you remem­ber mak­ing a deci­sion to paint Sang-hee's imag­ined sol­diers with­in the fire?
The text does say he saw a huge bat­tle in the flames, so I was inspired by the text. One of the things I loved about the sto­ry are the lev­els of com­plex­i­ty, and yet the writ­ing is spare. Lin­da Sue touch­es on so many themes — fam­i­ly, duty, desire — with­in a sim­ple text that I had lots of oppor­tu­ni­ties to expand the sto­ry with the art.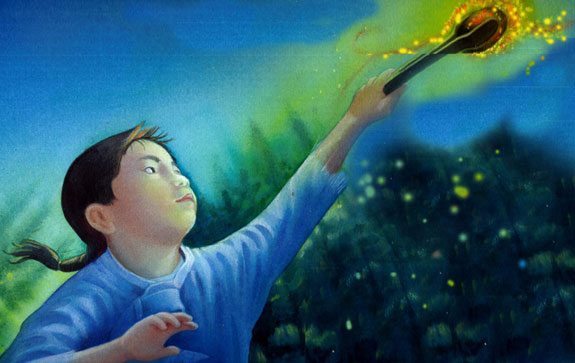 You achieve a won­der­ful lumi­nes­cence with your fire. How did you accom­plish this?
I worked with a com­bi­na­tion of water­col­or and liq­uid acrylics. The acrylics are incred­i­bly intense col­ors so I watered them down and paint­ed in dozens of lay­ers. My stu­dio now has a big blue-green stain right near the door, because I pinned the paint­ing to the door, wet them with a spray bot­tle and lit­er­al­ly poured paint over them. All the excess dripped onto the floor. It cre­at­ed a nice wel­come mat!
The col­or palette for the paint­ings is blue, green, and pur­ple, with a beau­ti­ful light suf­fus­ing the land­scape. What led you to decide on that group of col­ors?
I chose the col­ors to con­trast with the warmth of the fire. I usu­al­ly do exten­sive col­or stud­ies so I can work out not only the col­ors in the indi­vid­ual spreads, but also how the col­ors affect the sto­ry arc.
Many illus­tra­tors paint in water­col­or, but you've added pas­tel crayons. What do you feel this adds to a paint­ing?
I love paint­ing with water­col­or. The trans­paren­cy you can achieve with the medi­um was per­fect for the book. How­ev­er, some­times I want­ed a bet­ter dark, a lighter high­light, or a dif­fer­ent tex­ture, so adding pas­tel and col­ored pen­cil allowed me to do this.
The cov­er is not tak­en from pages already exist­ing in the book. It stands sep­a­rate­ly. What did you feel need­ed to be on the cov­er in order to draw peo­ple into the book?
I find cov­ers to be chal­leng­ing. I want to con­vey a sense of the sto­ry with­out giv­ing any­thing away. The edi­tor and I went back and forth on show­ing sol­diers in the flames because we were wor­ried it might reveal the end­ing. Final­ly, we decid­ed that if they were sub­tle, it just adds to the mys­tery of the sto­ry.