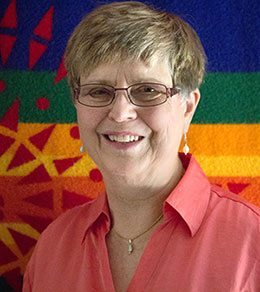 In this inter­view with Mar­i­on Dane Bauer, we're ask­ing about her nov­el-in-verse, Lit­tle Cat's Luck, our Book­storm™ this month, writ­ten for sec­ond, third, and fourth graders as a read-aloud or indi­vid­ual read­ing books. It's a good com­pan­ion to her ear­li­er nov­el-in-verse, Lit­tle Dog, Lost.
When the idea for this sto­ry came to you, was it a seed or a full-grown set of char­ac­ters and a sto­ry­line?
I began by sit­ting down to write anoth­er Lit­tle Dog, Lost, but not with the same char­ac­ters, so it was eas­i­est to start with a cat. When I begin a sto­ry, any sto­ry, I always know three things: who my main char­ac­ter will be, what prob­lem she will be strug­gling with (know­ing the prob­lem, of course, includes know­ing about the story's antag­o­nist, in this case "the mean­est dog in town), and what a res­o­lu­tion will feel like. So I knew Patch­es would be lost and I knew she would encounter "the mean­est dog in town" and I knew she and Gus must be believ­able friends in the end. I wasn't sure, though, how their friend­ship would evolve. So I sent her out the win­dow after that gold­en leaf and then wait­ed to see what would hap­pen.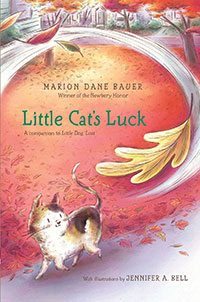 You've stat­ed that Lit­tle Cat's Luck is a "com­pan­ion book" for your ear­li­er nov­el-in-verse, Lit­tle Dog, Lost. What does that term mean to you?
It's not a sequel, because it's not the same char­ac­ters or the same place (though it's anoth­er small town). I have how­ev­er writ­ten it in the same man­ner — a sto­ry told in verse through a nar­ra­tor — which gives it the same kind of feel. The same artist, Jen­nifer Bell, did the illus­tra­tions, too. Each book stands alone, but they could also be read side-by-side, com­pared and enjoyed togeth­er. One sig­nif­i­cant dif­fer­ence is that Lit­tle Cat's Luck is entire­ly devot­ed to the world of the ani­mals where Lit­tle Dog, Lost is focused more on the humans. In Lit­tle Cat's Luck we see the humans only tan­gen­tial­ly as they affect the ani­mals, and because the ani­mals stand at the cen­ter of the sto­ry I allow them to con­verse with one anoth­er. That doesn't hap­pen from the human per­spec­tive of Lit­tle Dog, Lost.
When you're writ­ing ani­mal char­ac­ters, which you do so well, from where are you draw­ing knowl­edge of their behav­ior?
I have always had ani­mals in my life, cats when I was a child, both dogs and cats as an adult, though in recent years I've grown some­what aller­gic to cats so no longer have them in my home. But I have lived with dogs and cats, paid close atten­tion to them, loved them all my life, and when I turn to them as char­ac­ters in a sto­ry I know exact­ly how they will be. In fact, since I can't cud­dle real cats any longer with­out end­ing up with itchy eyes, I found deep plea­sure in bring­ing Patch­es to life on the page.
In cre­at­ing Patch­es, you've imbued her with char­ac­ter­is­tics and dia­logue that could be iden­ti­fied as human and yet you've main­tained her ani­mal nature. At what part of your process did you find your­self watch­ing for that bor­der between human and ani­mal?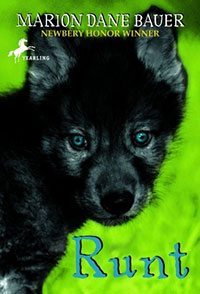 The moment I give an ani­mal human speech, I have vio­lat­ed its ani­mal nature. We are who we are as humans pre­cise­ly because we talk, and we do it con­stant­ly, with good and bad results. We con­verse to under­stand one anoth­er, and we call one anoth­er names. In sto­ries it can be very dif­fi­cult to hold onto the ani­mal nature of a dog or cat while human words are com­ing from their mouths. When I wrote my nov­el Runt, about a wolf pup, I chose to give the ani­mals speech, fol­low­ing the pat­tern of mar­velous writ­ers such as Felix Salten, the author of Bam­bi, a Life in the Woods. And while that was a very inten­tion­al choice, it was a choice I found myself not want­i­ng to repeat when I con­sid­ered writ­ing a sequel to Runt. I returned to my wolf research in prepa­ra­tion for writ­ing that sec­ond book and found myself so impressed with the sub­tle, com­plex ways wolves actu­al­ly com­mu­ni­cate with one anoth­er that I put the idea for a sequel aside. I found I didn't want to put speech into their mouths again. How­ev­er, when I wrote Lit­tle Cat's Luck I put that con­cern aside eas­i­ly, part­ly I sup­pose because cats are domes­ti­cat­ed ani­mals, so speech felt less a vio­la­tion. I gave them roles that are famil­iar in our human world, too, for Patch­es be a moth­er and for Gus to be a hurt­ing bul­ly, which made it easy to know what they might say. Through­out, though, I retained their ani­mal nature by stay­ing close to their phys­i­cal­i­ty. Describ­ing the way they move and the things they do with their bod­ies kept their ani­mal natures in view.
Gus, the dog, is at once the "mean­est dog in town" and the char­ac­ter who earns the most sym­pa­thy and admi­ra­tion from read­ers. Was the "vil­lain" of your sto­ry always this dog? Did he become more or less mean dur­ing your revi­sion process?
Gus was always the vil­lain, and he always start­ed out mean. In fact, I didn't know how mean he could be until he took pos­ses­sion of those kit­tens … and then of Patch­es her­self! But by that time I under­stood Gus, under­stood the need his pain — and thus his mean­ness — came from, and thus knew he was act­ing out of des­per­a­tion, not out of a desire to hurt. So that meant my sto­ry could find a rea­son­able and believ­able solu­tion, that Patch­es, the all-lov­ing, all-wise moth­er, could suc­ceed in reform­ing "the mean­est dog in town."
How con­scious are you of your read­ers, their age and read­ing abil­i­ty, when you're writ­ing a nov­el like Lit­tle Cat's Luck or Lit­tle Dog, Lost?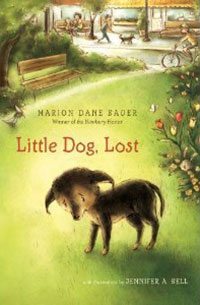 When I'm writ­ing, I'm focused on my sto­ry and my char­ac­ters, not my read­ers. I hope there will be read­ers one day, of course, but I'm writ­ing through my char­ac­ters, through my sto­ry with­out giv­ing much thought for what will hap­pen to it out in the world. If I can inhab­it my sto­ry well, and if my sto­ry comes out of my young read­ers' world, it will serve them. How­ev­er, read­ing abil­i­ty is anoth­er mat­ter, and one I must take into con­sid­er­a­tion. I have writ­ten many books for devel­op­ing read­ers, and I love the kinds of sto­ries that work for young read­ers, so I have loved writ­ing them. I wrote a series of books for Step­ping Stones aimed at devel­op­ing read­ers, ghost sto­ries The Blue Ghost, The Red Ghost, etc., The Secret of the Paint­ed House, The Very Lit­tle Princess, and more. And they were a great plea­sure to write. But after I time I grew rest­less over hav­ing to write in short sen­tences to make the read­ing man­age­able for those still devel­op­ing their skills. So when I came to write Lit­tle Dog, Lost, I said to myself, What if I wrote in verse? If I did that, the bite-sized lines would make it eas­i­er to read, and I wouldn't have to alter the nat­ur­al flow of my style. I did it, and it seemed to work, not just for review­ers and the adults who care about kids' books, but for my young read­ers them­selves. And I have been very hap­py with hav­ing dis­cov­ered a new — for me — way of pre­sent­ing a sto­ry. That's why I decid­ed to do Lit­tle Cat's Luck in the same way.
Lit­tle Dog, Lost was your first nov­el-in-verse. With Lit­tle Cat's Luck, are you feel­ing com­fort­able with the form or do you feel there are more chal­lenges to con­quer?
I was much more com­fort­able with the form with Lit­tle Cat's Luck. When I start­ed Lit­tle Dog, Lost I felt ten­ta­tive. Could I real­ly do this? Would any­one want it if I did? Was I just divid­ing prose into short lines or was I tru­ly writ­ing verse? So many ques­tions. But after a time, I grew to love the form, and when I was ready to start again with a new sto­ry, I knew verse was the right choice. The one change I brought to verse form in Lit­tle Cat's Luck is that this time I began exper­i­ment­ing with con­crete verse, let­ting a word fall down the page when it described falling, curl when Patch­es curls into a nap and more. That was fun, too, but the chal­lenge was to play with the shape of the words on the page with­out mak­ing deci­pher­ing more dif­fi­cult for young read­ers. I'm guess­ing there will be more dis­cov­er­ies ahead if I return to this form.

Do you think visu­al­ly or pri­mar­i­ly in words?
Total­ly through words. Absolute­ly and total­ly. In fact, when I receive the first art for one of my pic­ture books, I always go through the entire thing read­ing the text. And then I say to myself, "Oh, I'm sup­posed to be look­ing at the pic­tures!" and I go back to look. I didn't have to prompt myself to be more visu­al, though, to play with the con­crete poet­ry. Once I'd start­ed doing it, oppor­tu­ni­ties to do more kept pop­ping up, so even though I was using only words my think­ing became more visu­al.
What is the most impor­tant idea you'd like to share with teach­ers and librar­i­ans about Patch­es and Bud­dy that you hope they'll take with them to their stu­dents and patrons?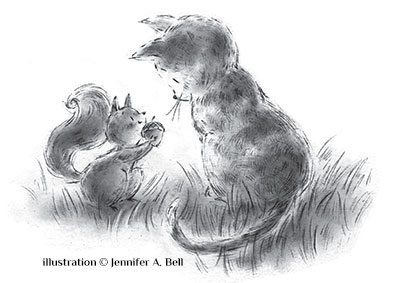 I believe that the most impor­tant thing a sto­ry does, any sto­ry, is to make us feel. By inhab­it­ing a sto­ry, liv­ing through it, we are trans­formed in some small — or some­times large — way. I know that when sto­ries are used in the class­room, they are used for mul­ti­ple pur­pos­es, and that is as it should be, but I hope adults pre­sent­ing Patch­es and Bud­dy will first let the chil­dren expe­ri­ence the boy, the dog, the cat, will let them feel their sto­ries from the inside. After the sto­ries have been expe­ri­enced, as sto­ries, there is plen­ty of time to use those words on the page for vocab­u­lary lessons or as a prompt for chil­dren to write their own verse sto­ries or any­thing else they might be use­ful for. But always, I hope, the sto­ry will be first.
____________________________________________
Thank you, Mar­i­on, for shar­ing your thoughts and writ­ing jour­ney with us.
For use with your stu­dents, Mar­i­on's web­site includes a book trail­er, a social-emo­tion­al learn­ing guide, and a teach­ing guide that you'll find use­ful as you incor­po­rate this book into your plan­ning.