For this inter­view, we vis­it with Ed Spicer, edu­ca­tor, author, cur­ricu­lum guide writer, and ALA com­mit­tee mem­ber many times over.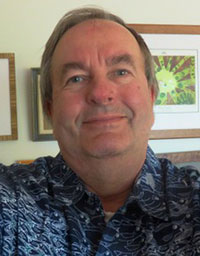 Which celebri­ty, liv­ing or not, do you wish would invite you to a cof­fee shop?
I would love to spend some time in a con­fi­den­tial, friend­ly chat with Michelle Oba­ma.
Which book do you find your­self rec­om­mend­ing pas­sion­ate­ly?
Oh! This depends so much on what col­or your wheel­bar­row might be! As a teacher, I've always loved edg­ing stu­dents out of their com­fort zones and we are all stu­dents. I adore Leslie Mar­mon Silko's Cer­e­mo­ny. I love Audre Lorde's poet­ry, which is most cer­tain­ly a win­dow for this white, male read­er.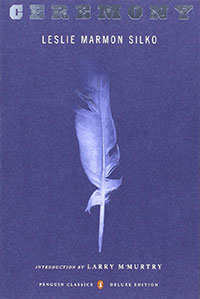 Cur­rent­ly, I am get­ting ready to do a pre­sen­ta­tion at a sym­po­sium fea­tur­ing Nao­mi Shi­hab Nye, so I have fall­en in love again with 19 Vari­eties of Gazelle, a gor­geous book that helps us to remem­ber that no sin­gle sto­ry can encap­su­late a peo­ple or a cul­ture or even a sin­gle human. If you want to read a book with your ears, I think Tobin Anderson's Feed is actu­al­ly enhanced by the audio (and it is ter­rif­ic with just your eyes).
What's your favorite late-night snack?
Either cashews or ice cream. but don't tell any­one!
Favorite city to vis­it?
If I were only allowed one, I could very well choose stay­ing at the Hotel Mon­teleone in New Orleans in the win­ter or spring (they treat­ed us like fam­i­ly). If not, Chica­go and Toron­to would have to bat­tle it out.
Most cher­ished child­hood mem­o­ry?
A lot of my child­hood mem­o­ries are not pleas­ant. I watched my father knock my sister's front tooth out with a cement sprin­kler attached to a gar­den hose. I ran away and lived hid­ing in a church youth cen­ter for about a year. I was on my own for good at the age of 15. Yet I absolute­ly cher­ish these mem­o­ries. As The Asso­ci­a­tion says, "Cher­ish is the word I use to describe all the feel­ing I have hid­ing…"
First date?
When I went to col­lege, I weighed under 100 pounds and was approach­ing the five foot mark. Dat­ing wasn't a word that meant the same thing to me as it did to the young women I thought I was dat­ing. In any event, my first 500 dates were total­ly bor­ing and insignif­i­cant. I may also be exag­ger­at­ing the five actu­al dates I real­ly did have, but I still do not remem­ber them.
Illustrator's work you most admire?
Too many! Kadir Nel­son, Beth Krommes, Pamela Zagaren­s­ki, Melis­sa Sweet, Jer­ry Pinkney, Paul Zelin­sky, Mar­la Frazee, Mo Willems, E.B. Lewis, Matt Faulkn­er, Yuyi Morales, Ash­ley Bryan … And, of course, Mau­rice Sendak, Wan­da Gag, Beat­rix Pot­ter, Dorothy P. Lath­rop from ear­li­er years. Among the younger illus­tra­tors com­ing up the pipe, I am very excit­ed by the new work Shadra Strick­land is doing. I also think Chris­t­ian Robin­son will become even more of a force. My friend Ruth McNal­ly Bar­shaw gave me a water­col­or she paint­ed of Red Rid­ing Hood. Water­col­or is a new medi­um for her and it is among my very favorite pieces of art and I hope it bodes well for her.
Tea? Cof­fee? Milk? Soda? What's your favorite go-to drink?
COFFEE, cream and no sug­ar! Some­times there is noth­ing bet­ter than a gin and ton­ic, how­ev­er.
Favorite sea­son of the year? Why?
ALA Mid­win­ter sea­son! This may not be a uni­ver­sal­ly acknowl­edged sea­son, but for me it begins that slow trek back into feel­ing healthy. I suf­fer from sea­son­al affec­tive dis­or­der and ALA comes right after the hol­i­days in Jan­u­ary (some­times, painful­ly, Feb­ru­ary). Hang­ing around so many believ­ers in chil­dren, in lit­er­a­cy, and, more impor­tant­ly, kind­ness always restores my faith in the world and in myself. From an art per­spec­tive, I love autumn. The col­ors nev­er cease to blow me away.
What's your dream vaca­tion?
My wife, Ann, and I have begun explor­ing our Nation­al Parks. Last sum­mer we vis­it­ed six, which brings our total close to 20. We want to keep explor­ing. I have dreamed of trav­el­ing down the Zam­bezi Riv­er through the Oka­van­go Delta region of Zam­bia, Zim­bab­we, and Botswana although I fear I may have missed my oppor­tu­ni­ty.
What gives you shiv­ers?
Our new­ly elect­ed pres­i­dent and our lack of kind­ness and even civil­i­ty toward those who do not share our cul­ture, reli­gions, cus­toms, hol­i­days, lan­guage, etc.
Morn­ing per­son? Night per­son?
NIGHT! Bed­time before 1:00 am is for wimps.
What's your hid­den tal­ent?
Years ago I was a very suc­cess­ful cologne sales­per­son dur­ing the hol­i­days! I sold a lot of Russ­ian Leather cologne. Today, I am not a chef, but I do make very pret­ty food that tastes good! I can­not, how­ev­er, fol­low recipes to save my life and I have rarely made the same thing twice.
Your favorite can­dy as a kid …
Any that I could steal.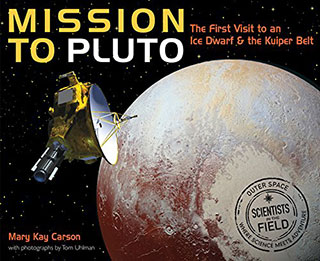 Is Plu­to a plan­et?
Ha! I write the cur­ricu­lum guides for Houghton Mifflin's Sci­en­tists in the Field series. I just fin­ished doing the guide on Plu­to. The lead sci­en­tist in this book thinks of Plu­to as a plan­et. I will side with him.
What's the strangest tourist attrac­tion you've vis­it­ed?
Corn Palace? I have been to some very sketchy amuse­ment parks. In Alle­gan, I often take peo­ple to see our giant chick­en at our Coun­ty Fair site.
Broth­er and sis­ters or an only child? How did that shape your life?
When every­one was alive, I had 2 broth­ers and 5 sis­ters. At least one broth­er has passed away and I haven't seen the oth­er for more than 50 years. I haven't spo­ken to any­one in my fam­i­ly for more than ten years. It is more like anti-shap­ing.
Best tip for liv­ing a con­tent­ed life?
Get help!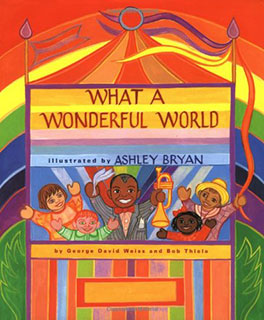 Your hope for the world?
When I taught first grade, I could nev­er read the Ash­ley Bryan illus­trat­ed ver­sion of Louis Armstrong's What a Won­der­ful World with­out cry­ing! I read this book every year and cried every time. "They'll learn much more than I'll ever know…" always hit me as so beau­ti­ful and so true. I often told peo­ple every year that I had first graders who are much smarter than I am. Many peo­ple assumed I was being face­tious, but I meant it quite lit­er­al­ly. I have more expe­ri­ence and I have more facts at my dis­pos­al, but my first graders always demon­strat­ed the cre­ativ­i­ty, the dreams, and the fear­less­ness that make me feel hope­ful for our future.