We inter­viewed Mike Wohnout­ka, chil­dren's book illus­tra­tor, wide­ly known for his books Dad's First Day, Moo!, and Lit­tle Pup­py and the Big Green Mon­ster. (Mike's last name is pro­nounced wuh-noot-kuh.)
Which book do you find your­self rec­om­mend­ing passionately?
Pic­ture books in gen­er­al. I often hear par­ents say their chil­dren are too old for pic­ture books. Recent­ly a par­ent told me her first grad­er had "moved on" from pic­ture books. This absolute­ly dri­ves me crazy. You are nev­er too old for pic­ture books. They are sec­ond to none when it comes to art, sto­ry­telling, and language.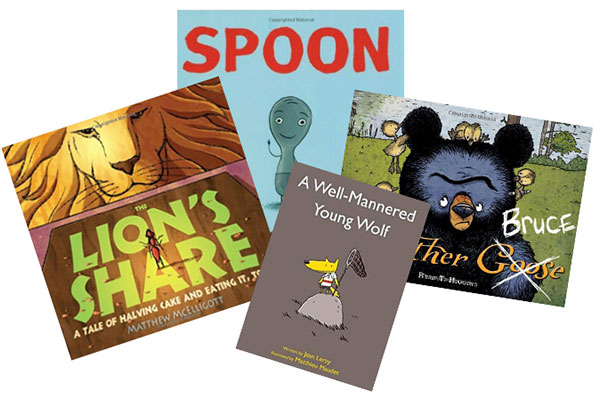 Favorite city to visit?
New York. I love the muse­ums, com­e­dy clubs, book stores, and the­aters. It's also nice to go to lunch with my edi­tors since most of the pub­lish­ers I work with are in New York.
Most cher­ished child­hood memory?
Play­ing Kick the Can with all the kids in our neighborhood.
Illus­tra­tor's work you most admire?
David Shan­non. David is the rea­son I became an illus­tra­tor. After see­ing his pre­sen­ta­tion, when I was in col­lege, about how he illus­trat­ed his first children's book, How Many Spots Does A Leop­ard Have?, I thought "THAT is what I want to do!" His paint­ings are tech­ni­cal­ly stun­ning and his sto­ries are so funny.
When I vis­it schools I tell stu­dents about David being such an influ­ence on me. It's amaz­ing how excit­ed the stu­dents get when I show the cov­er of No David! and it's incred­i­ble that every stu­dent is famil­iar with that series. He obvi­ous­ly has struck a chord with children.
A cou­ple years ago, David and I both pre­sent­ed at the Maz­za Muse­um sum­mer con­fer­ence. It was won­der­ful to meet him. He is the nicest guy and it was fun to let him know how much of an inspi­ra­tion he has been to me.
Go-to drink?
Cof­fee, espe­cial­ly in the morn­ing as I write or paint.
Favorite sea­son?
Fall. Leaves chang­ing col­ors, cool­er weath­er, the World Series, and Hal­loween are a few of the many things I love about fall.
Dream vaca­tion?
Prague
What gives you shivers?
Mice
Strangest tourist attraction?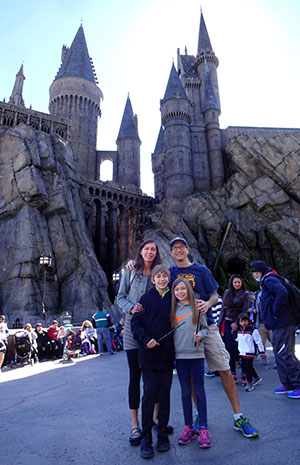 Our fam­i­ly recent­ly took a trip to Uni­ver­sal Stu­dios in Orlan­do, main­ly to vis­it The Wiz­ard­ing World of Har­ry Pot­ter. It was such a fun vaca­tion. The atten­tion to detail in cre­at­ing Diagon Alley, Hog­warts Express, and Hogsmeade was awe-inspiring.
My wife and I got teary-eyed when we first entered Diagon Alley.
Also, the rides through­out Uni­ver­sal and Islands of Adven­ture were a blast. Of course our kids loved it all, but the strange thing about this tourist attrac­tion is how much my wife and I tru­ly enjoyed every­thing, too. We can't wait to go back.
Broth­ers or sis­ters? How did they shape your life?
Ever since I can remem­ber, I've loved to draw. Hav­ing three old­er broth­ers who were all real­ly good at draw­ing had a big influ­ence on me. I remem­ber being so impressed with the sim­plest sketch they would do and I was deter­mined to be as good as they were.
Best tip for liv­ing a con­tent­ed life?
I have found med­i­ta­tion and yoga very help­ful. I start every day with a 20 minute med­i­ta­tion (before the coffee).