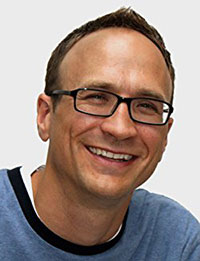 We inter­viewed Mike Wohnout­ka, chil­dren's book illus­tra­tor, wide­ly known for his books Dad's First Day, Moo!, and Lit­tle Pup­py and the Big Green Mon­ster. (Mike's last name is pro­nounced wuh-noot-kuh.)
Which book do you find yourself recommending passionately?
Picture books in general. I often hear parents say their children are too old for picture books. Recently a parent told me her first grader had "moved on" from picture books. This absolutely drives me crazy. You are never too old for picture books. They are second to none when it comes to art, storytelling, and language.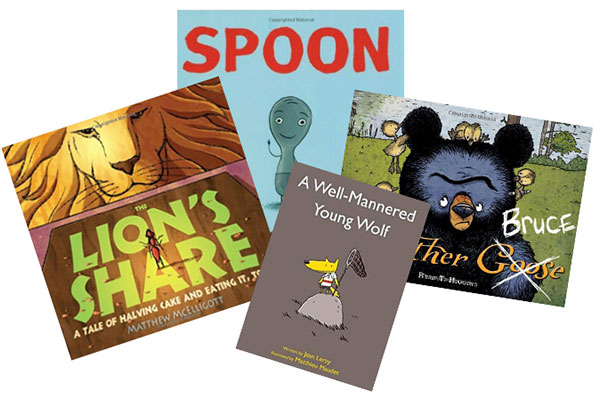 Favorite city to visit?
New York. I love the museums, comedy clubs, book stores, and theaters. It's also nice to go to lunch with my editors since most of the publishers I work with are in New York.
Most cherished childhood memory?
Playing Kick the Can with all the kids in our neighborhood.
Illustrator's work you most admire?
David Shan­non. David is the rea­son I became an illus­tra­tor. After see­ing his pre­sen­ta­tion, when I was in col­lege, about how he illus­trat­ed his first children's book, How Many Spots Does A Leop­ard Have?, I thought "THAT is what I want to do!" His paint­ings are tech­ni­cal­ly stun­ning and his sto­ries are so funny.
When I vis­it schools I tell stu­dents about David being such an influ­ence on me. It's amaz­ing how excit­ed the stu­dents get when I show the cov­er of No David! and it's incred­i­ble that every stu­dent is famil­iar with that series. He obvi­ous­ly has struck a chord with children.
A cou­ple years ago, David and I both pre­sent­ed at the Maz­za Muse­um sum­mer con­fer­ence. It was won­der­ful to meet him. He is the nicest guy and it was fun to let him know how much of an inspi­ra­tion he has been to me.
Go-to drink?
Coffee, especially in the morning as I write or paint.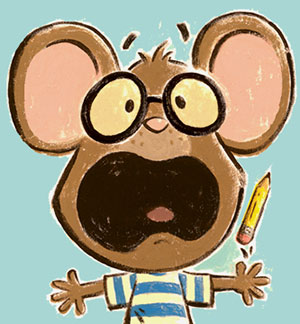 Favorite season?
Fall. Leaves chang­ing col­ors, cool­er weath­er, the World Series, and Hal­loween are a few of the many things I love about fall.
Dream vacation?
Prague
What gives you shivers?
Mice
Strangest tourist attraction?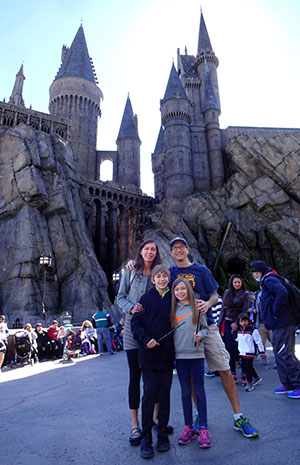 Our family recently took a trip to Universal Studios in Orlando, mainly to visit The Wizarding World of Harry Potter. It was such a fun vacation. The attention to detail in creating Diagon Alley, Hogwarts Express, and Hogsmeade was awe-inspiring.
My wife and I got teary-eyed when we first entered Diagon Alley.
Also, the rides through­out Uni­ver­sal and Islands of Adven­ture were a blast. Of course our kids loved it all, but the strange thing about this tourist attrac­tion is how much my wife and I tru­ly enjoyed every­thing, too. We can't wait to go back.
Brothers or sisters? How did they shape your life?
Ever since I can remember, I've loved to draw. Having three older brothers who were all really good at drawing had a big influence on me. I remember being so impressed with the simplest sketch they would do and I was determined to be as good as they were.
Best tip for living a contented life?
I have found meditation and yoga very helpful. I start every day with a 20 minute meditation (before the coffee).