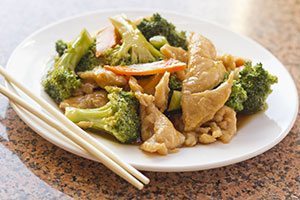 Favorite hol­i­day tra­di­tion?
Well, that usu­al­ly involves food — we try to have Chi­nese food on Christ­mas Eve. Our fam­i­ly has had a lot of changes late­ly, so we've been try­ing to cre­ate new tra­di­tions.
Were you a teacher's pet or teacher's chal­lenge?
Both! At times I was a mod­el stu­dent and oth­er times I was the class clown. I'm sure the clown­ing was a bit dis­rup­tive but I only got sent to the principal's office once. This was at a parochial grade school. The prin­ci­pal was a nun who was about 6′3″. She was a gen­tle dis­ci­pli­nar­i­an but it did sort of seem like her height gave her a direct line to God and all the grav­i­tas that goes with that.
What's the first book report you ever wrote?
I don't remem­ber the very first but the one that sticks in my mind was a report for a book about liv­ing in space. I did a hor­ri­ble job with it and was allowed to redo the report. I knocked it out of the park with the sec­ond attempt — that taught me the val­ue of revi­sion.
Do you like to gift wrap presents?
I like the idea of wrap­ping presents but my exe­cu­tion leaves a lit­tle to be desired. Gift bags and a sup­ply of col­ored tis­sue paper have saved my bacon on more than one occa­sion.
What do you wish you could tell your 10-year-old self?
You are going to be loved and cher­ished by some­one who will inspire you to be the best per­son you can be.
Look beyond the hurt that some peo­ple seem to always give — that always gives a clue about where they're tru­ly vul­ner­a­ble or hurt­ing them­selves.
Keep your mind free and open — it will be your best tool and lead you into many adven­tures.
What three children's book authors or illus­tra­tors or edi­tors would you like to invite to din­ner?
Oh, gosh, that's a hard one. If I go his­tor­i­cal, how about Mark Twain, Mar­garet Wise Brown, and Don Free­man?
Where's your favorite place to read?
I don't have that over­stuffed chair from my par­ents any longer. My favorite place to read now is any­where near my wife, Vic­ki, so when­ev­er one of us gasps or laughs at a book, we get to share with the oth­er one.