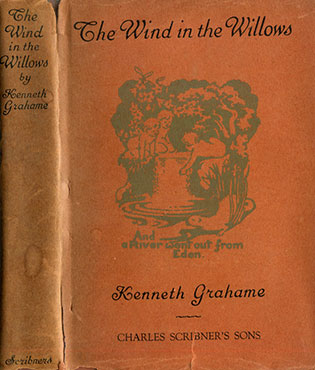 The first sum­mer my hus­band and I were mar­ried, we went on a pic­nic. Not an ordi­nary pic­nic; I had an agen­da. My hus­band had grown up dur­ing World War II, when plane-spot­ting and mix­ing yel­low food col­or­ing in Oleo was more inter­est­ing than read­ing children's books.
We spread the blan­ket on the banks of Goose Creek. I opened the ham­per, took out The Wind in the Wil­lows, writ­ten by Ken­neth Gra­hame, and read the first chap­ter aloud. My hus­band eyed the ham­per, as the Mole did:
"What's inside it?" asked the Mole, wrig­gling with curiosity.
"There's cold chick­en inside it," replied the Rat: "cold­tonguecold­ham­cold­beef­pick­ledgherkinssal­ad­frenchrollscress­sand­wich­es­pot­ted
meatgingerbeerlemonadesodawater — "
Our lunch wasn't that elab­o­rate — I couldn't even make dev­iled eggs — but read­ing Grahame's book by the rush­ing stream gave my hus­band his first taste for the lit­er­a­ture I'd raved about since we met. In my mid-twen­ties, with no edu­ca­tion, I had much lofti­er goals than learn­ing how to cook. I would write children's books, lots of them! I would build a children's library in the Vir­ginia moun­tains! We'd live in a cot­tage next door! That fall, I built a doll­house, a mod­el of our future home. On the lit­tle arched door, I hand-paint­ed its name, Bramblewood.
While I wrote and read children's books (not in our dream cot­tage), I col­lect­ed books about children's lit­er­a­ture. With my lack of for­mal edu­ca­tion, I fig­ured I'd be a good writer if I under­stood the field. But schol­ar­ly texts were beyond me. In my mid-fifties, I enrolled in Hollins University's grad­u­ate pro­gram in children's lit­er­a­ture. Now, I told myself, I'd be able to read those schol­ar­ly works. One day after class, I walked across cam­pus to the library. It was June and moun­tains were all around. I car­ried an arm­load of books and was the hap­pi­est I'd ever been. I felt like Mole when he cast aside his spring clean­ing and burst out­side where the Wide World was waiting.
But even after I earned my MA in children's lit­er­a­ture, I couldn't crack my library of schol­ar­ly texts. They seemed like locked doors. I kept on writ­ing, book after book after book. A few years ago, I began to won­der, what if I nev­er wrote anoth­er children's book. The world wouldn't notice. What kept push­ing me onward?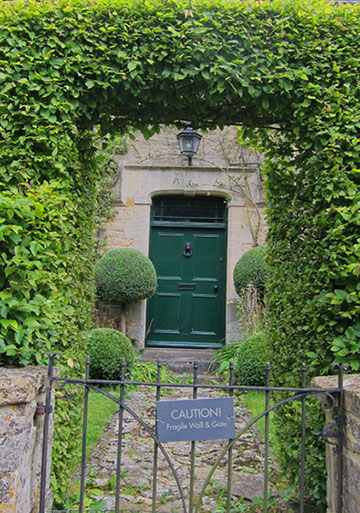 This Sep­tem­ber, my hus­band and I cel­e­brat­ed forty years of mar­riage with a trip to Eng­land. First thing, we hit Water­stone's and Hatchard's book­stores. I could have eas­i­ly spent £5000 on books but lim­it­ed myself to an extra suit­case. We did not pic­nic along the Riv­er Bank like Mole and Rat, but we did spend time in the Cotswolds, Wind in the Wil­lows country.
Oh, how I loved the Cotswolds! Thatched, sun­lit cot­tages. Ivy and ros­es. Mean­der­ing streams. Ancient church­es with World War I mon­u­ments in the ceme­ter­ies. Each cot­tage had a name: Bee Bole Cot­tage, Kit­ten Cot­tage (with a kit­ten flap in the door), The Secret Cot­tage. This was where Bram­ble­wood was meant to be! We would move to the Cotswolds. I'd paint our front door wis­te­ria and fill the rooms with books and cats.
It was in one of those hon­ey-stoned ham­lets that I real­ized why I've writ­ten books for chil­dren — my dream since age fif­teen — my entire life. I've been search­ing for Arcadia.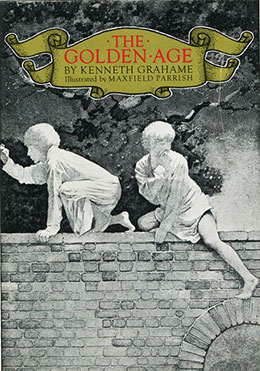 As a child, Gra­hame dwelled in Arca­dia. In his book, The Gold­en Age, he cat­e­go­rizes adults as Olympians. They "would talk over our heads, of this or the oth­er social or polit­i­cal inani­ty … We … could have told them what real life was. We had just left it out­side, and were on fire to get back to it." Arca­dia was the per­fect place, where chil­dren ran free in nature, unfet­tered by adult rules and concerns.
Even Gra­hame rec­og­nized one can­not stay in Arca­dia. "Some­how the sun does not seem to shine so bright­ly as it used," he wrote. "A sad­den­ing doubt, a dull sus­pi­cion, creeps over me … Can it be that I also have become an Olympian? Et in Arca­dia ego—I cer­tain­ly did once inhab­it Arcady." Yet he was able to re-enter it a few years after The Gold­en Age was pub­lished, to write his masterpiece.
When Mole and Rat are lost in the Wild Wood, Rat finds Mr. Badger's snow-cov­ered door. Mole is astonished.
"You're so clever, I believe you could find any­thing you liked. 'Now,' says you, 'that door exists … There's noth­ing else remains to be done but to find it!' Well, I've read about that sort of thing in books, but I've nev­er come across it before in real life."
When we came home from Eng­land (one of us most reluc­tant­ly), I looked around our sub­ur­ban, unthatched house. Sun­light beamed through the big win­dows. Our cats lounged on chairs. I vis­it­ed my book­cas­es, brushed my fin­gers over books on children's book illus­tra­tion, biogra­phies of children's authors, those schol­ar­ly texts, my beloved clas­sic children's books.
In devot­ing my life to writ­ing books for chil­dren, I've tried to re-cre­ate Arca­dia, the per­fect child­hood, the child­hood I nev­er had, to give to oth­er chil­dren. I haven't achieved that goal yet. I sup­pose I'll keep at it.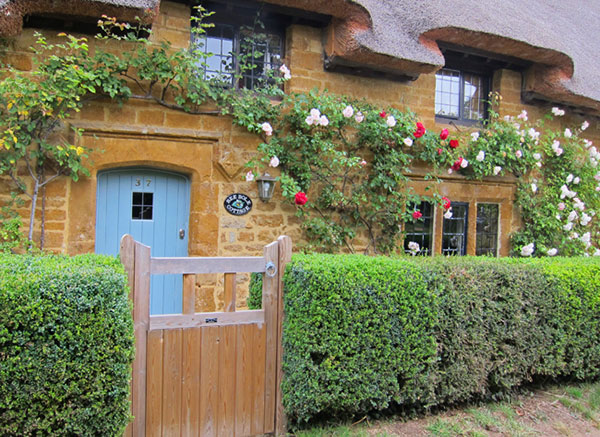 The front doors of the Cotswolds cot­tages stayed closed to us. But one door has always been open to me, to every­one. The library, my first uni­ver­si­ty, that I still attend near­ly every day. With­in the library are count­less oth­er doors, each open­ing to the Wide World.
The per­fect place.