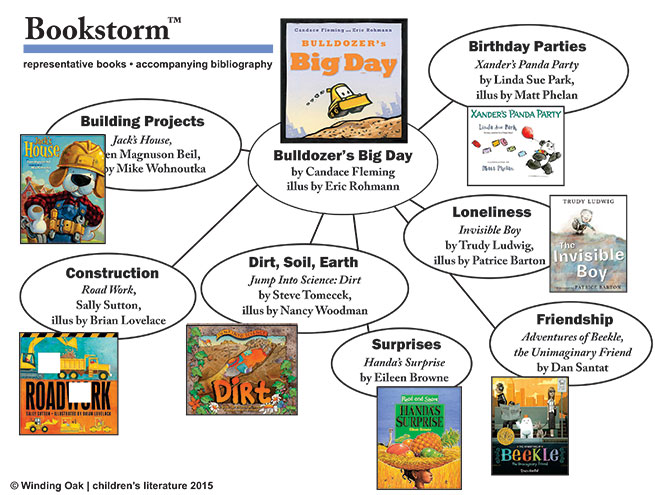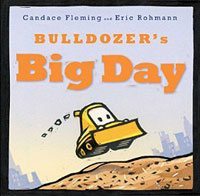 It's Bulldozer's big day — his birth­day! But around the con­struc­tion site, it seems like every­one is too busy to remem­ber. Bull­doz­er wheels around ask­ing his truck friends if they know what day it is, but they each only say it's a work day. They go on scoop­ing, sift­ing, stir­ring, fill­ing, and lift­ing, and lit­tle Bull­doz­er grows more and more glum. But when the whis­tle blows at the end of the busy day, Bull­doz­er dis­cov­ers a con­struc­tion site sur­prise, espe­cial­ly for him!
An ide­al book for a read-aloud to that child sit­ting by you or to a class­room full of chil­dren or to a sto­ry­time group gath­ered togeth­er, Bull­doz­er's Big Day is fun to read because of all the ono­matopoeia and the won­der­ful sur­prise ending.
In each Book­storm™, we offer a bib­li­og­ra­phy of books that have close ties to the the fea­tured book. For Bull­doz­er's Big Day, you'll find books for a vari­ety of tastes and inter­ests. The book will be com­fort­ably read to ages 3 through 7. We've includ­ed pic­ture books, non­fic­tion, videos, web­sites, and des­ti­na­tions that com­ple­ment the book, all encour­ag­ing ear­ly literacy.
Build­ing Projects. There have been many fine books pub­lished about design­ing and con­struct­ing hous­es, cities, and dreams. We share a few books to encour­age and inspire your young dreamers.
Con­struc­tion Equip­ment. Who can resist lis­ten­ing to and watch­ing the large vari­ety of vehi­cles used on a con­struc­tion project? You'll find both books and links to videos.
Birth­day Par­ties. This is the oth­er large theme in Bull­doz­er's Big Day and we sug­gest books such as Xan­der's Pan­da Par­ty that offer oth­er approach­es to talk­ing about birthdays.
Dirt, Soil, Earth. STEM dis­cus­sions can be a part of ear­ly lit­er­a­cy, too. Get ready to dish the dirt!
Lone­li­ness. Much like Bull­doz­er, chil­dren (and adults) can feel let down, ignored, left out … and books are a good way to start the dis­cus­sion about resilien­cy and cop­ing with these feelings.
Sur­pris­es. If you work with chil­dren, or have chil­dren of your own, you know how tricky sur­pris­es and expec­ta­tions can be. We've includ­ed books such as Wait­ing by Kevin Henkes and Han­da's Sur­prise by Eileen Browne.
Friend­ship. An ever-pop­u­lar theme in chil­dren's books, we've select­ed a few of the very best, includ­ing A Sick Day for Amos McGee, by the Steads.
Let us know how you are mak­ing use of this Book­storm™. Share your ideas and any oth­er books you'd add to this Bookstorm™.
Downloadables