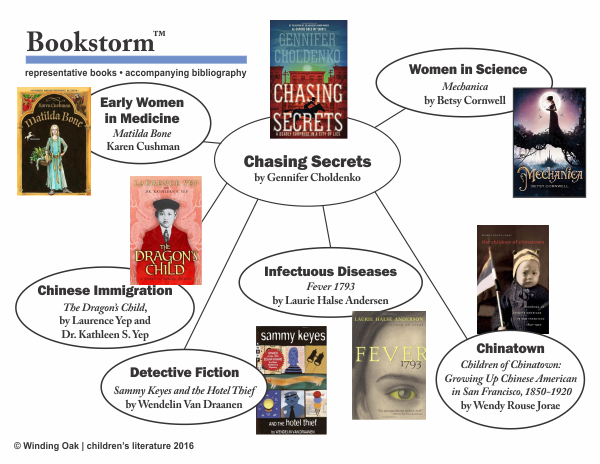 Don't you love a good mys­tery? Set it in an exot­ic but famil­iar city like San Fran­cis­co at the turn of the 20th cen­tu­ry. Cre­ate a main char­ac­ter who's a smart and adven­tur­ous young girl with inter­ests frowned upon dur­ing that time: sci­ence, math­e­mat­ics, and pur­su­ing a col­lege edu­ca­tion. Pro­vide a fam­i­ly and friends who are immense­ly inter­est­ing because they're so vivid that you'd like to know each one of them. Research the his­to­ry of the times so that these peo­ple are believ­ably liv­ing in the midst of impend­ing dis­ease, short tem­pers over immi­gra­tion, and the clash between the very wealthy and the very poor … and you have this excit­ing sto­ry. When our Bookol­o­gists read it, we could­n't put it down!
We are pleased to fea­ture Chas­ing Secrets as our Feb­ru­ary book selec­tion, writ­ten by the tal­ent­ed Gen­nifer Chold­enko.
In each Book­storm™, we offer a bib­li­og­ra­phy of books that have close ties to the the fea­tured book. You'll find books for a vari­ety of tastes and inter­ests. This month, we're focus­ing on books for mid­dle grade read­ers. We've includ­ed some books for adults with good pho­tographs of the era and more infor­ma­tion to help you set con­text for your students.
Downloadables
BOOKSTORM TOPICS
Women in Sci­ence. There are excep­tion­al fic­tion and non­fic­tion books about the women in many fields such as botany, astron­o­my, chem­istry, and zool­o­gy who have applied their inter­ests, hard work, and cre­ativ­i­ty to change the world.
Ear­ly Women in Med­i­cine. Female med­ical prac­ti­tion­ers were frowned upon until recent­ly. Some of them found ways to tend to their com­mu­ni­ties with­out degrees, by being mid­wives and herbal­ists. Oth­ers fought their way into med­ical school and set out to estab­lish them­selves as val­ued doc­tors and sci­en­tists. We've sug­gest­ed a mix­ture of fic­tion and non­fic­tion you and your stu­dents will find enlight­en­ing and engrossing.
Infec­tious Dis­eases. Plagues, fevers, influen­za … they've wreaked hav­oc with var­i­ous pop­u­la­tions up to the present day. The authors of these books have writ­ten com­pelling nar­ra­tives to inspire future sci­en­tists and doc­tors, nurs­es and aid workers.
Chi­nese Immi­gra­tion. San Fran­cis­co was the major port for Chi­nese immi­grants com­ing to "Gold Moun­tain" in the 1800s and ear­ly 1900s. As with so many eth­nic groups arriv­ing in Amer­i­ca, they were not wel­comed with cour­tesy and kind­ness, but with sus­pi­cion and resent­ment. There are a num­ber of books for both chil­dren and adult read­ers included.
Chi­na­town. Along with a fine book by Lau­rence Yep, we rec­om­mend two books for adults to give you back­ground and pho­tographs as you pre­pare to dis­cuss Chas­ing Secrets in your class­room or book group.
Detec­tive Fic­tion. Our Bookol­o­gists put their heads togeth­er to rec­om­mend their favorite books in this genre, some of them clas­sic and some of them brand new. Mys­tery read­ers will set­tle in for sev­er­al weeks of page-turning!
Let us know how you are mak­ing use of this Book­storm™. Share your ideas and any oth­er books you'd add to this Bookstorm™.