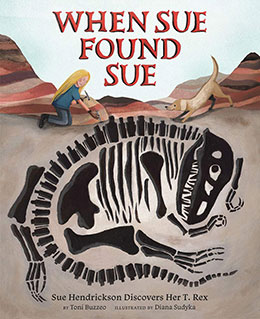 Is there any muse­um exhib­it more fas­ci­nat­ing than Sue, the T. rex, at The Field Muse­um in Chica­go, Illinois?
Now there's a curios­i­ty-rais­ing, shy­ness-rec­og­niz­ing, dis­cus­sion-wor­thy book about the oth­er Sue, the woman who dis­cov­ered the T. rex dur­ing a dig in South Dako­ta. For ele­men­tary school stu­dents and your dinosaur-inspired kids in the library and at home, you can see from the cov­er that this book is irresistible.
Toni Buzzeo, the author, begins Sue Hen­drick­son's sto­ry when she was a curi­ous child who spent a lot of time find­ing things. She was a shy girl, so for shy kids every­where, When Sue Found Sue is an inspi­ra­tion. I was a shy child myself (and a shy adult), so I'm cer­tain about this. If Sue Hen­drick­son could start the way she did, then all dreams are possible.
The writ­ing is engag­ing, telling a well-researched and true story.
Sue Hen­drick­son was born to find things:
miss­ing trinkets,
pre­his­toric butterflies,
sunken ships,
even buried dinosaurs.
The illus­tra­tor, Diana Sudy­ka, cre­ates a con­nec­tion through emo­tion, sus­pense, and "gouache and water­col­ors made from earth pig­ments for the Dako­ta scenes." I've had fun imag­in­ing how she mixed those paints. The end­pa­pers are charm­ing, empha­siz­ing the theme of find­ing things.
Think what you could do in the class­room and library with the theme of "find­ing things." And talks about shy­ness, and curios­i­ty, and how our inter­ests as chil­dren can become our pas­sions as adults.
This inter­view with the author will help you talk with your stu­dents and patrons about When Sue Found Sue.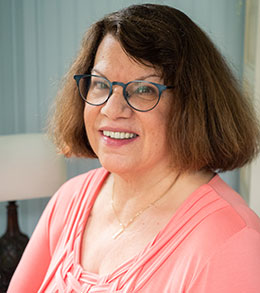 Toni Buzzeo, author:
How were you drawn to writing a book about Sue Hendrickson?
Nearly seven years ago, a fifth grader at a school visit in upstate New York asked me if I'd ever written nonfiction for kids. He was obviously a nonfiction lover. As I began to respond in the negative, saying that I write fiction because it allows me to tell a story of a character's journey with a narrative story arc, I realized that I was describing a writing endeavor that definitely includes biography. I made a promise to that boy that I'd go home and find a biographical subject. Happily, I landed on Cynthia Moss, the subject of my first picture book biography, A Passion for Elephants: The Real Life Adventure of Field Scientist Cynthia Moss, a woman who has dedicated her life to studying the African elephants of the Amboseli region of Kenya.
I loved the research, I loved find­ing the through-line from Cynthia's child­hood to her adult work, and I ulti­mate­ly loved writ­ing the book, so much so that I deter­mined to write anoth­er pic­ture book biog­ra­phy of anoth­er strong woman of sci­ence. I sent the call out to my fel­low school librar­i­ans and found among their sug­ges­tions the per­fect next sub­ject in Sue Hen­drick­son, anoth­er strong self-taught woman of sci­ence who lives with pas­sion and ded­i­ca­tion — and who found the largest, most com­plete Tyran­nosaurus rex ever discovered!
As a once and future librarian, you've focused on Sue's curiosity. What do you find appealing about her sense of curiosity?
I've never thought about the curiosity aspect of Sue's personality and my own, primarily because so much of Sue's curiosity took an external turn. While she surely was a curious (and voracious) reader, from an early age she went out with a magnifying glass into the world while my curiosity was always much more intellectual—leading me all the way to the field of librarianship where I could practice curiosity for a living!
You've also emphasized how shy Sue Hendrickson was. How does that resonate with you?
Yesterday I visited Thompson School here in Arlington, Massachusetts where I live, and the students and I were talking about just this question. I was the shyest child ever born—or at least it seems that way when I think back. In early elementary school, if my best friend Linda Benko was not at school, I would pass the entire day without speaking to anyone, and that included my teacher. So finding a biographical subject so much like myself as a child was a great pleasure!
There's a great deal of information in the illustrations, complementary to your text. Did you and Diana Sudyka have any occasion to confer before she began her illustrations?
Diana and I did not confer before she began, no. Aren't her illustrations just so amazing? I love her work, her sensibility, the way she captures character, setting, and drama. I'm very excited that she and I will be doing an event with Sue the T. rex at the Field Museum in Chicago on June 26, 2019. I hope that some of your readers local to Chicago will join us!
In working with your editor on this book, did the text or structure change in any significant way?
Oh goodness, yes, the content, and thus the text, changed in a very significant way. The manuscript that I first submitted had a working title of Finder! As you may guess from that title, the text was much more wide-ranging than When Sue Found Sue. It examined Sue Hendrickson's uncanny ability to find thing across all of her many pursuits in much more detail, from amber inclusions to marine archaeology. My editor, Tamar Brazis, wisely guided me in the process of condensing all of that and really concentrating on the T. rex discovery. It's a much more focused and successful book as a result.
Did you have an opportunity to interview Sue Hendrickson?
Sue Hendrickson is a very private person. She lives 40 miles off the coast of Central America on the Honduras Bay island of Guanaja, so no, I did not have the opportunity to interview her.
Both Sue Hendrickson and the book's illustrator, Diana Sudyka, have spent time in The Field Museum in Chicago, Illinois. Have you also spent time there? What is your favorite part of the museum?
It has been many, many years since I have been to the Field Museum but I already know that when I return on June 26, 2019 for my joint event with Diana, my favorite part of the museum will be the amazing new gallery where Sue the T. rex now lives—Griffin Halls of Evolving Planet. Have a look here and you'll be as excited as I am!
There is a quote that precedes your Author's Note. "The thrill of discovery is a real emotion … like a 'rush' … the excitement is worth the days or months of hard work … and keeps me going on and on … looking for more." As an author, do you feel a connection to this statement?
Oh absolutely! When I finally have that last essential piece of information I need in order to begin writing, I feel this way. When I look through all of my notes and finally spot the one unifying aspect of my subject's life or personality that I will build the story around, I feel this way. When I complete the first full draft, and I feel it glowing on the screen, I feel this way.
At Thomp­son School, with my audi­ence of sec­ond graders, I was talk­ing about the hard work it takes to write and pub­lish books for kids, the years invest­ed, the rejec­tions and revi­sions and ded­i­ca­tion to the process. One quite pre­co­cious and deeply thought­ful young man in the front row raised his hand, but it wasn't ques­tion time yet. I asked if it was a ques­tion that could wait until ques­tion time at the end, and he said no, that it was about what I had just said. So I nod­ded for him to go ahead and that sev­en-year-old boy looked at me with earnest eyes and asked, "But is it worth it?"
"Oh yes," I said. "Oh yes, it is."
When you talk with children about this book, what will you discuss with them?
We talk about my life as a child and my key personality traits. We talk about me as a writer and the kinds of books that have come before this one. Then we talk about the things I needed to learn about Sue Hendrickson to write this story effectively. Kids are wonderfully good at naming those things, all the way down to her character traits. Then we talk about how my two T. rex books are astonishingly dissimilar. No T. Rex in the Library and When Sue Found Sue have only a very large dinosaur in common. Next, we "dig" into the excavation, the challenges, the serendipity, and the court case it inspired. And finally we talk about the new learning that has allowed the scientists at the Field Museum to reunite Sue and her gastralia, a collection of bones that had been omitted from her skeleton as it was previously on display and is now reunited with her skeleton in the new hall and in her new pose. It's all very interesting and exciting to kids.
Do you enjoy finding things?
Is this a trick question? I must lose my glasses and my phone on an average of five times a day. Love finding them! But yes, in seriousness, I love to find facts. I just adore that. v