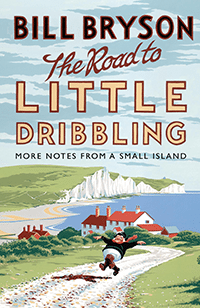 I fin­ished read­ing The Road to Lit­tle Drib­bling over a week ago, and I'm still laughing.
I'm a suck­er for a fun­ny sto­ry, and Bill Bryson has pro­vid­ed me with a steady stream of them since I first dis­cov­ered him in Gran­ta mag­a­zine back in the '80s. I couldn't get enough of his wise­crack­ing tales about grow­ing up in Des Moines, espe­cial­ly the epic fam­i­ly road trips he endured.
His lat­est book, in which he more or less recre­ates the mean­der­ings around and mus­ings about Britain's quirky cor­ners that he mined so suc­cess­ful­ly in Notes from a Small Island four decades ago, deliv­ered just the dose of laughs I need­ed to off­set a par­tic­u­lar­ly intense stretch at work. Humor is a first-rate anti­dote to any num­ber of things, I've found, includ­ing stress. This is why I also own a well-worn copy of the DVD Fer­ris Bueller's Day Off.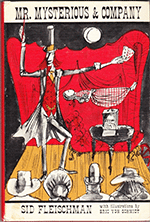 I dis­cov­ered humor between the cov­ers of a book ear­ly, when I first read Sid Fleischman's Mr. Mys­te­ri­ous & Com­pa­ny as a child. Mr. Fleischman's sto­ry not only had me laugh­ing in delight, but also man­aged to worm its way deep into my psy­che, pop­ping out decades lat­er when I had chil­dren of my own and inau­gu­rat­ed a unique Fred­er­ick twist on Fleischman's Abra­cadabra Day. Read Mr. Mys­te­ri­ous & Com­pa­ny and you'll get the idea.
A few years after dis­cov­er­ing Fleis­chman, I stum­bled across a P. G. Wode­house anthol­o­gy on my grandfather's book­shelf. I was 12 or so, and enor­mous­ly pleased with myself for appre­ci­at­ing Wodehouse's spe­cial brand of British humor. (Of course it helped that I had just returned to the U.S. from a stretch liv­ing in Eng­land.) His nim­ble style! His flaw­less com­ic tim­ing! And oh, his char­ac­ters! What bud­ding writer could pos­si­bly resist Bertie Wooster's sub­stan­tial Aunt Dahlia, who fit­ted into his biggest arm­chair "as if it had been built round her by some­one who knew they were wear­ing arm­chairs tight about the hips that sea­son"? Or how about his for­mi­da­ble Aunt Agatha, whom the feck­less Bertie described as wear­ing "barbed wire next to the skin"? And then there was that pig named the Empress of Bland­ings…. I was a goner.
Years lat­er, I read some­where that when Wodehouse's fam­i­ly heard him chuck­ling in his study as he wrote, they knew the work was going well. I seem to recall read­ing the same thing about Sid Fleis­chman. I don't know whether Mr. Bryson's fam­i­ly hears him laugh­ing, too, but I hope my fam­i­ly hears me. Not all my books are humor­ous, but near­ly all of them have humor­ous moments, and when some­thing I write strikes me as fun­ny and I make myself laugh, I think of writ­ers like P. G. Wode­house and Sid Fleis­chman and oth­ers who have trav­eled this path before me, and I know I'm in good company.