I had pret­ty much giv­en up on find­ing an appro­pri­ate gift for my dad's 82nd birth­day; the last thing he need­ed was more stuff. So I head­ed off to the fam­i­ly lake cab­in for the 4th of July hol­i­day (also his birth­day week­end) with the thought that I'd fig­ure out a clever cel­e­bra­to­ry idea at the last minute. Maybe some kind of game that every­one would enjoy?
The prob­lem with that was the "every­one" involved. My brother's four kids each brought a friend along, so 13 to 20-year-olds made up the clear major­i­ty. All of them trav­el at a speed that far out­dis­tances their grand­pa, and their lives revolve around com­plete­ly dif­fer­ent cul­tur­al touch­stones. Not to men­tion that two of them seemed to have self-iden­ti­fied as space aliens sent to cat­a­log the pecu­liar behav­ior of earth­lings, sit­ting apart and observ­ing the rest of us with a dis­sect­ing air. What kind of game could I pos­si­bly come up with that would work for this mul­ti-gen­er­a­tional (not to men­tion mul­ti-plan­e­tary) crew?
Out of des­per­a­tion, I decid­ed to just go for it, and I scratched out a series of 10 ques­tions about Grand­pa. What major world event rad­i­cal­ly changed his life when he was a kid? What dan­ger­ous ani­mal did he cap­ture when he was a teenag­er? How many col­leges kicked him out? How did he meet his wife (the Grand­ma we were all still mourn­ing)? In oth­er words, ques­tions that trans­lat­ed Grandpa's life into the con­cerns of a 13 to 20-year-old. Then I told the kids that they were going to work as pairs (grand­child plus friend) to answer the ques­tions, and who­ev­er got the most cor­rect would win a small prize. Part­way through the game, each team would have a chance to pri­vate­ly ask Grand­pa to share sto­ries to pro­vide two of the answers they didn't know.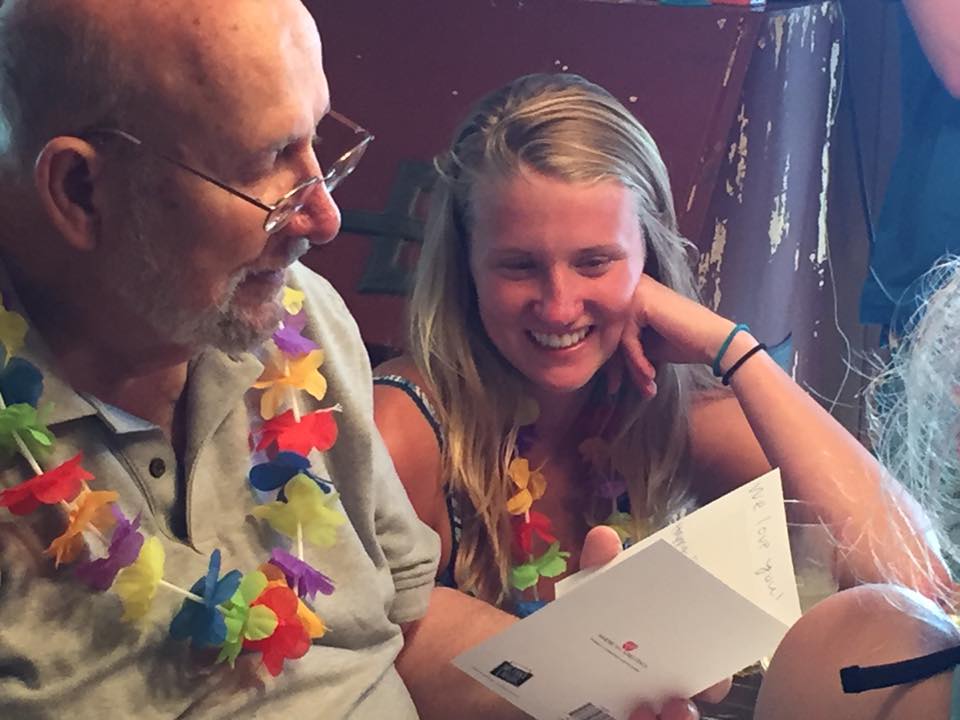 They're good kids. I fig­ured they would hide their eye-rolls and play along for courtesy's sake. Mean­while, Grand­pa would be the cen­ter of atten­tion for a few min­utes, get­ting to share a few of the details from his first 81 years, and it would make him feel like we'd at least tak­en notice of his birthday.
In all my wor­ry about find­ing an appro­pri­ate way to cel­e­brate my dad's life, I had inex­plic­a­bly for­got­ten the pow­er of his sto­ries. I'd momen­tar­i­ly over­looked sto­ries' facil­i­ty for bridge-build­ing — their capac­i­ty to cre­ate a con­nec­tion between some­one whose child­hood was altered by the bomb­ing of Pearl Har­bor, and the grand­son whose child­hood was shaped by 9⁄11. My lit­tle quiz turned into a fierce bat­tle for sto­ry suprema­cy; even the space aliens couldn't get enough. Every­one was a winner.
And this children's book writer went home from the week­end with a reminder about the impor­tance of the work I do on an every­day basis. Just wait, world: have I got a sto­ry for you!